This rice pudding is delicious, thick, and creamy! It's made with Arabic flavors, using rose water specifically! It's easy to make, fulfilling, packed with protein! Moreover, it's gluten free!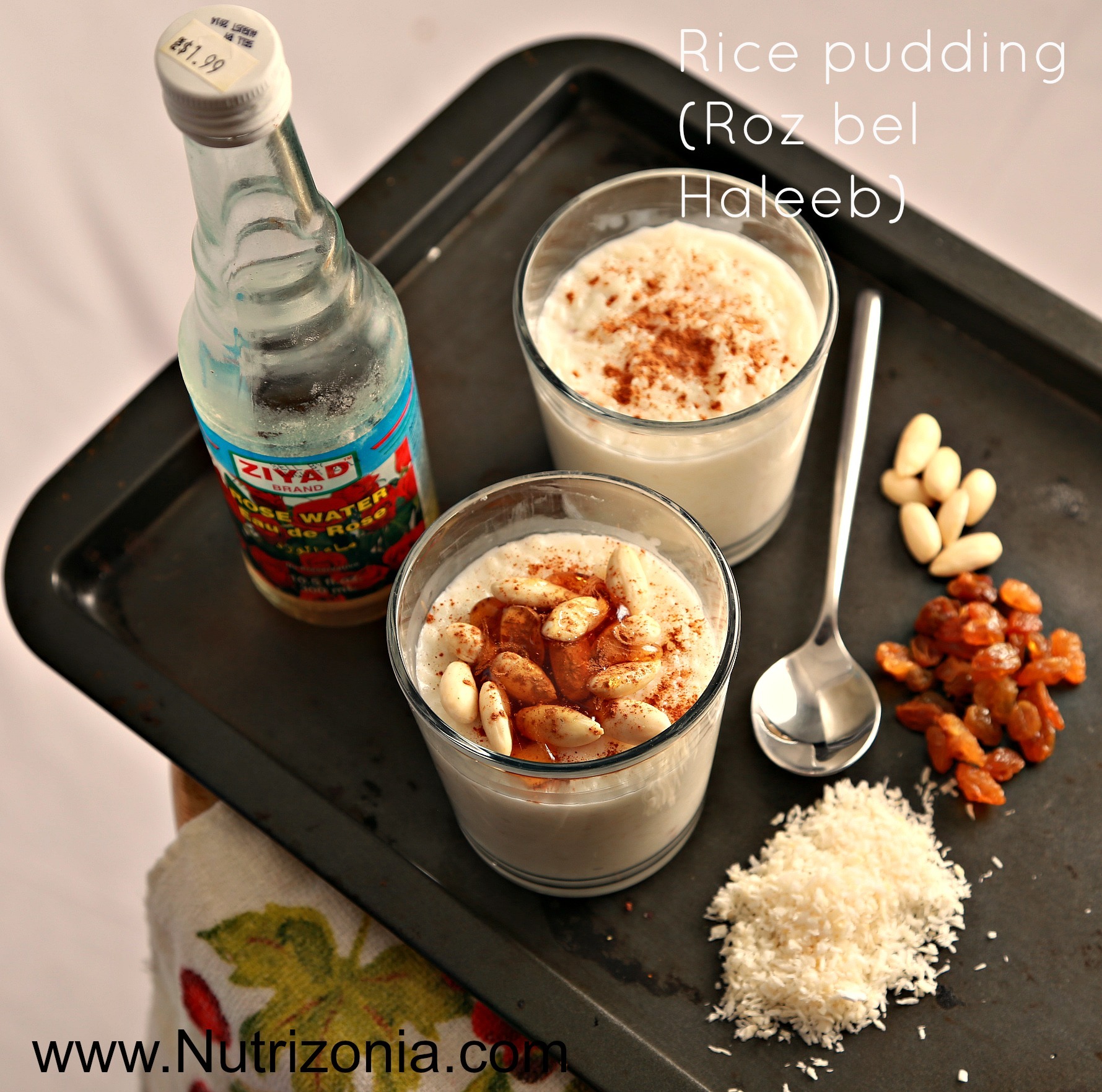 This rice pudding is a popular dessert in Arabic cuisine and the whole world. My mom made it very often, especially for my dad. It's thick, creamy, and delicious. Most families make it the same way, the differences are in the toppings.
Rice pudding (Roz bel Haleeb)
When I make it, it's for the sake of my husband, he loved it too. I had it a lot when I was kid, especially that I like rice a lot, and of course creamy stuff. Then when I felt that I had enough of it, I moved on to other desserts. Just before I wrote this post, I had some pudding. It's amazing how food evokes emotions and bring memories . The smell, the taste that instantly made me feel like I just got back home in a flash, and I just pictured myself sitting with my family gathering like the old days. I feel I never get bored of this pudding in the first place.
This rice pudding is an easy fix, you can make it any weekday. It's great as dessert, and it's totally works for breakfast too! It's a balanced meal, has good amount of protein, fat and, carbohydrates. And healthy toppings such as almonds, walnuts, raisin, ground cinnamon, or fine grated coconut, will definitely give it extra nutritional boost!
I believe there is no wrong choosing cow milk, however you can make your own version of any kind of milk you like. And as white rice may not be the perfect grain, you can try brown one, or wild rice.
This pudding won't be complete without rose water and mustic powder! You can find them in middle eastern shops or online. Here is I brand for rosewater I use, and love.
Hope you Enjoy it as I did!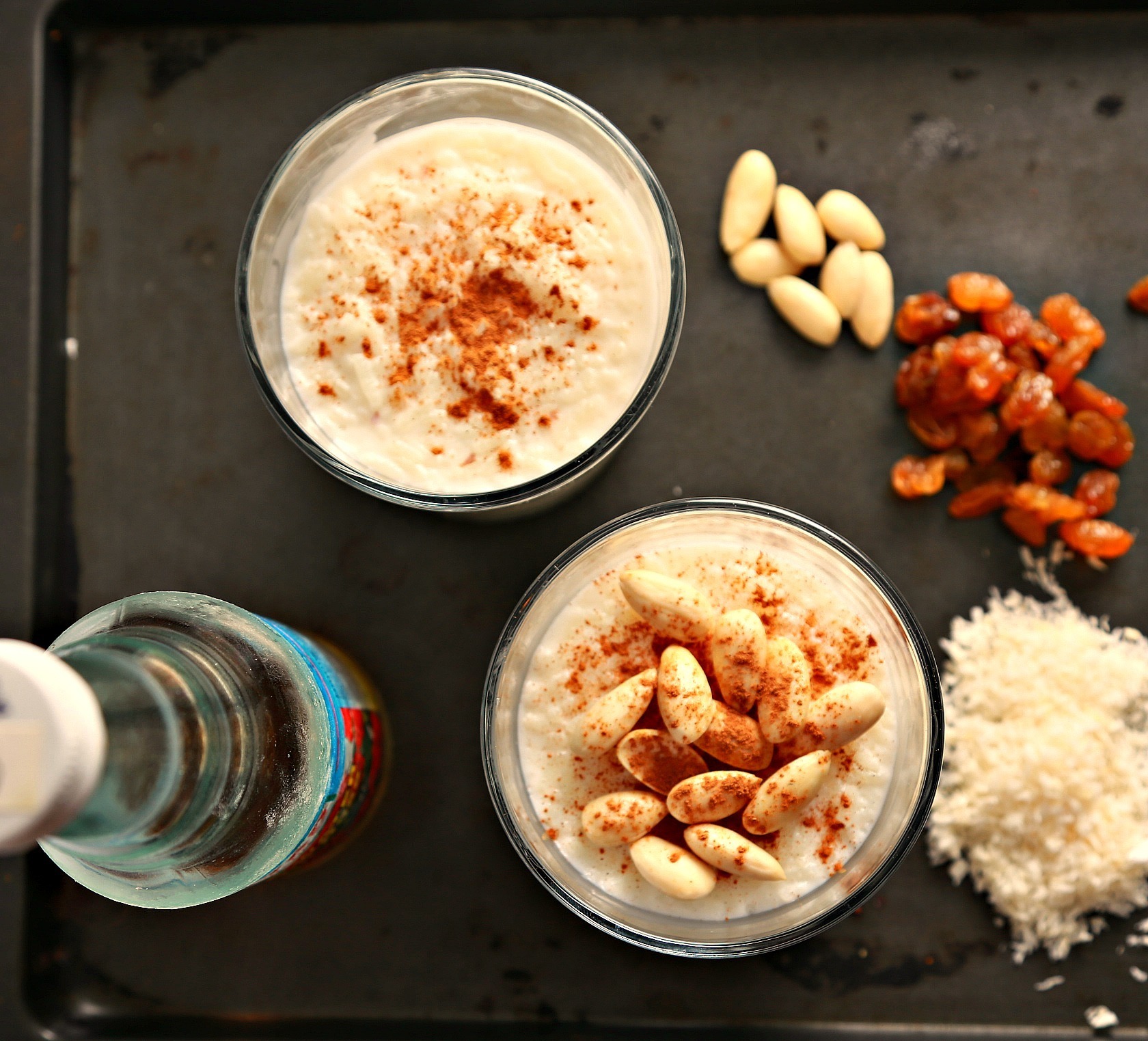 Photos taken by Haytham Hajir

Rice pudding (Roz bel Haleeb)
A delicious rice pudding , creamy and think. And its healthy too!
Ingredients
Half cup of Rice (short grain is a must)
2 cups and half of Milk
Water
2 Tb and half of Corn starch
Rose water or blossom water
3 Tb granulated Sugar (Or as desired)
Mustic ( A small piece or teaspoon of powder)
Instructions
Soak the rice in hot water an hour before
Add rose water to dissolve the corn starch and set aside.
Heat water, the amount should cover the rice completely in the pot.
Heat a large pot, add hot water, and rice on a medium heat. Let the rice cook until its very very soft.
Add the milk, stir occasionally so the pudding wont stick to the pot.
before its done, add the cornstarch and stir well.
Serve it cold in a cups or plates.
Add your favorite toppings
Notes
I didn't have the Mustic powder on hand, so I didn't use. You can still make this recipes, but it gives the pudding a unique flavor
Nutrition Information
Calories:
137
Fat:
3
Carbohydrates:
23
Protein:
4
Have you tried the Arabic rice pudding? Did you like it? Will you recreate it? I would love to hear from you! Tag #Nutrizonia on Instagram so I can your creation!