A creamy healthy milky drink to warm you up in the chilly nights! It's easy to make and flavorsome!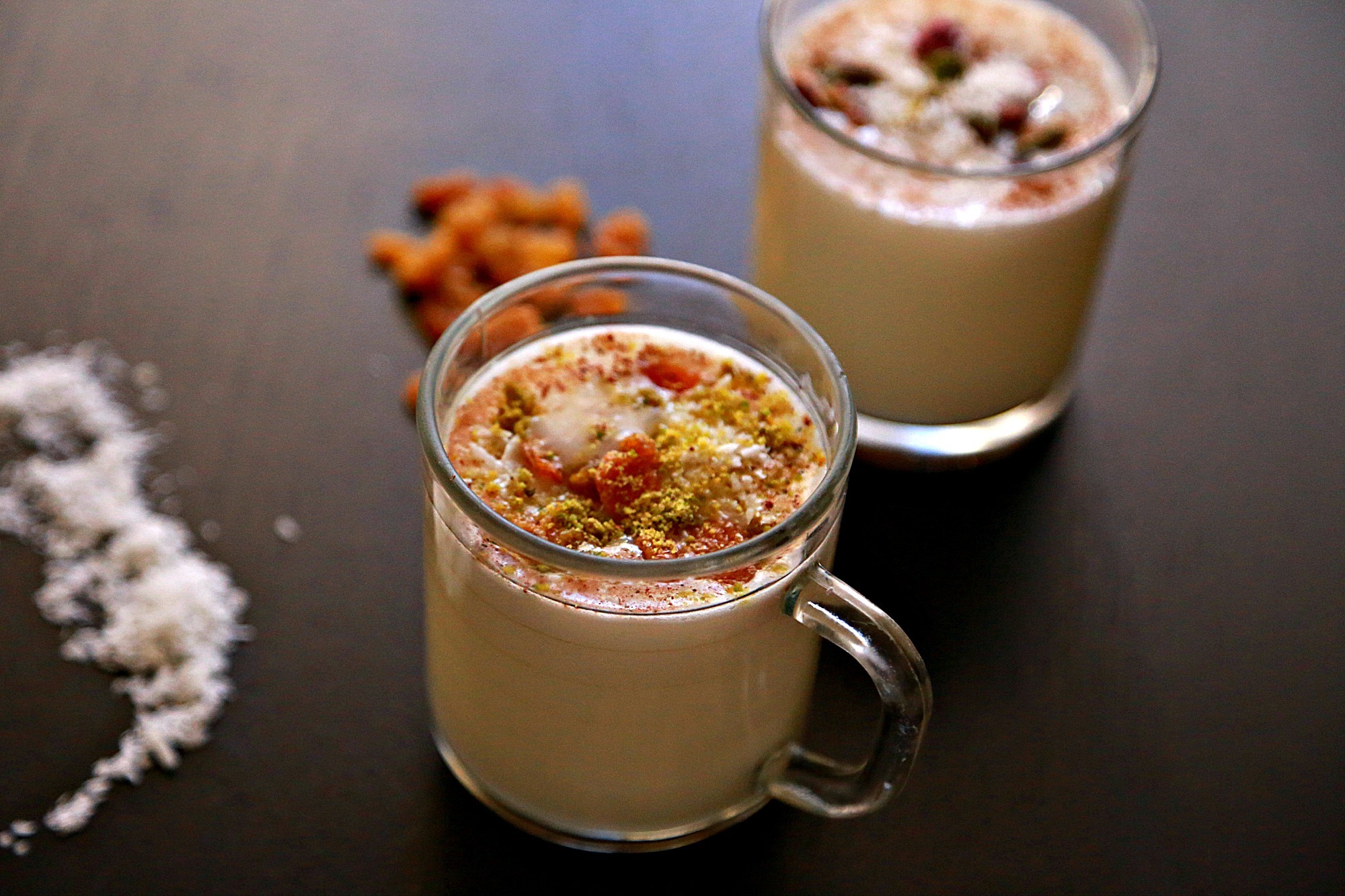 Today I have for you, another drink recipe from the Arabic cuisine this drink "Sahlab" is enjoyed by the whole family, since its easy to make and very comfortable one in cold weather. It's a fun drink, you can add toppings like nuts, cinnamon, grated coconut, raisins, and honey too.
My mom used to make it lots of times, It was really a family gatherer. The nice aroma, and hot steams of the cups makes you waiting impatiently for this treat! But mom didn't really like to use the powder, since it's packaged. Mom hates to use anything that comes in a package. Therefore, she used mystic gums to mimic the consistency, and flavor of sahlab. But I really recommend you to use the powder, and you may need to try some brands until you find your favorite. 
I was reading an article about "Sahlab in New York city" and how it becomes popular, and how Israeli related this drink to them. While I don't like to talk politics on my blog, and if this bothers you please scroll down to the recipe, but it really hurts when you feel that your heritage recipes got stolen in front of your eyes! It's really a bad thing. I do believe that cuisines are developing and emerging, and some other dishes are a mix of different ones. And of course there are always new ones are created. But I don't know if you understand, but my ultimate goal when I started this series, is to keep original Arabic authentic recipes documented with stories. You can read more about this issue here with link to the original article .  
Sahlab
It's the name to the drink that use a powder of orchid tubers. Here on the page of a very talented chef, author, and writer called Anisa, she had the real sahleb tubers which she got them from turkey, they are expensive, and hard to find. However, I never seen one in my life, we use the powder which produced by grinding the dried tubers. We mix it with milk and water. Some people love to add mystic gum, rose water, or vanilla. The dried tuber flour acts as thickening agent, and make the drinks somewhat like a drinkable pudding. 
Sahlab used to believe that is an aphrodisiac due to the orchid shape, but this is not really a true cliam. The orchid tuber roots contain a nutritious polysaccharide (long chains of sugar molecules combined together) called Glucomannan which is a dietary fiber. It helps with constipation and weight loss too, you can find it in a supplement form, but it's not regulated by FDA and you will use it at your own risk.
You can look for sahlab powder in Middle Eastern/Turkish/Greek stores or you can buy it online.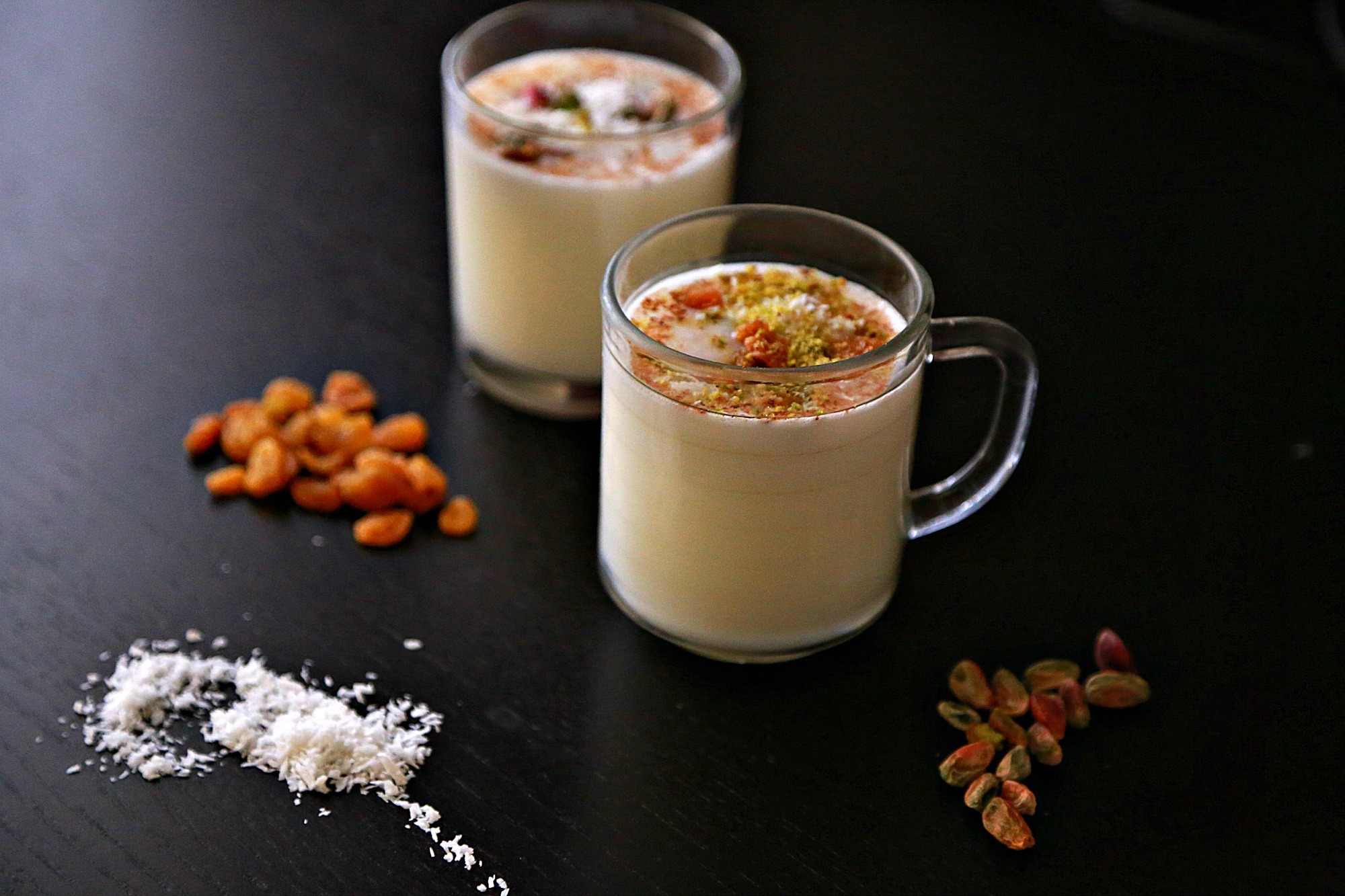 Arabic Sahlab drink
Ingredients
1 sachet of sahlab powder
2 cups of water
2 cups of milk
Optional:
1 tsp of rose water
Toppings:
Ground cinnamon, grated coconut, raisins, ground pistachio, almonds, honey.
Instructions
In a medium pot, on a medium heat add water and sahlab powder.
stir occasionally, and when it near boiling, lower he heat and keep stirring , until you reach the desired consistency.
Serve immediately and add you favorite topping.
Refrigerate any leftovers.
Notes
You may use a 4 cup of water, which was the instructions on my package. However I find less flavorful, and I opted to replace half the amount of water by milk.

The amount is enough for 4 small cups, its nearly 2 full mugs.