First thing, I need to say that this chickpeas recipe is adapted from a cookbook. I made a simpler version of this recipe years ago, and unfortunately I can't remember what the book was.
Did you ever used forums? Do you still visit them?
There are many of them are still surviving -especially the ones for video games, and technical stuff- despite the overflow of new special platform with less restrictions. And of course blogging in such an easy format like Medium and Tumblur .
I was hooked on one that was for ladies only, and in Arabic language (I just mentioned that forums were very restrictive, choosing their own rules). It still exists for sure, but it lost it's popularity. I participated in many sections, but the one I loved the most was the cooking one.  It made me realize how much I love cooking, and enjoy it. That forum was the first step in my cooking journey. I've learned lots of recipes, and skills.  And the moderators organized many contests. It was so fun, and actually it did push me, and other members to be more creative. 
One of them was to make a full meal. I remember that I made this chickpeas side for breakfast along with other dishes. It wasn't a requirement, that recipes should be original. You could do one from a book, or any source. By time, that lead to copycats, and arguments between members. It was annoying, and a waste of time to read what people arguing about, and blaming each others. 
For me, having my own blog in English language, meant a higher exposure. Also a higher chance of meeting interesting people from all over the world, and learn from them, without the need to go under a nickname.
Now I do use forums to search for answers for cooking problems. But, I think it's better to use communities in Google +, where you do use your real name, not like forums when mostly people do use nicknames, and you know nothing about them in real world, outside of the forum.
Chickpeas 
They are one of the popular beans, since they have more flavor than other beans,and they are easy to blend, with a great creamy texture.
Why chickpeas are good for you
Actually there are lost of health benefits that's is hard to contain them in this post. I'll mention a few:
They are high in protein, fiber, and B Vitamins like folate, B1 and B6, and has good amounts of minerals like manganese, and iron.
Studies shows that they do lower cholesterol. And since they have low glycemic index value, this is a good thing for people with diabetes.
Chickpeas have selenium, which is good for reducing cancer risk.
Since they are high in fiber, this help you to feel full, and thus keeping your weight in control.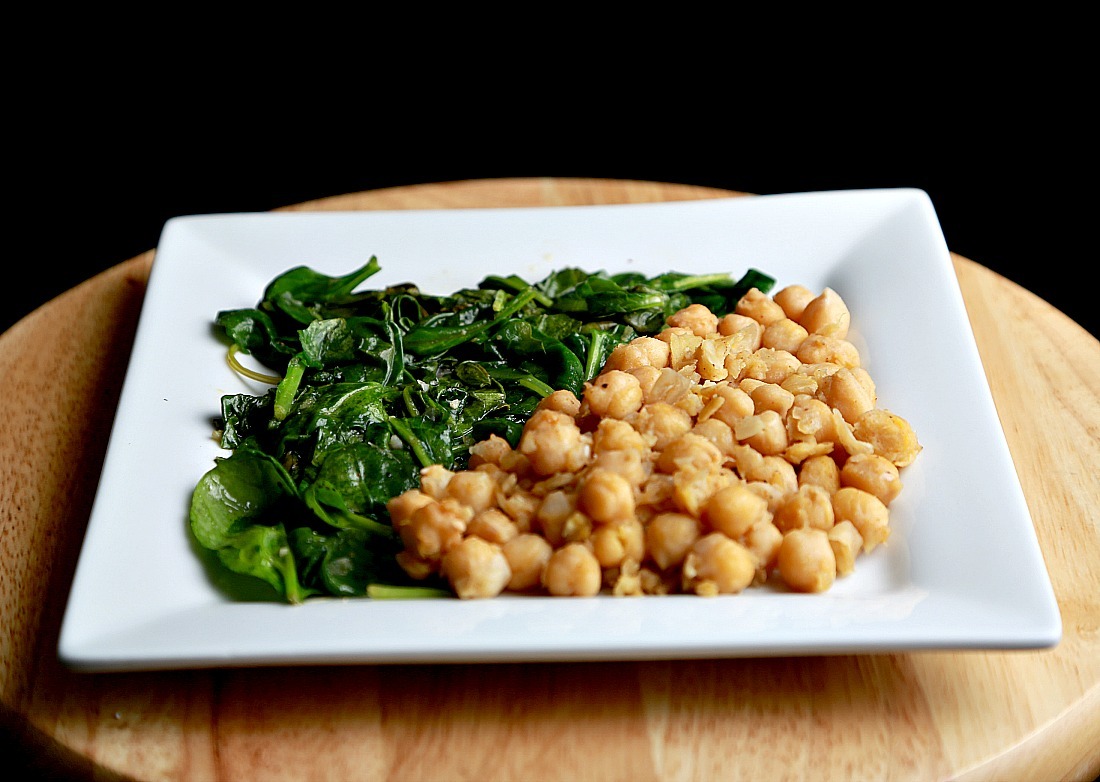 Now let's get to the recipe!
Enjoy!

Sauteed Chickpeas with Mixed Greens
Ingredients
3 oz Green mix (baby kale +baby spinach+chard)
100 g chickpea
1 small onion minced
3 gloves of garlic minced
fresh ginger minced 1 tsp
1 Tbs olive oil
1 tsp vinegar
Spices
Salt, black pepper, ground cumin, and cayenne pepper.
Instructions
In a food processor, put onion, garlic and ginger, and mince them well.
Heat a skillet on medium heat, add 0.5 Tb of of olive oil.
And onion, garlic, and ginger, and saute them for 3-5 minutes.
Now add chickpeas, spices, and saute for 5 minutes.
Remove from the stove, and add everything in the skillet on your plate.
In the same skillet, add half Tb of olive oil, add the greens, vinegar, salt, and black pepper.
Saute them for 3 minutes, and them to chickpea, and serve immediately.
Nutrition Information
Calories:
550
Fat:
20
Carbohydrates:
75
Fiber:
19
Protein:
22
How do you eat chickpeas? Share your favorite recipe please!