Spinach olives tapenade is an easy to make spread. It's packed with healthy fats, vitamins, and antioxidants! Try it over seared chicken, or cibatta bread! It's delicious, healthy, vegan and gluten free too!
I remember the first time I had tapenade, I was with my husband, and friends. Actually, I saw them for the first time that night! My husband asked me to go together to see them. It was a nice night in October, we went to an Italian cafe, and we had tapenade .
I was surprised I like it, since I don't eat olives, even I can't live without olive oil. Then I've learned that olives taste vary so much between countries,and origins. Also, preparation, and preservation method affect the taste too. Back home, people add lots of salt and oil, maybe that's why I didn't like it that way.
Olives
Are very nutritious, here is why you should eat olives:
It is very rich in polyphenols, and antioxidants. They have anti-inflammatory proprieties, and anti cancer potential rule.
Most of he benefits comes from the oil that is high in monounsaturated fats that is good for the heart. Recently researchers found a compound called oleocanthal that can destroy cancer cells without affecting the healthy ones. also it may protect us from Alzheimer too.
Most of the health benefits are centered in the oil, so its would be better if you can have both of them. And here I wrote a post about health benefits of olive oil.
Cautions
Since olives are usually preserved in brine solution, they may become very salty, and has lots of amount to sodium. You can wash them before eating, to reduce sodium. Or you can pick a variety with low sodium. Also some people have allergic reactions to the pollen released by olive tree, and can cause a mild to serious respiratory problems.
Spinach
I've talked about spinach in the last recipe, when I made the pastries. It's full of nutrients, and versatile. Moreover, it has less bitter flavor than other greens.
The tapenade is from the French cuisine, and is very easy to make. I have to admit that this recipe is not the real tapenade, since it doesn't have capers. Anchovies, and sun dried tomato are optional. Capers is really giving its name tapenas in french, so I don't want to deceive you, but this version still have the tangy bitter flavor of the real one!
Now let's get to the recipe, I'm sure you will enjoy it as I did!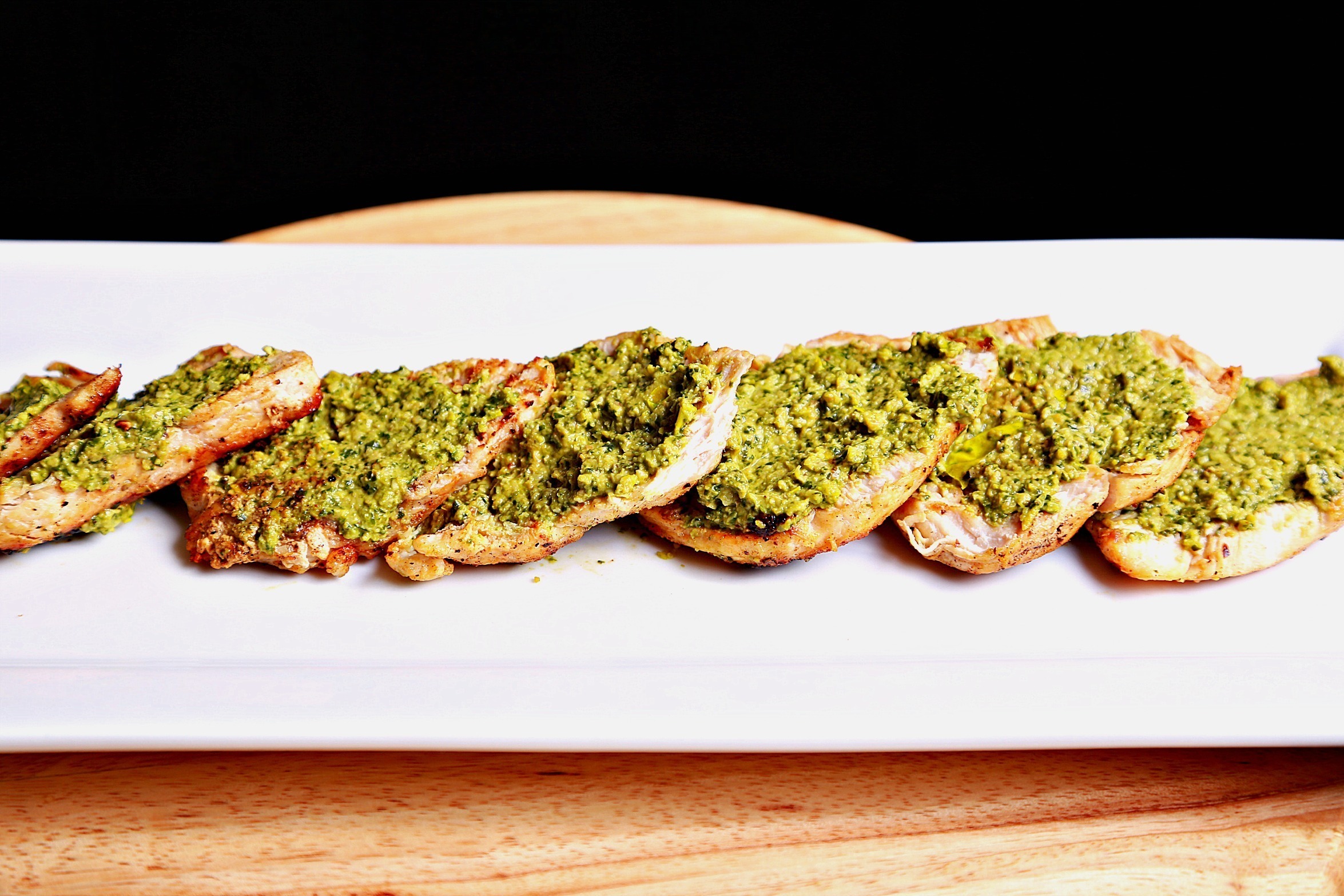 Spinach Olives Tapenade Over Seared Chicken
Spinach olives tapenade is an easy to make spread, delicious, and healthy. It's vegan and gluten free!
Ingredients
For the Tapenade:
Olives 16 ounce jar (pitted, green or black or a mix of them)
3 oz of Spinach leaves
Olive oil (enough to make the ingredients mix well)
lemon juice of 1 medium lemon
A big handful of Walnut
Few pieces of Garlic
Salt and black pepper
1 lb of Chicken breasts, boneless and skinless
2 Tb Olive Oil for searing the chicken
Instructions
If the olives are not pitted, Pit the olives (remove the seeds) and place them in food processor.
Now add few pieces of peeled garlic, walnut, and washed spinach leaves.
Add lemon juice, and olive oil.
You can add olive oil while you are mixing the tapneade, to make sure it stirred well.
Add extra olive oil if necessary.
Keep the tapenade in a jar with closed lid in the refrigerator for the future use.
Chicken:
Rub the chicken with salt and pepper both sides. (be generous, I added garlic powder too)
Now heat a skillet with 2 Tb olive oil, on high heat.
Add the chicken when the skillet is hot (you should hear the sizzling).
Keep the chicken 4-6 minutes on each side, flip once only for better results, and don't move the pan, or the chicken.
Place chicken slices on the plate, and spread the tapenade.
Serve it hot, and its tastes good cold too.
Notes
You can rub the chicken with your favorite spices, or herbs (fresh or dried), but salt and black pepper can do the work.

Every time you use the tapende, make sure to add olive oil to cover the tapenade completely, so it won't ruin. This way it should be good for months

The recipe yield is for the chicken only. The tapenade recipes yields a 16 ounce jar, which you can use several times.
Have you ever tried tapenade? Would you try this healthier version? I would love to know what do you think!