Today is the first blog post in the guest bloggers series.
This post is by the talent chef, and food blogger Manal . I stumbled upon her blog through Pinterest, and fell in love it with it. She has a great collection of recipes from Arabic cuisines and international cuisines as well. I was hooked by her food photography style, it's professional, and absolutely stunning.
Today she has for you a delicious recipe from the Arabic cuisine. I'll leave you to it.
******************************************************************
I am very excited to be a guest blogger here at Nutrizonia; thank you Farida for your kind invitation. I hope you will enjoy my post below. It's about a great traditional Syrian version of Kufta (Kawaj).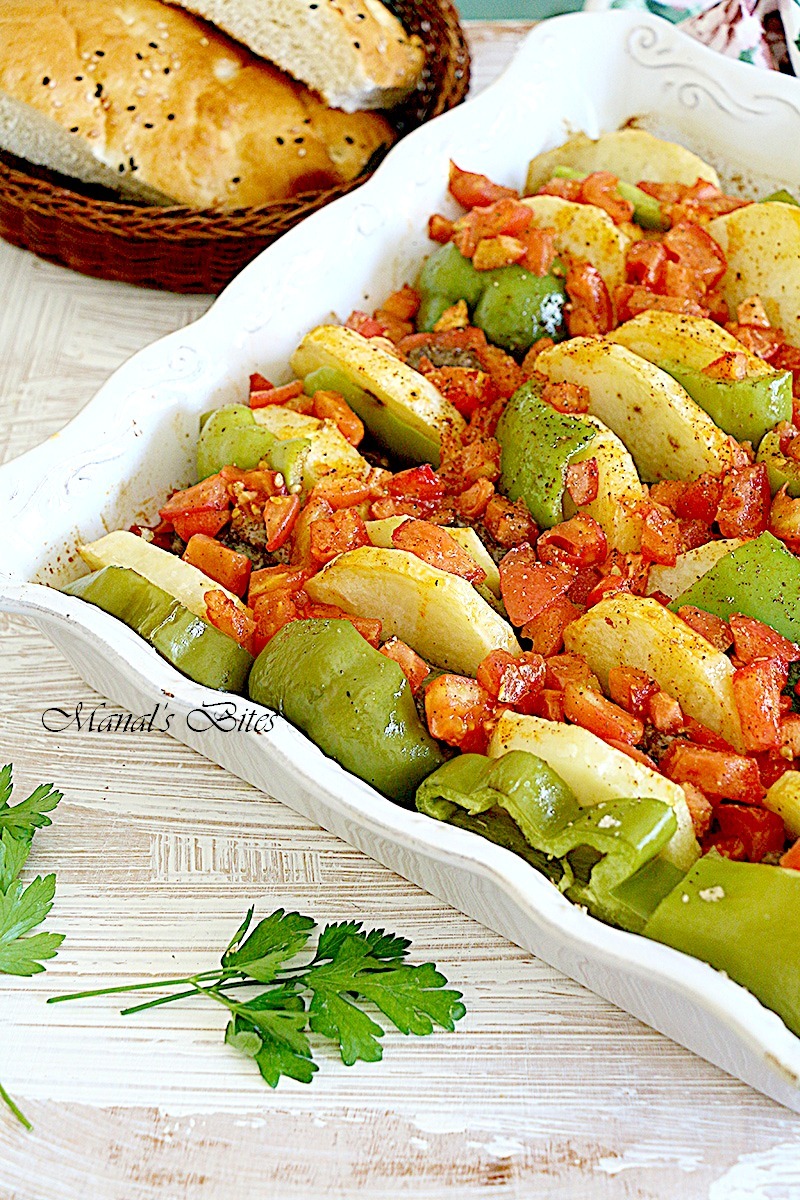 My name is Manal from Manal's Bites, I love everything, and anything related to food, the kitchen and HOME. I started blogging a couple of years ago, to share my daily experience in the kitchen with my readers. I was a host of a cooking show on a national TV channel in Jordan, and I contributed to several cooking magazines. I give cooking classes at my home, and I have a catering line. Recently, I co-founded a new e-magazine that I'm too excited about, it is called DARNA, home of Middle Eastern cuisine.
In Ramadan, my family and I love to go back to our authentic Middle Eastern dishes. Don't get me wrong, I do love cooking from other cuisines too, but Ramadan has this special thing about it that brings us back to our roots. Getting together with family and friends, and eating traditional Middle Eastern dishes like Qatayef, fatoosh, sambosak are a few of our Ramadan traditions. They have become a Ramadani thing. Don't ask me why…hehehe…It is just the way things are here in this part of the world.
In the last few years, Ramadan came during the summer time (and this year too), where all the families from all around over the world are here in Jordan. They meet together on Iftar table. For me, it's all my husband's family (his mother, brother, 3 sisters, and their families), we all gathered around a gigantic table. Well we usually set a table for the kiddos, so we don't go crazy. Let me tell you it's a feast as everyone of us share his own food, and we eat together almost every day. It's a 30 days potluck. Now, that is what Ramadan about; Family and traditions.
Today's dish, which I am excited to share with you, is a dish to feast your eyes on. It's full of flavor, and color. Not to mention, it's healthy, and authentic. It's the Syrian twist of the famous Middle Eastern Kufta…it's called Kawaj.
Basically, its meat, onions, potatoes, peppers and tomatoes roasted in the oven along with Middle Eastern spices.
This is how it looks before cooking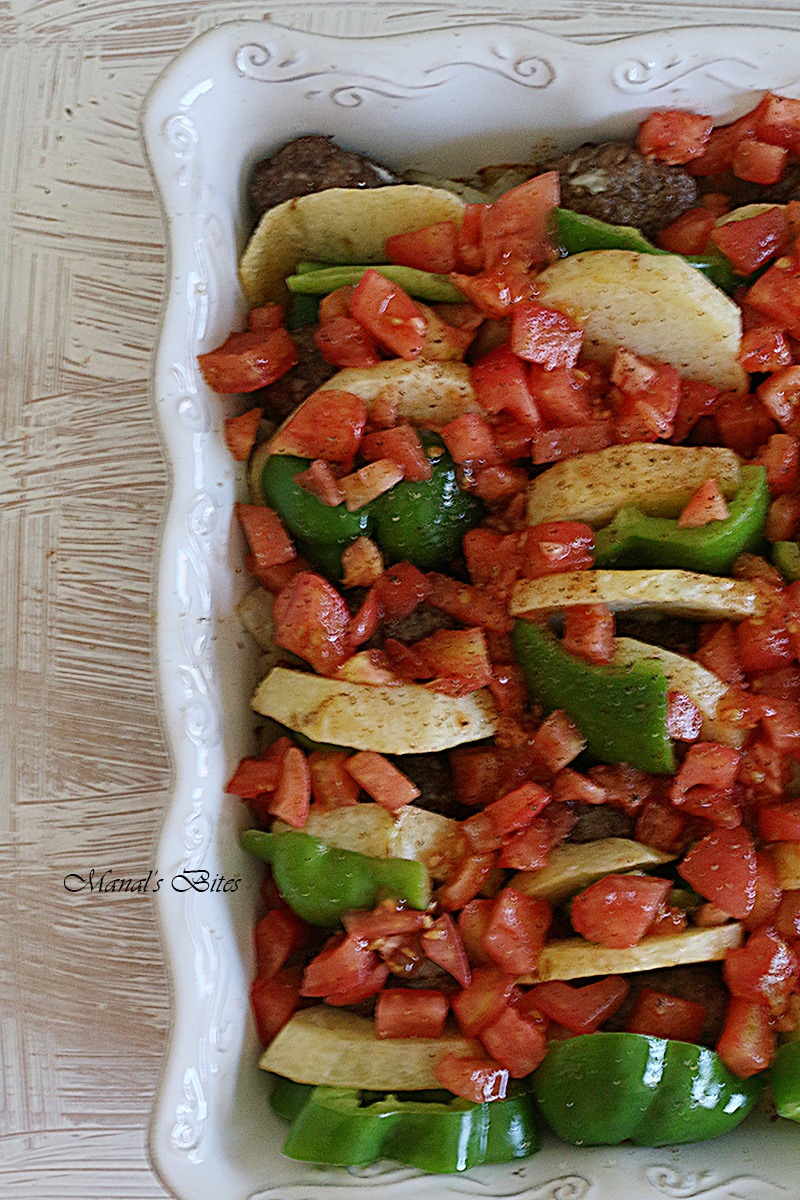 And after 
So let's see how it's done.
Syrian Kufta (Kawaj)
Ingredients
½ kg (1 lb) ground meat (I use a combination of lamb and veal for a tender texture)
¼ cup pine nuts (optional)
½ tsp salt
½ tsp black pepper
1 ½ tsp cinnamon
½ Tbsp ground all spice
2 cans diced tomatoes (4 large fresh tomatoes, peeled and diced)
1 large onion, cubed
2 green bell pepper, thickly sliced
3 Tbsp vegetable oil; divided
2 medium potatoes, peeled, thickly sliced
Additional salt and pepper
½ cup water
Instructions
Mix meat with salt, pepper, and pine nuts (optional).
Add half of the cinnamon and all spice and 1 Tb spoon of oil.
Make meat into small balls or mini logs.
Place on a baking sheet, and cook in the oven at 180 degrees (350 F) till they take a bit of color (about 12 min).
Remove from oven and set aside.
In the meantime, cook onions in 1 Tb of oil until it becomes translucent.
Remove off heat.
Mix potatoes with the remaining Tb of oil and roast half way in the oven till lightly golden.
To Assemble Kawaj:
Line a baking casserole with the onions.
Start to alternate a piece of meat, a slice of potatoes then a slice of green pepper followed by another piece of meat and so on till the whole amount is done and the casserole is full.
Mix diced tomatoes with the rest of spices (cinnamon and all spice), season with salt and pepper and arrange over the dish.
Pour half cup seasoned water (with salt and pepper) in the dish, and cover with aluminum foil. Bake for 30-35 min uncovering the dish in the last 5 min.
Serve with white rice, bread and a nice green salad.