An easy appetizer for your dinner or a light lunch. It's flavorsome,  packed with nutrients, different flavors and textures. It's gluten free too!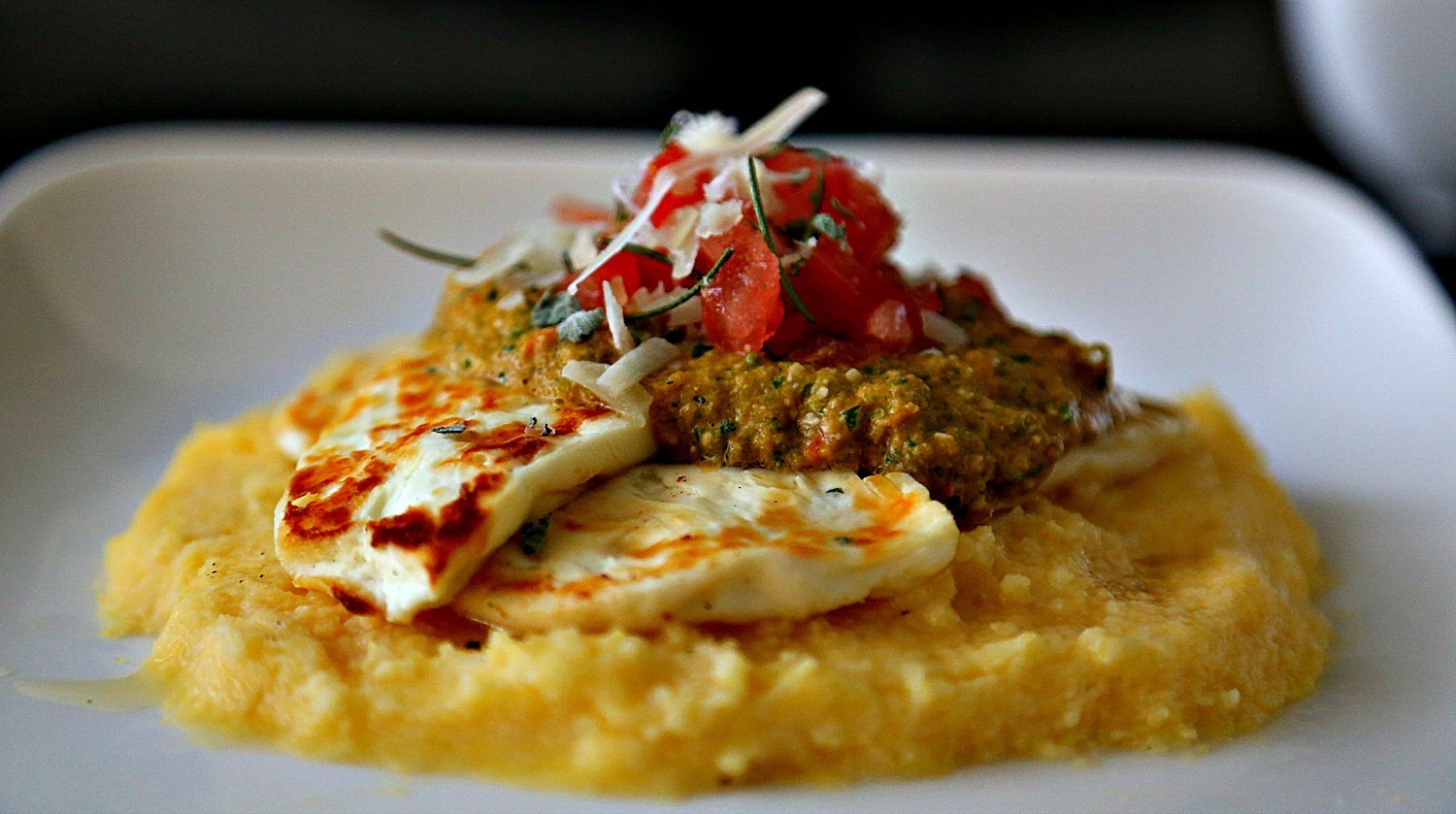 This easy delicious recipe is inspired by  this one, a recipe from my one of my favorite food bloggers Kevin. I loved polenta after I saw his recipes and other recipes, and I decided to give it a try.
Polenta
Corn grits, I'm not so sure, why I love it, maybe because it's considered a comfort food. You can have it sweet or salty, breakfast or lunch or as a dessert, I made these recipes with it. However before i used the instant one, and it's such a a great thing. This time I didn't check the label before buying, and this one needed 40 minutes to be done! Almost 30 minutes of continuous stirring ! So make sure what do you want to cook, and how much time do you have. But to be honest, the texture of this polenta was ultra soft and delicious! Much better than the instant one , but still I won't spend 40 minutes to have breakfast, and the instant would do the work.
Some health benefits of Polenta
It has vitamins and minerals, but with low amounts.
It's a low fat food, and considered low calorie food, since its really fills you up.
Its a naturally gluten free option.
And finally it's like a blank canvas, you can an add anything to it! Mix it with fruits, vegetables, protein, nuts, and it can be such a great healthy meal.

White cheese
A middle eastern specifically Nabulsi cheese from Palestine. It is a great cheese for grilling , since it doesn't melt easily. It's made with whole milk sheep, goat or cow, or mix of them, therefore the ration of fat varies, depending in the milk type. It can be low in fat, and it has a good amount of protein. It's not really hard to make it at home, you buy the renin,  I said I will post it here, but can't get myself to make it since there are lots of options here. And it's really depend on the quality of milk you are using, the commercial milk wont really get you a great results . But here Sawsan one of my favorite talented bloggers dedicated a whole post with step by step photos how to make. it, see it here . 
Tomato
I don't post recipes of tomato here on the blog, because mainly I love to eat it fresh with an egg or with Arabic pastries.  Well, I used it in cooking some dishes but not as fresh as this recipe!
WHY DO YOU NEED TO ADD TOMATO IN YOUR DIET:
It's low calorie food, and low in fat too. It has high amounts of of vitamin C, good amounts of vitamin A and folate. Also it has potassium, calcium , manganese, and iron.
Because it has good amounts of antioxidants that protect you from cancer and other diseases, like the famous red pigment lycopene , and beta- carotene too.
It has fibers that is good for your digestive system.
You can use halloumi or queso too for this recipe, since it's not easy to find white cheese.
You may call this salsa not pesto, but I used Parmesan, olive oil, and pine nuts to get the taste of pesto. But I'm out of Basil, so I used parsley. However, it's better if you use sun dried tomato, because fresh ones will water down eventually. But to me, I want the fresh taste with less salt, especially for this recipe, so you choose! But, you may need to alter the ingredients amounts, I'm gonna try it again with sun dried tomato and let you know.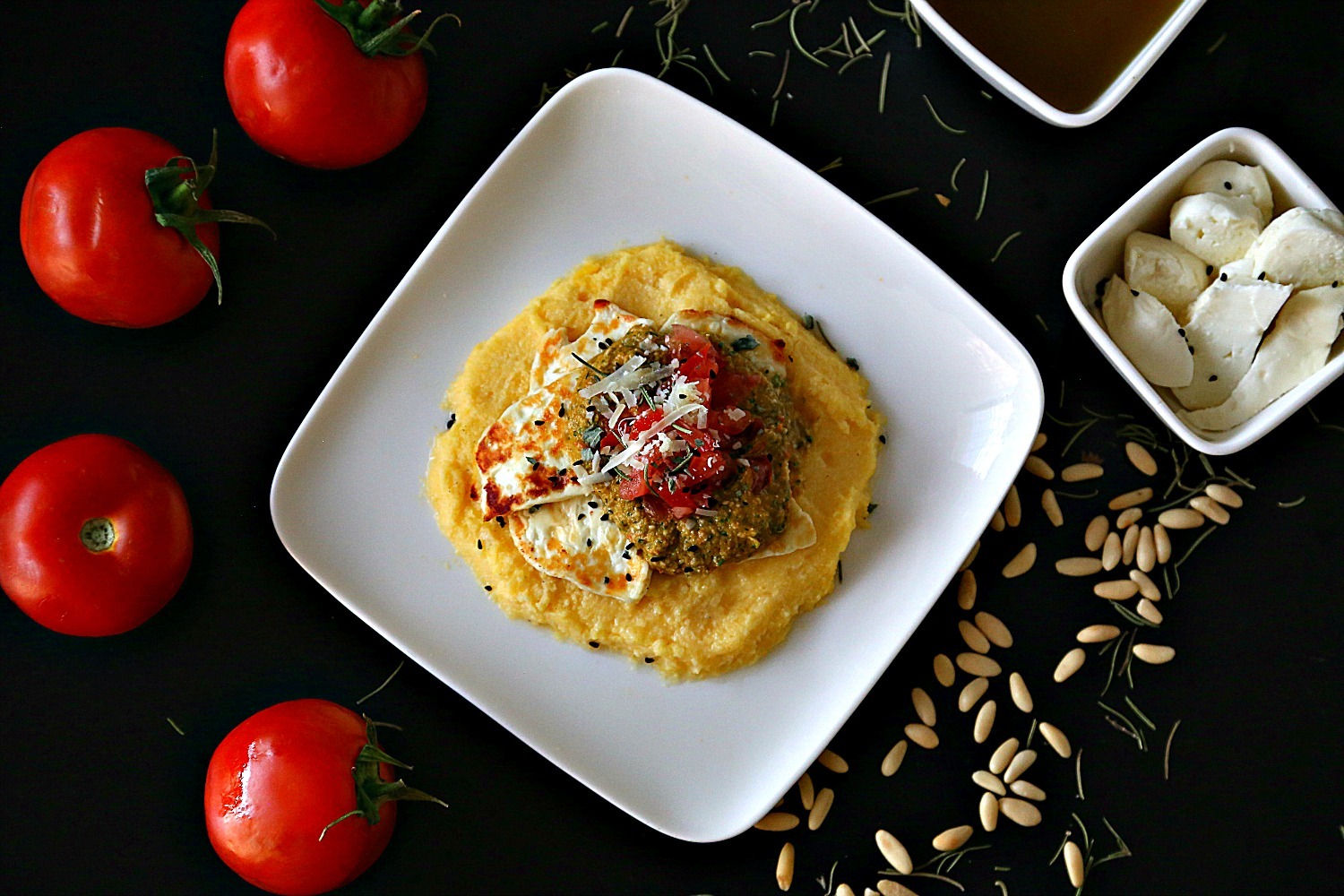 Tomato pesto with Grilled White Cheese over Polenta
Ingredients
Polenta:
185 g polenta .
3 Tb Parmesan cheese.
1 tsp of salt.
1 cup of water
350 ml of milk.
White cheese around 60 g
Pesto :
3 medium tomato.
Handful of parsley.
Handful of cilantro.
2 Tb of olive oil.
1 Tb of pine nuts.
2 garlic cloves.
3 Tb of parmesan
Optional and garnishing:
chopped tomato, black sesame seeds, dried rosemary, freshly grated Parmesan cheese.
Instructions
For preparing the polenta, follow the cooking instructions on the packet.
Broil 3-2 pieces of the white cheese for 10-15.
Prepare the pesto, by adding all the ingredients in the blender, but for the Parmesan add it gradually.
Add more chopped tomato for serving , and black pepper , black sesame seeds, and rosemary