A Turkish kofta style that stuffed with eggplant, it's healthy, and flavorsome! It's packed with nutrients and protein, this meal is low carb and gluten free too!
 
This is a dish that I was dreaming of since I came back from Istanbul ! I had this Turkish kofta back in turkey, while we were in Bursa city (As I told by Aturkish citizen) Bursa,  in Turkish means "Stock Market" derived from French. We were in the station waiting the ferry to go back to Istanbul. It was past dinner time, and we were so hungry, and short in time. We found a nice restaurant with a self service style, that resembled home cooked meals. The food was mainly stews, soups, and casseroles. Unfortunately I don't speak Turkish, and the Turks don't like to speak English! Therefore, it was really hard to communicate with the staff. Our only option was "to pick" what it looks familiar and take the risk.
I knew this was kofta, because we in the middle east cook kofta all the time. But what I didn't expect, that it was stuffed with eggplant, and this was new to me and kind of interesting and exciting! It was so moist, flavorful and tastes fresh. It was served on a bed of tomato salsa. I was really tired back then, and this tomato meal was one the best comfort meals I could think of! It was warm, well seasoned, and yet light! 
 
Turkish kofta
Turkish kofta comes in many shapes, and flavors. Some study claimed that there are more than 291 variations of kofte, not sure if this is reliable info though, but surely they have many variations, and it's different from a region to another, It can be a veggie kofta, a lamb with gravy, or mixed with yogurt, or burgul. I tried this eggplant one only. You can grill the kofta or bake in the oven, on high heat, to keep it juicy inside. 
Eggplant:
I really used to hate eggplant, but after I start to cook it myself, I found out that when I make it to my liking with ingredients I love, with peel or peeled, it's really tasty and delicious! Baked, cooked or mashed, and whether it's in a vegan dished or mixed with meat, I love it!
Eggplant has good amounts of fibers,  vitamin K and folate, also low in calories and fats. I made many recipes with eggplant, vegan, vegetarian, and mixed with meat! Find all the recipes here .
Now let's get to the recipe!
Enjoy!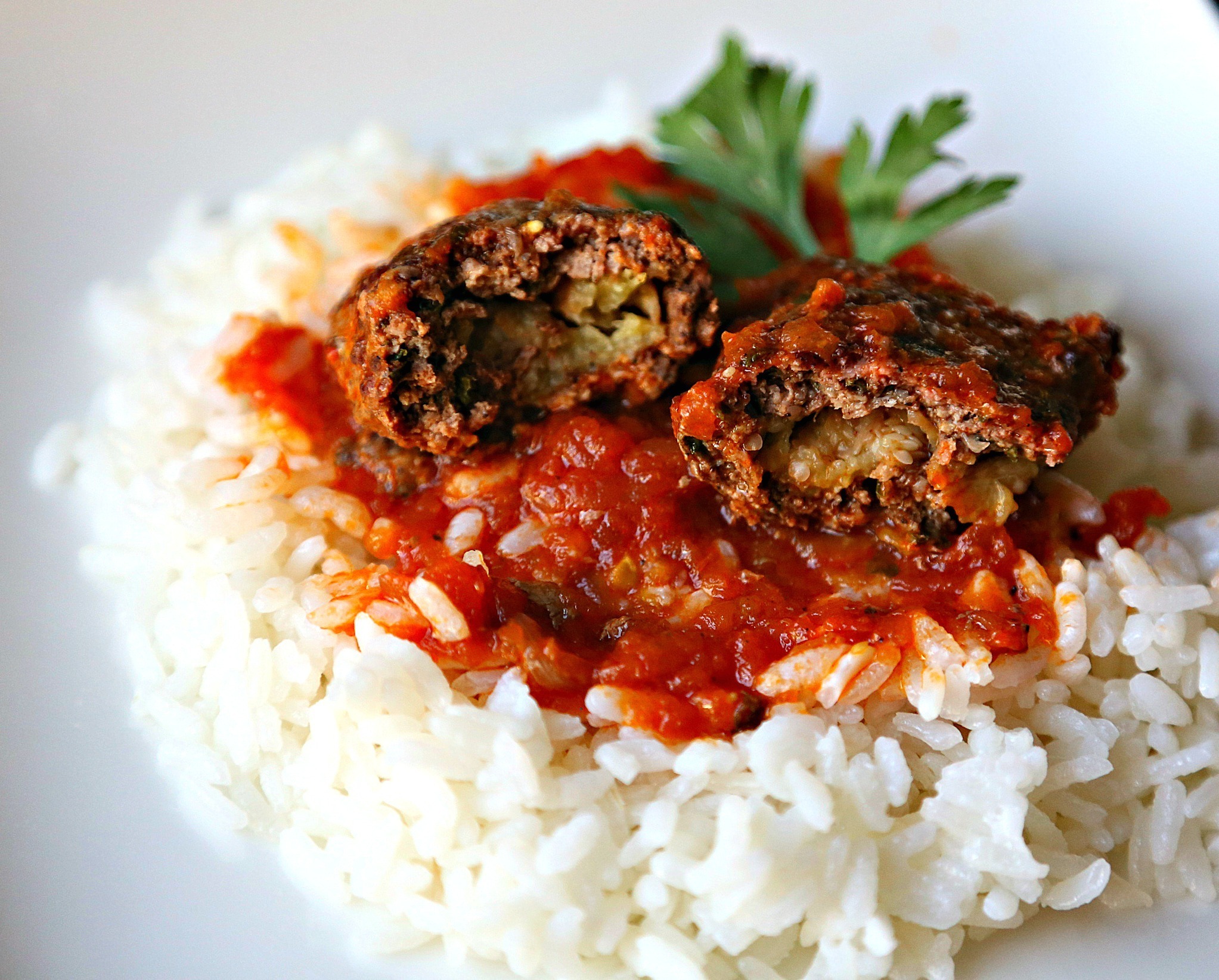 Turkish Kofta Stuffed with Eggplant
Ingredients
The kofta:
1 big eggplants or 3 small ones
350g ground meat (beef +lamb)
1 Tb 7 spice
1 medium onion
¾ cup chopped parsley
Salt
Salsa:
4 medium tomato minced
1 small onion minced
3 garlic cloves
1 Tb sunflower oil
½ Tb apple vinegar
Salt and black pepper
1-2 cup water
Optional:
White rice
Instructions
Peel the eggplant, and cut thick slices lengthwise.
Add eggplant and 1 tsp of salt to a boiled water for 10 to 15 minutes, drain and set aside to cool down.
In a food processor or in a bowl, mix parsley and onion together, and add meat gradually.
Add spices, and mix the meat until it become like a soft dough.
Divide the kofta dough to 6 slices, and put them on a wide cutting board. Put a slice of eggplant, and roll the kofta over.
Put in a wide oven baking dish or a pan, in the oven on 200 C for 30 minutes, or until it´s done.
In the meantime a medium pot, heat 1 Tb of oil and saute onion and garlic for 3 minutes, then add grated tomato, saute and stir.
Add Tomato paste, salt and pepper, water, and keep them until it boils then turn off the stove and leave it aside.
Serve the kofta rolls over the salsa on a bed of white rice with yogurt on the side.
Notes
The cooking time may vary, due to the meat tenderness and eggplant too.