This creamy luscious simple sweet potato soup is what you need to make this fall. It's on the sweet side, but it's nutritious, high in fibers and antioxidants. And it happens to be vegan and gluten free too.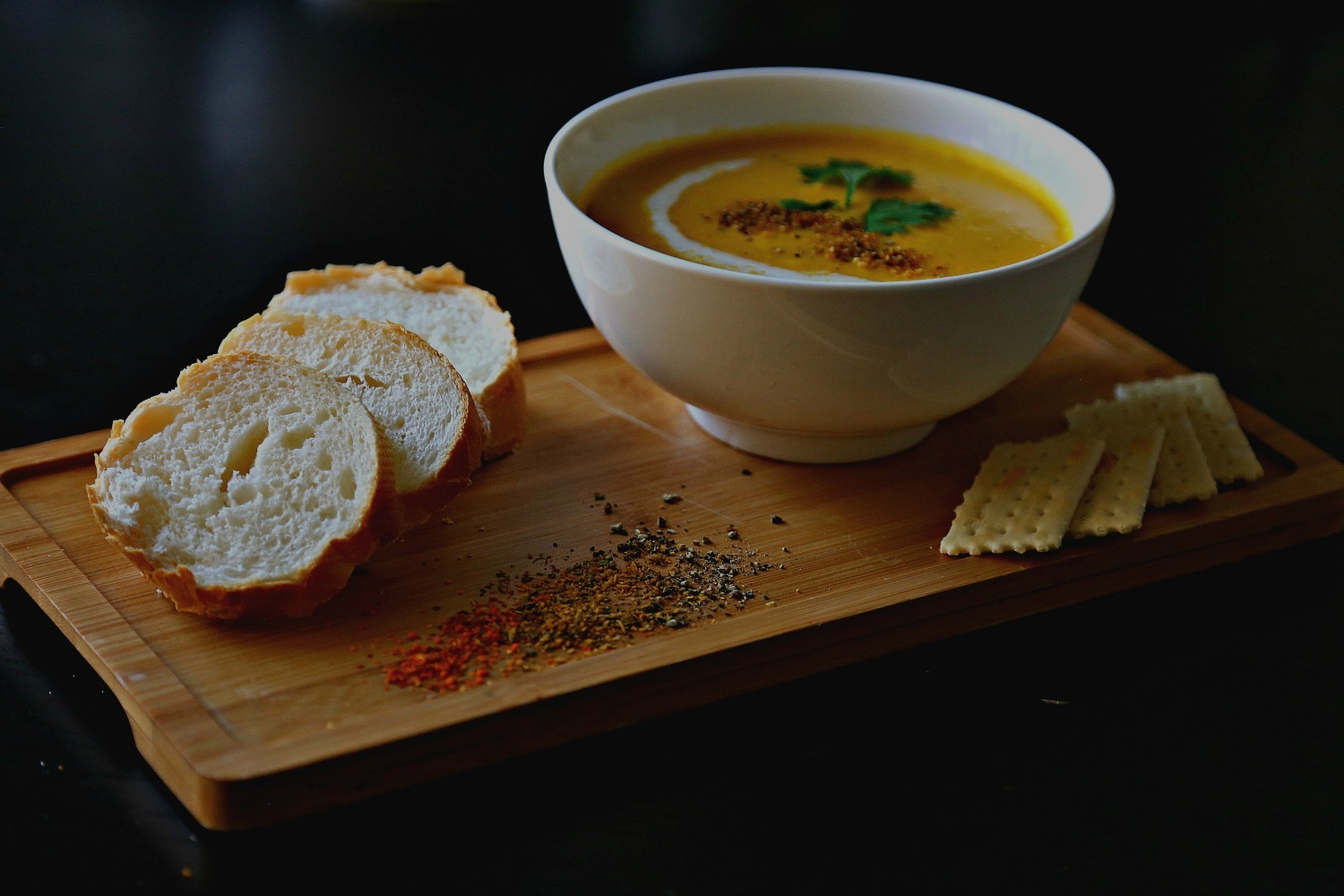 Sweet potato wasn't a staple in my parents house like white potato, I'm not sure why, But I remember that dad loves it baked. And he was insisted that we should try it because it's so good, and it's  like a treat. I didn't believe that, it tasted like a sweet carrot that is it! After so many years, when I  moved to the U.S I was surprised by how people eat sweet potato. And I decided to give it a try! All this was three and half years ago, when I made this soup, It was so good, and it was in my intention to post it on the blog, since I was a fairly a new mother, and had no clue how to mange my time or what to post. But, since it was too good, I took a crappy photo thru Instagram, and then used the photo here after I decided it's worthy.
But this delicious soup deserves good photos and here I did it.
I stumbled upon a sweet potato recipe in
Lovely pantry
blog. I said yes this is the recipe I need! So I decided to do my version.
This is an easy to make soup, while it takes some time, but it's totally worth it. I've sauteed onion, garlic, and ginger in olive oil, which is basically "my base" for almost every soup. Then I added sweet potato and carrots. While they belong to the same family, their taste is different, but their flavor profile compliment each other very well. Finishing with coconut milk, and seasoned with cajun, and black pepper, makes a great last finish for this soup.
Why do you need to add sweet potato to your diet:
There are so many health benefits of sweet potato, to mention a few :
 It covers you daily need of vitamin A.
The orange color form the good amounts of beta carotene antioxidant, which may reduce the rick of some cancers, and heart diseases.
It has good amounts of minerals like potassium, manganese, calcium and magnesium.
Its has low value of glycemix index, which means eating it, doesn't raise you sugar blood level, which will good for diabetic patients.
This soup is vegan, gluten free and dairy free. If you want a rich soup, you may add chicken broth instead of water, just make sure it's gluten-free, but it won't be a vegan choice.
If you compare fat and calories in this soup to the commercial ones, you may think this one is a high calorie one but, most of the calories in this recipe, comes from the coconut milk which has short and medium chain of fatty acids, that our body used it for energy instead of fat storage.
And the last thing is this soup is definitely low in sodium and it's very fulfilling, you won't feel hungry for hours!
Enjoy!
Vegan Sweet Potato & Carrot Soup
Ingredients
2 Tb olive oil.
I small onion.
3 cloves garlic crushed.
1 tsp of grated ginger.
3 medium carrots cut into cubes.
3 medium sweet potato cut into cubes.
3 cups of water.
1 cup of coconut milk
1 tsp. of salt, cajun, and black pepper.
Instructions
Heat the olive oil on medium heat in a medium pot.
Sauté the onion, garlic and ginger for 3-5 minutes.
Add sweet potato cubes, carrot cubes, and water.
Let them boil simmered for 20 min or, until the sweet potato, and carrots are soft.
Remove the pot from the stove. Blend the soup, then returned it again to the stove.
Add coconut milk and seasonings, let it uncovered for 10 min.
Serve it hot, or cold.
Refrigerate any leftovers
Do you like sweet potato? How do you eat it?