Tea is my favorite drink, I drink it every single day !
Unless I have an emergency, or just wanted to drink coffee instead! Usually, I have one cup of black tea in the morning, and a cup of green tea in the evening. It's almost a natural drink, that is vegan, gluten free, dairy free, and alcohol free. And that one of reasons why it is so popular. There are lots of people who share with me this love, according to the Pew research center through out the world, for every cup of coffee drunk there are three cups of tea!
Here is my tea box that I love, it's a gift from my dear friend Gabriel from Ecuador!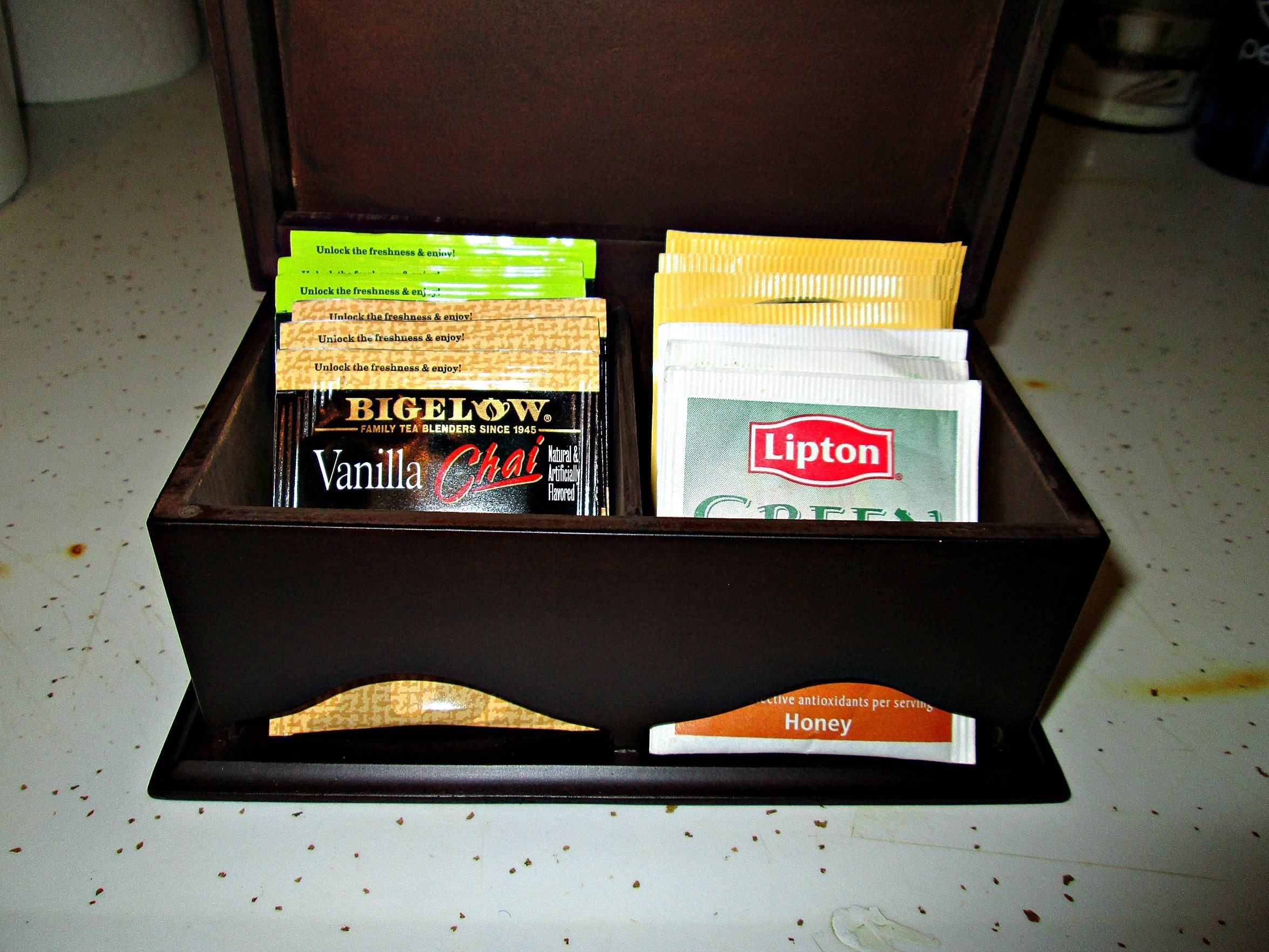 I learned a lot from this interview the expert discussed how tea varieties are different, and what makes some of the varieties expensive. I recommend you all to read it! Now let me explain why it's is worth loving it:
Why I love Tea
It has a negligible amount of calories, which is 2 per cup. But if you add sugar, milk or cream, calories will be added. 

It has a fair amounts of caffeine. Generally speaking, a cup of black tea has almost 26 mg, while green one may have as low as 7 mg per cup and up to 32 g. It depends on the variety, also on the brewing time.

It's rich in flavoniods which has known to protect cells from damage by the free radicals. Also, according to the Pubmed they are beneficial for the heart health. 
has polyphenols, they are antioxidants, and according the American journal of clinical nutrition many studies support that they help with prevention of heart disease, cancer, and osteoporosis. In case if you are wondering whether black tea has the same amount of antioxidants like green one, yes they are the same. The highest antioxidant values increase when it is unprocessed tea leaves. 
It can help with weight loss. According to the Medical News Today Polyphenols along with caffeine in tea, increase energy expenditure, and fat oxidation which resulted in weight loss. 

The last things is; there are too many varieties that you can try, and explore like Oolong, White, Red, fruit flavors of black and green ones.
And tea pots are cute and beautiful! Here is my new pot, my husband brought it from China
 
When you should be cautious
It can lead to depression: Since tea has caffeine, that is known to cause insomnia and sleep disturbance for some people, that may lead to depression. For the people that are sensitive to caffeine, or have experienced depression before, or still have depression episodes, they may want to choose varieties that are low in caffeine like herbal ones.
Oxalate: Black tea is known for containing oxalate compounds, which high intake of it may cause kidney stones. The more brewed the tea, the more oxalate it has. Green one has less amounts than black one, and can be enjoyed by people with kidney diseases in moderation.
Iron absorption: Lots of people are worried that consuming tea after, or with the meal will interfere with iron absorption. This is not true in most cases. However according to this study if you have low intake of heme iron, and high intake of tea, it may become an issue for you. In order to avoid iron deficiency, you should focus on including heme iron in your diet. Also, adding ascorbic acids to heme iron helps a lot in absorption. Finally, it's better to have tea after the meal, it won't matter the number of hours.
So do you love tea? What type do you like? Please share your comments, and thoughts in comments sections below, I love to hear from you!