This is a luscious creamy white hot chocolate with strong flavor of lavender and a slight coconut flavor. This white festive hot chocolate is perfect for Easter morning or evening! (Vegan & Gluten free friendly)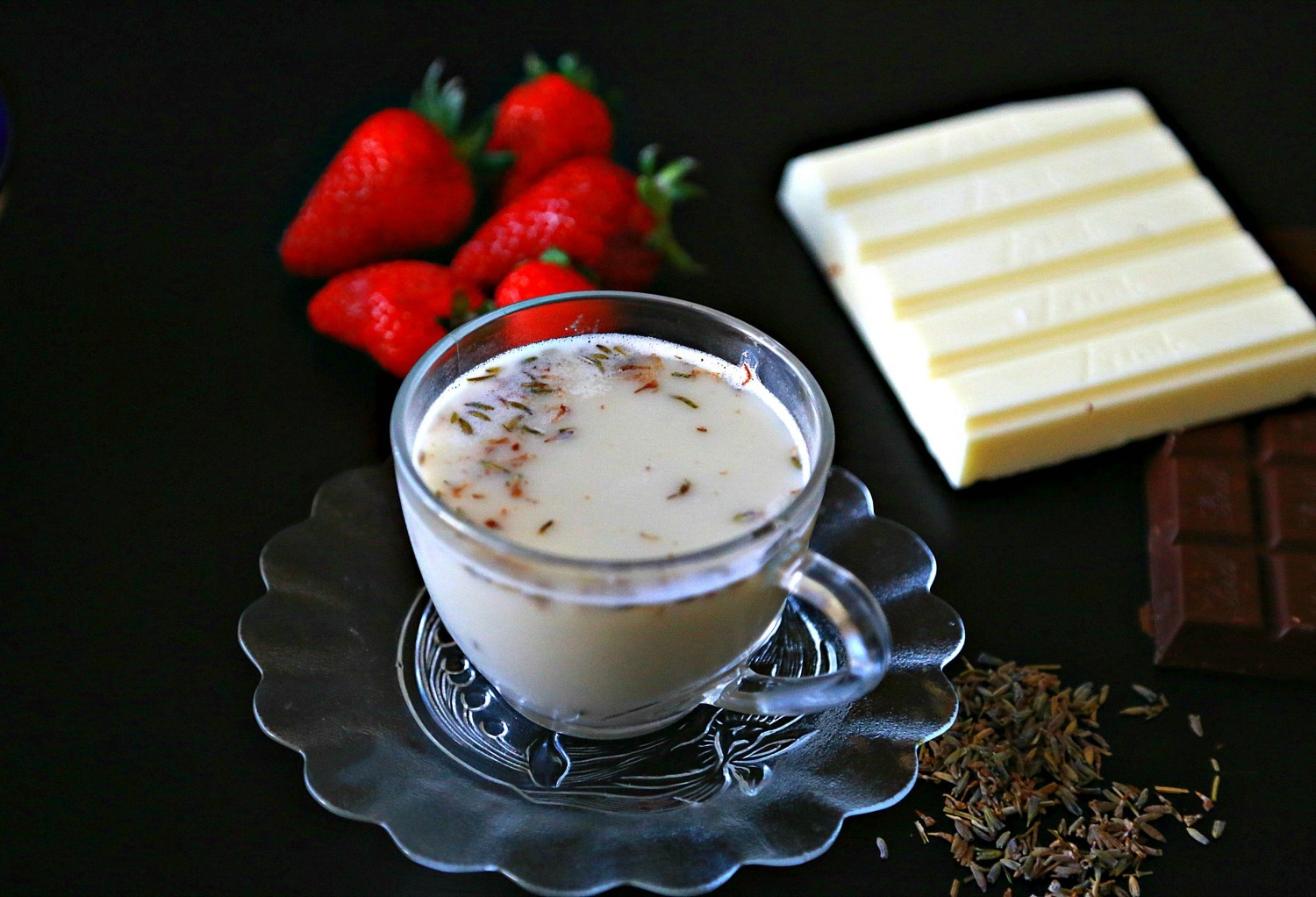 A year ago maybe, I was obsessed by the beautiful beauty and lifestyle Swedish, and European blogs. Many of them follow minimal style, but some post gorgeous cakes, puddings, and desserts using tea, lovely flower, and lavender! I had no idea that lavender is edible! We have local lavender, and I remember that my elder sister was obsessed with it, she was keeping it between clothes and other stuff she likes to keep them naturally scented. I wasn't into these things! But now I thought I should give it a try in a culinary world! 
Lavender 
A herb that is related to the mint family. It has so many uses, mainly for beauty, cosmetics, and perfumes. And you can use it to flavor your dishes, savory and sweet dishes as well. It has strong flavor, with herby flowery aroma and taste. 
You would be surprised how lavender is good for you, here I will mention some of the health benefits:
It can enhance sleep quality and reduce anxiety.
It can reduce the intensity of depression, and can be a part of anti-depressant drugs.
It has anti bacterial, anti fungal 

proprieties

 , antioxidant 

activity. 
However, as other herbs, lavender can interact with some drugs, so always consult your doctor, if you have chronic condition and you wish to use lavender, or lavender essential oil. And until now the safety of using lavender while you are pregnant or lactating is not concluded yet.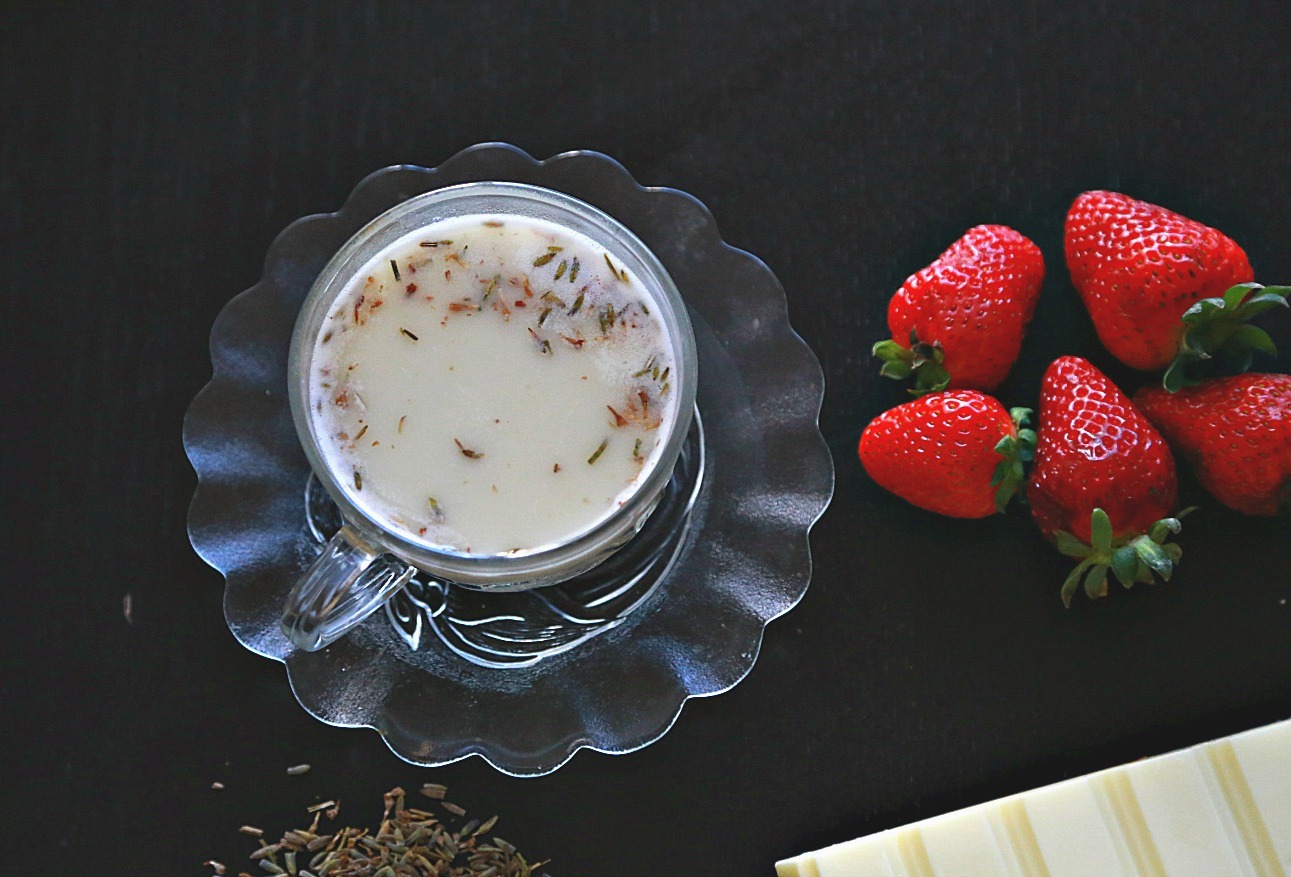 White chocolate
It's coco butter, milk solids and sugar. It's not the best healthy option for a hot chocolate, but who can resist white hot chocolate? Just look for low sugar options, and have it in moderation. This hot chocolate is creamy, velvety and tastes so good! I love all chocolate, milk, dark, and white. You can check my dark hot chocolate recipe here. 
Coconut cream 
It's healthy like coconut milk, but has more saturated fat, since it's the concentrated form. However, you can enjoy it in moderation. It contain B vitamins, and some minerals, and the short chain fatty acid "Lauric acid". The body converts this fatty acid to another compound that is antiviral. When buy a coconut cream, look for "no sugar added" options.
*To make this white chocolate healthier
You can substitute coconut cream with coconut milk. 
Opt for low sugar white chocolate, gluten free and vegan if preferable.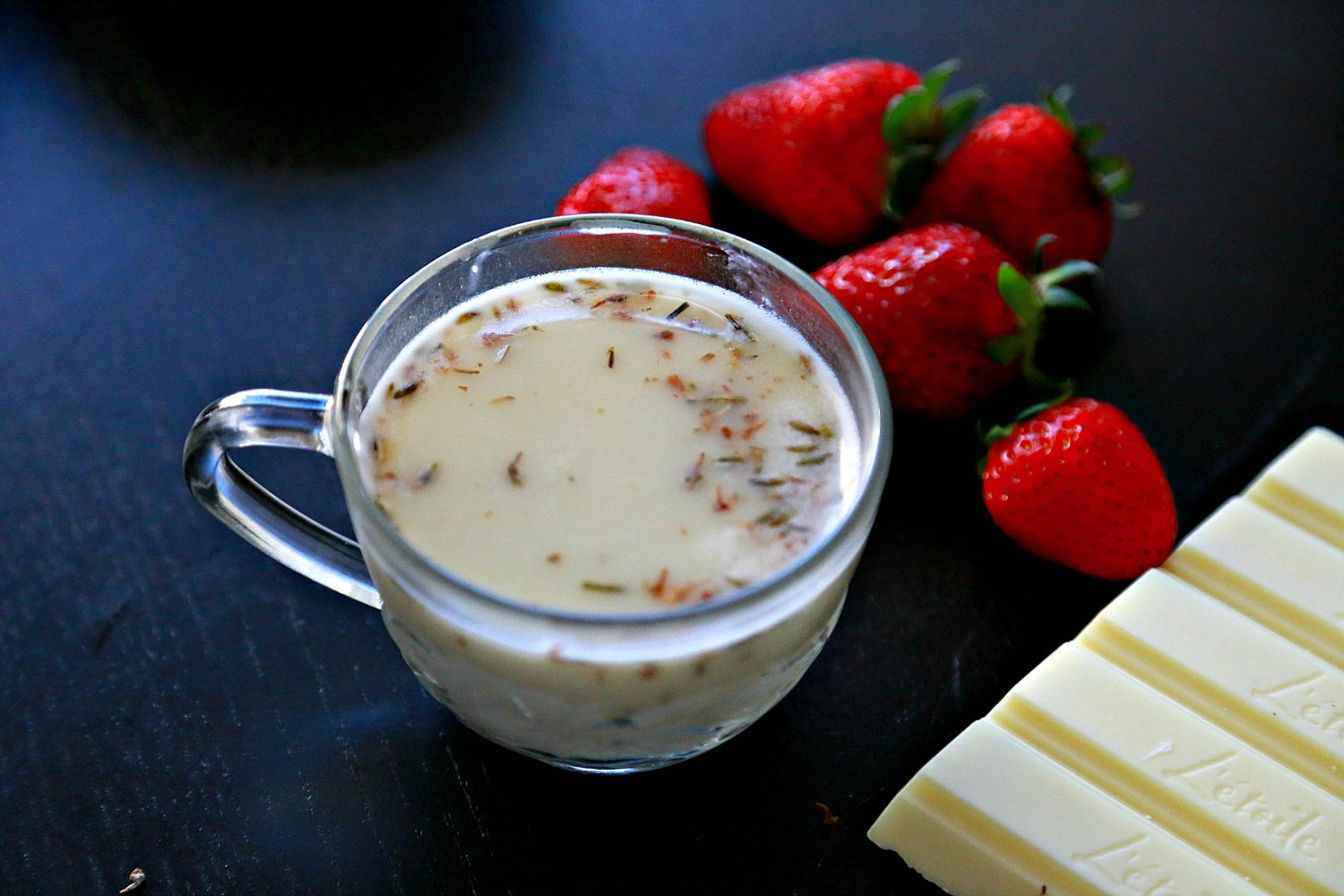 Lavender white hot chocolate
Ingredients
100g white hot chocolate
Coconut cream 200 ml
Dried lavender 1 heaping Tb
Instructions
Melt the white chocolate in a double boiler, or just int the microwave with intervals of 30 seconds. it depends on the chocolate, it may need up to 1.5 min or more, just be sure not to burn it.
mix the chocolate with coconut cream, and transfer them to a small pot.
Put the pot on the stove on a medium heat.
Add lavender, and stir occasionally, you may need to lower the heat, again it depends on the white chocolate, if it have a lot of sugar, that means it will burn quickly.
When it start to bubbles, remove from heat, and pour in a cup.
Wait about 2-3 minutes , then strain to get rid of the lavender.
Enjoy, refrigerate any leftover if any!
Notes
The cooking is not an exact number, its an approximation , as I said , white chocolate brands can vary with the content of sugar and butter. Also the coconut cream can be different too, it should not take more than 10 minutes to bubble.