This vegan thick and creamy Chai dark hot chocolate is guaranteed to uplift your mood, and warm up your soul!
It has been so long, since I posted a recipe here on the blog. So I cam back with a recipe of hot chocolate! Who doesn't love hot chocolate, right? From the beginning on December, and I'm under pressure. Nothing really serious, but It has been very hectic lately! I was practicing for my 2nd marathon, the weather is really a harsh dry cold,  and I was trying to be social too! And to be succeed at all these things with being sick, and having a sick toddler is really INSANE!
If you follow me on Instagram you would have seen my photos from the red sea marathon. This marathon was harder, and I wasn't trained very well. Even I finished it with a shorter time, I finished it with pain, and I'm still working on how to ease the pain. Any tips?
But let me tell you, after the 2nd marathon, I need to emphasize on the importance of moving and working out rather then dieting. I will assure you moving is just important if not even more! You can't sop eating, There is a limit to how low calories you can take. Your body needs energy to function, even if your are sitting down all day, so please  let's all move, and stop being obsessed with counting calories!
Now let's talk about the recipe!
Hot chocolate 
Hot chocolate is the one drink that I never get tired of! You can always add stuff, toppings, spice, use different chocolate, coffee and more! Really it's fun to make it and drink it too!
So today I have this easy recipe for YOU, that you will make again and again! It's very decadent, and has very rich taste, with being very healthy! This hot chocolate tastes like a dessert, it's thick almost like hot mousse, with coconut cream on top!
Now you can pour everything together and go form there, but I find the best way is to mix the chocolate or coco powder with cold milk. This help the mixture to blend well without any lumps or undissolved chocolate. We don't want to loose any of course!
You can have this hot chocolate on Christmas morning, Christmas eve, the new year eve, or really any day!
It's flavorsome, silky, healthy, and packed with healthy fats and spices!
Why hot chocolate is healthy:
Chocolate has many natural and chemical compounds that is good for you health:
Tryptophan which is a essential amino acid . It plays a major role in serotonin production (a hormone has a significant role in balancing mood).
Flavonoinds : In this study they found that cocoa enhance mood, but there is no effect on better cognitive ability. Even in this article of cocoa health benefits the researchers suggested that cocoa may have a role in prevention, or treatment for weight loss, cancer, allergies, and mood enhancing .All of that is, because cocoa has compounds that effect neurons also, because of antioxidants contents. 
 Polyphonylic compounds  : In this review cocoa has a  potential role in  protection from cancer,its damage the free radicals interfere with the initiation and progression of cancer cells.
And you can find more about chocolate here.
Chai 
Is a blend of spices, and to be more specific it's Masala Chai that has the spices, since "Chai" in Hindi means simply tea. Spices are great for you, they have antioxidants and can affect metabolism, and even reduce the risk of diabetes. It's one of my favorite flavors to add to coffee, tea, and now to hot chocolate too!  
Mixing dates with chai is the ultimate combination of healthy flavor add on, and healthy sweetener as well. It's more sweet than sugar, so you don't need much of it to sweerten your hot chocolate. I've posted all about health benefits of dates here. 
Enjoy!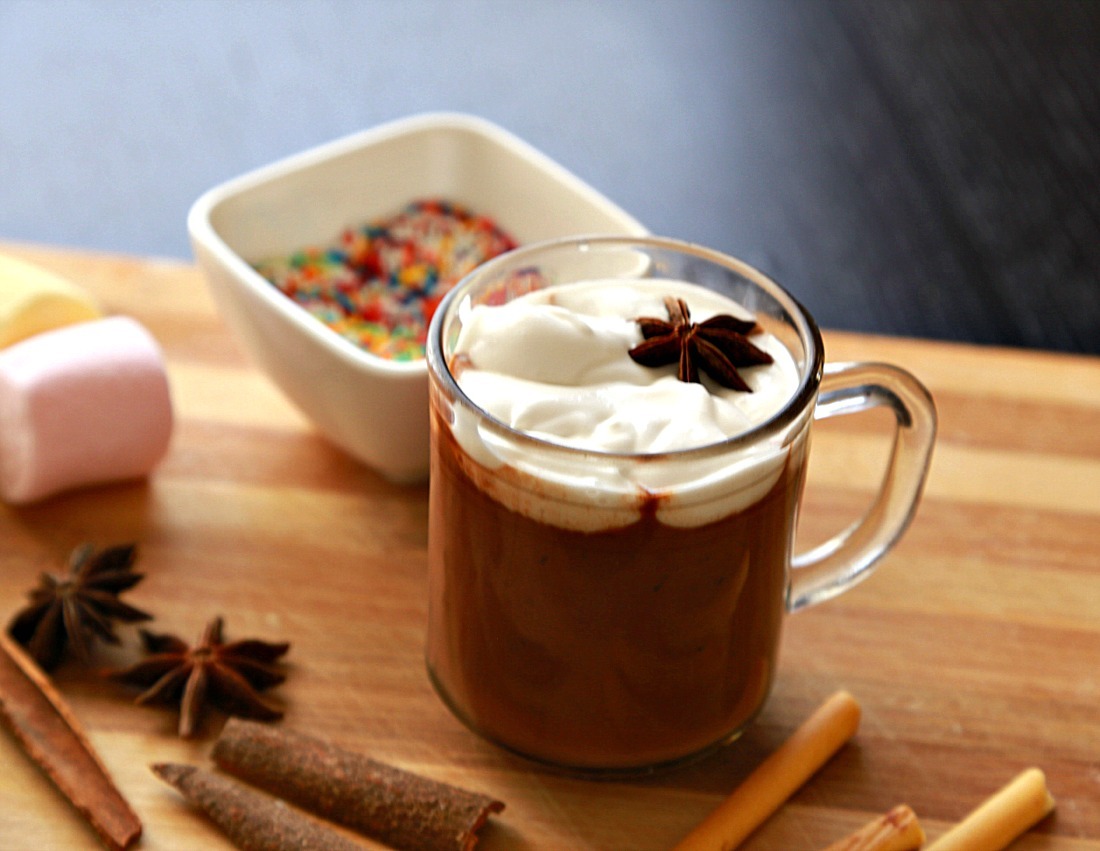 Chai Hot Chocolate
Ingredients
6 oz full fat coconut milk
4 oz vegan dark chocolate
1 Tb Chai date paste/syrup (see instructions below)
8 pods of Cardamom
8 Cloves
1 star anise
1 Cinnamon stick
8 peppercorn
Fresh Ginger
1 Tb tea leaves
100 g dates pitted and soaked in hot water
Optional toppings:
Coconut cream
Marshmallow
cinnamon stick, star anise flower
Instructions
Make the chai by adding the spices in 1 cup hot water into a medium pot.
let them simmer for 15-20 minutes, depend on how strong you want the flavor to be.
Strain the chai and put it in a blender along with the dates and its water.
Add water if the mix is too thick.
Put the chocolate in a safe microwave dish.
Melt it , with short interval until its completely melted. Wait for it to cool down a bit.
Add the cold milk gradually and keep stirring, until all mixed together.
Pour the mixture in a small pot.
Put on the stove on low heat. add date syrup, and mix well.
When it's warm enough, remove from the stove, don't boil it!
Enjoy, and add your favorite topping/s.
I added coconut cream, I whipped it using a metal mixer. You need to chill out the mixer handle and the bowl an hour before, and keep the coconut cream in the fridge.
Refrigerate any leftover (if any!), and keep it for couple of days only.
Notes
Make sure the chai date mix is liquid not a paste. While its still delicious to be a paste, but it will turn your hot chocolate into a pudding!

Refrigerate any leftover of chai date syrup up to 1 week!