A rice and lentils pilaf that is so easy to make and delicious too. It's flavorsome and packed with nutrients. It happens to be vegan and gluten free too!
This recipe was one of my first recipes here on the blog, when I was eager to share recipes from my own heritage. Recipes that I make often and truly love and more important means much to me more than it's health benefits and tastes. It meant HOME ! That was my line!
" I started a series "Arabic cuisine" featuring my traditional food. Today the dish is Mujaddrah " . 
And I'm re sharing this, to give it better photos, and because I know you will love it as much as I do!
***********************************
Since I was young, I loved Mujaddrah. But let's be honest, it wasn't a family favorite, that everyone dreamed of! But I did! And still in love with this healthy meal. I used to help mom making it. It's very easy to make, no sophisticated culinary skills needed it. And pairing it with yogurt is a good way to boost protein, or just a salad to make it tastes fresh.
It is a comfort food really, but I can't deny the truth, that some days I hated Mujaddrah. Because that means, its the day when we won't eat meat, or chicken. These days I'm longing for the day I cook Mujaddrah. It's vegan, gluten free, and minimal. So having a delicious meal, and doing a favor for our beautiful planet ,That's what I called a double win.
Some people like Mujaddrah mushy, others like it just cooked to the right extent. I made it mushy many times, but that's because I'm lazy! And probably was doing something else besides cooking (Which was usually reading, or browsing). I didn't really keep an eye on it. But that before, when I didn't have a beautiful kid running around. Now I do keep an eye on the food, because , Really let's face it, I have no time to make another if something bad happened! But this time it was really as it should be, fluffy, soft, moist and in a good shape!
Lentils
They are very fulfilling beans, very nutritious ones. High in protein, and fiber. And have good amounts of minerals like Iron, zinc, and manganese. Also, B Vitmains like Folate. Its a complex carbohydrates, but with medium glycemic index value. Click here for more recipes with lentils.  
Mujaddrah is a white rice mixed with lentils. But since it's not very nutritious, comparing to a brown, or wild one. You can add your preferred type, just remember that white rice has less arsenic than brown one.
Some people cook it with bulgur . Actually, I remember mom making a bulgur one for my brother. And it seems the popular one with other bloggers too! Since obviously bulgur is more nutritious than white rice. Here is a talented blogger Faith Grosky  created this dish,check here the great looking Mujaddarh Burghul.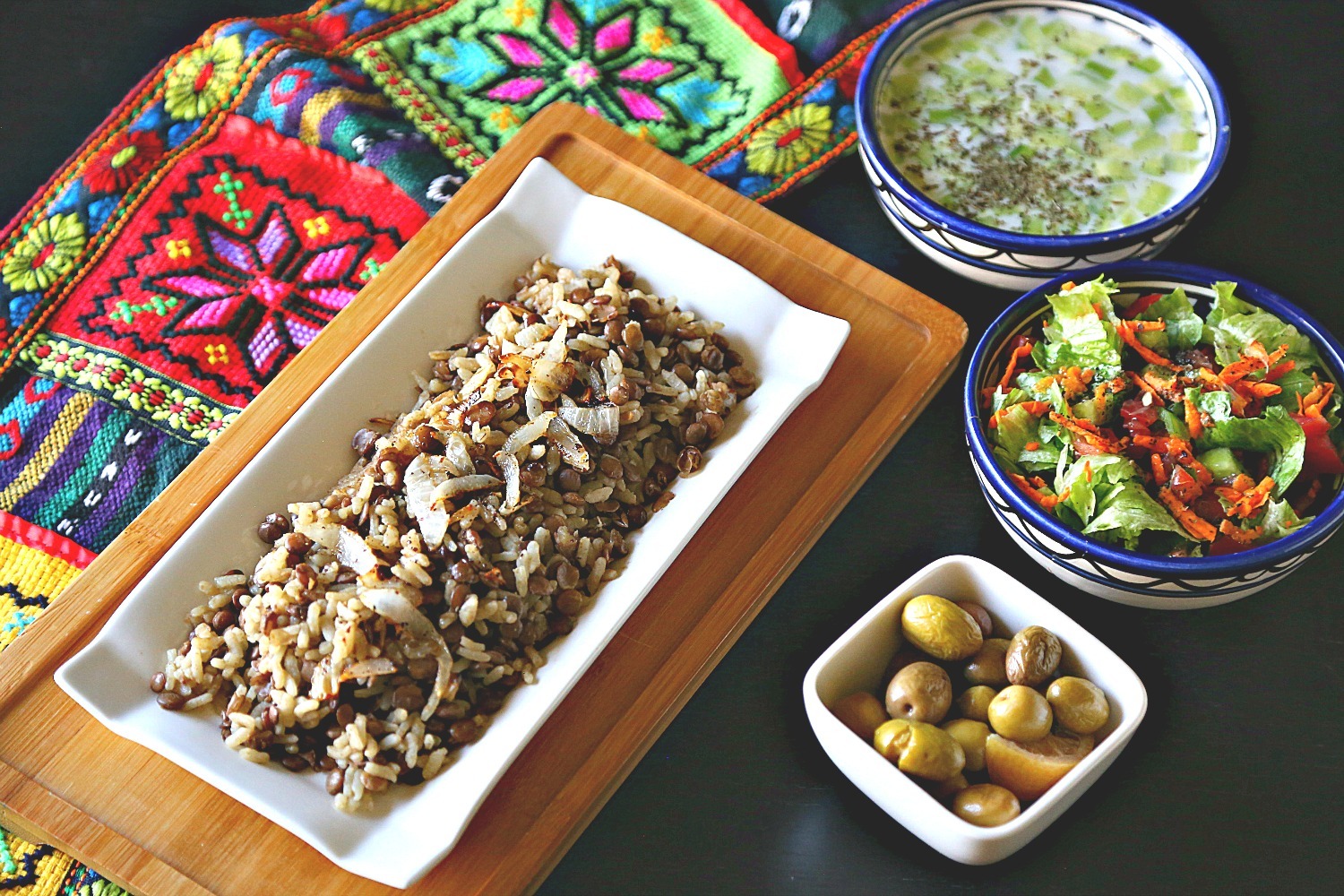 Enjoy
Arabic Rice and Lentils (Mujaddara)
Ingredients
Half cup of lentils
1 cup of White Rice (Short Grain).
2 Cups of Water.
Spice (Cumin, Black pepper, Salt, Sumac is optional).
Salad, or yogurt for the side.
2 Tb Olive Oil divided
Half small onion thin sliced
Instructions
Soak rice for an hr in a hot water or couple of hours in cold water.
Put lentils in large pot, add water, let them on medium heat for half an hour or until the lentils are soft.
Add rice when the water become half amount, or even less.
Add cumin, salt and black pepper.
Let it on medium heat until the water is all absorbed.
Leave it for 10 minutes on very low heat, so the rice will cook through. Add 1 Tb Olive oil (This is optional. But I strongly recommend it, you don't want the dish to be bland)
Cut the onion, slice it very thing.
Heat a skillet on medium heat, add olive oil, onions, add Sumac, and leave until it golden brown, and soft.
Nutrition Information
Calories:
183
Fat:
7
Carbohydrates:
25
Fiber:
4
Protein:
6
Have you tried Mujaddrah before? Did you like it? If not, would you try it?