Hi everybody, how is it going?
Today I have for you a recipe that is not so healthy, even its gluten free and refined sugar free. But every now and then everyone needs a melting cheese recipe, don't you think? And while we are talking about recipes, please check out the updated Recipe Index , now its less crowded, and you can find what you are looking for easily. 
I always avoid posting unhealthy recipes since this is a nutrition blog, and its goal to offer healthy recipe that help you stays active, healthy and fit, and lose some weight.
This is a fatty recipe, since cheese has good amounts of saturated fatty acids, and will cause weight gain, and this won't be so good for anyone who need to loose weight.
But I firmly believe that a small serving of an indulgent recipe will make you feel better than some trials of not so appetizing snacks so called "healthy snacks and treats".
I'm eating desserts but sill losing weight, I can relate to "losing weight" when you live a lovely life full of love and laughter. That's what I feel now, I'm around my family again, and my son feels happy too, so what can I ask more? And I'm being more active, and start running regularly , and have walks with my son to the local markets. So yes, I'm losing weight already without trying so hard. I've been eating emotionally before, and I'm glad I don't do that now.
And to be honest I just need reason to defend posting this indulgent brie recipe!
What is brie?
Brie is a soft french cheese and its called the queen of cheeses, also a dessert cheese, since nuts, fruits, and honey are the common condiments.
I tried brie first time in the U.S in a small gathering on my husband's college for the the end of semester in Sheraton hotel. It was mixed with blackberry, it was pure heaven! I couldn't wait to make my version.
I intend to publish this post it last year, but I didn't because the recipe didn't work. I was browsing, food bloggers and chefs made every possible combination with brie! It was frustrating, the brie had been in the fridge alone, and unappreciated for along time.
I tried to make a savory one, but it was over saturated with flavors. There were lots of things happening on the plate, and the brie was already of old, and this didn't mean sharp flavor, but a bad one, I was truly disappointed.
Chai and dates
I'm obsessed with spices and dates, I love to add sweet flavor to every thing, I use raisin in kabsah, and love to add fruits in soups, salads, you just name it. My favorite is this strawberry salad with bulgur
I need to attribute this idea of date syrup to the talented food blogger  Maria. This is the third time I use it, and it is a hit every time! It's versatile, and not insanely sweet, and kind of cheap and available. Especially in Arabic countries, or if you have a dear sister like me and she got you this date.
Chai is a blend of spices, and to be more specific it's Masala Chai that has the spices, since "Chai" in Hindi means simply tea. Spices are great for you, they have antioxidants and can affect metabolism and even reduce the risk of diabetes, i'll talk more about Chai in future recipes.
Now let's get to the recipe, and don't forget to share it with others!
This with non alcoholic flavored malt drink (this is occasional too)
And here I added the spread, and some toasted almonds!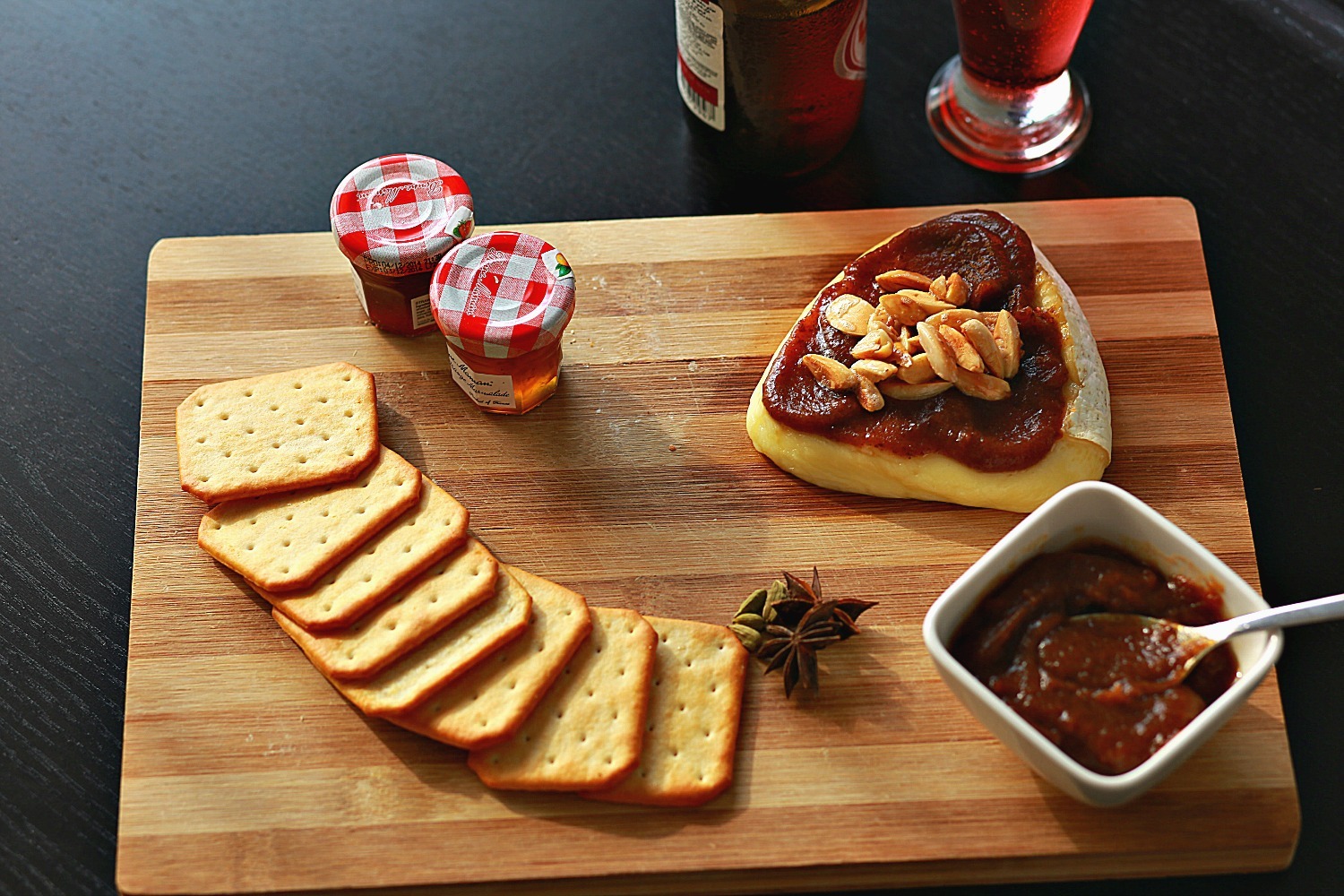 Baked Brie With Chai Date Syrup
Ingredients
Chai :
8 pods of Cardamom
8 Cloves
1 Cinnamon stick
8 peppercorn
Fresh Ginger
1 Tb tea leaves
Optional
Star anise
200 g Brie
Date Spread (see instructions below)
For garnish and other condiments:
Jam
crackers
Toasted almonds
Instructions
Soak 200g dates with 1 cup of hot water and set aside.
Pre-heat the oven to 180c for 10 minutes.
Remove any plastic wrap on Brie (don't remove the white rind on cheese itself) and bake for 8-10 minutes.
let it cool down for 15-20 minutes.
Prepare Chai by adding all spices, and tea leaves together with a cup of water on medium heat in a small pot for 5-10 minutes.
Strain Chai to have clear liquid, and mix it with date spread in the blender.
Now just spread it over brie, add toasted almonds and enjoy!
Notes
The servings for brie, but you will have leftovers of chai date spread, just keep in the fridge up to 1 week
Have you tried brie before? What do you like to eat with it?