A raw vegan strawberry bulgur salad, that is bursting with flavors, sweet, and tangy! It's packed with fiber, antioxidants, and loads of vitamin C!  
It's a strawberry season now, and lots of food bloggers are creating great recipes, I made a strawberry kale salad before, and I feel in love with it! Fresh sweet salad make me feel happy! 
I thought of making something more creative, maybe cook the strawberry in some way, add different ingredients, and get out of my comfort zone. But I couldn't!
In my humble opinion, fresh strawberry salad, is the best way to eat it. In desserts it become sweet, sometimes mushy, and loose it texture! So salad was the way to go!
Bulgur
Is a cracked wheat, it has protein, and fiber, and vitamins too. It's very healthy, and I did compare it with quinoa here. And I created a recipe with it before, you can find it here.
From Arabic cuisine, and Turkish, usually bulgur been add to savory dishes. Like the famous mujaddarh burgul by the talented Faith grosky   she made it for you, my readers. And there are many other dishes like tabbouleh of course, but the traditional one has no fruits of course!
Mixing cuisine, is always a fun way to have bursting flavors. I wanted to have the Mexican strawberry salsa before, but I didn't yet (I should I know, have you?). I thought having Mexican flair with bulgur would be a great idea, don't you love Mexican food?
Why this strawberry salad?
Because  strawberry is a very nutritious fruit, here is why you should eat it:
It has Vitamin C more than you need in a day! Also its a good source of magnesium, and folate.

The real health benefits are coming from antioxidants like antohcyanin, flavonoids.
it does lower cholesterol too. This study found that, the more strawberries you eat, the more antioxidants your body absorb.
And it may help prevent esophageal cancer too.
It has Protein which is 6g per cup, and moderate in calories which is around 150. For the vitamins, it has good amount of Vitamin E and many B Vitamins composition, and it's high in Fibers.
More studies are suggesting that strawberries have anti-inflammatory proprieties, and can help the body against chronic diseases. However further studies are needed to confirm these claims. And getting the benefits depend on how much you eat, how often, and what is your diet looks like overall.
And here are delicious healthy recipes with strawberries from fellow bloggers:
Strawberry Arugula salad with chicken by Ea
Strawberry Oatmeal cookies by Amy
Strawberry Orange Salad  by Cheryl
Strawberry and Basil grilled Cheese by Jen 
This is beautiful, isn't it ?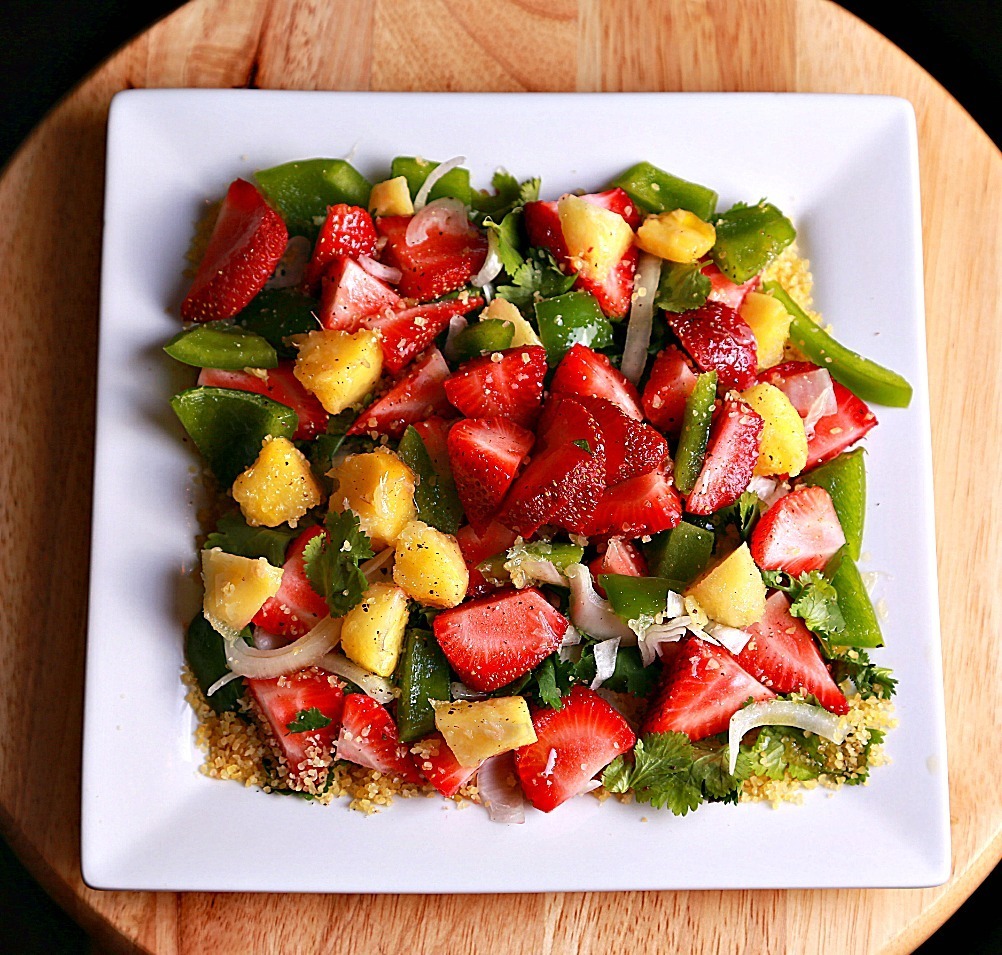 So lets eat strawberries, and get to the recipe, Enjoy! 
Strawberry salad with bulgur
An easy to assemble raw colorful salad, that bursting with flavors and vitamin C, plus its vegan!
Ingredients
Half cup of uncooked bulgur
1 cup of halved strawberry
1 Tb of lemon juice
Half cup of pineapple cubes
1 medium green bell pepper
1 small onion
Half cup of cilantro leaves
2 Tb of Olive oil
Juice of 1 medium lime
salt and ground black pepper up to taste
Instructions
Soak bulgur in lemon juice, and a bit of water for 15 minutes.
Cut all the fruits, and onion.
Add fruits, and veggies to bulgur
add lime juice, olive oil, salt and pepper
Serve it room temperature, or cold.
Notes
Don't skip soaking the bulgur. This step makes it easier to digest, and increases its volume.
Nutrition Information
Calories:
328
Fat:
13
Carbohydrates:
49
Fiber:
12
Protein:
7
Have you tried bulgur with fruits like strawberry before? Would you try it? Do you have a favorite recipe for bulgur? Please share it!