This strawberry kale salad is very easy to assemble, healthy , delicious, bursting with flavors, plus its gluten free.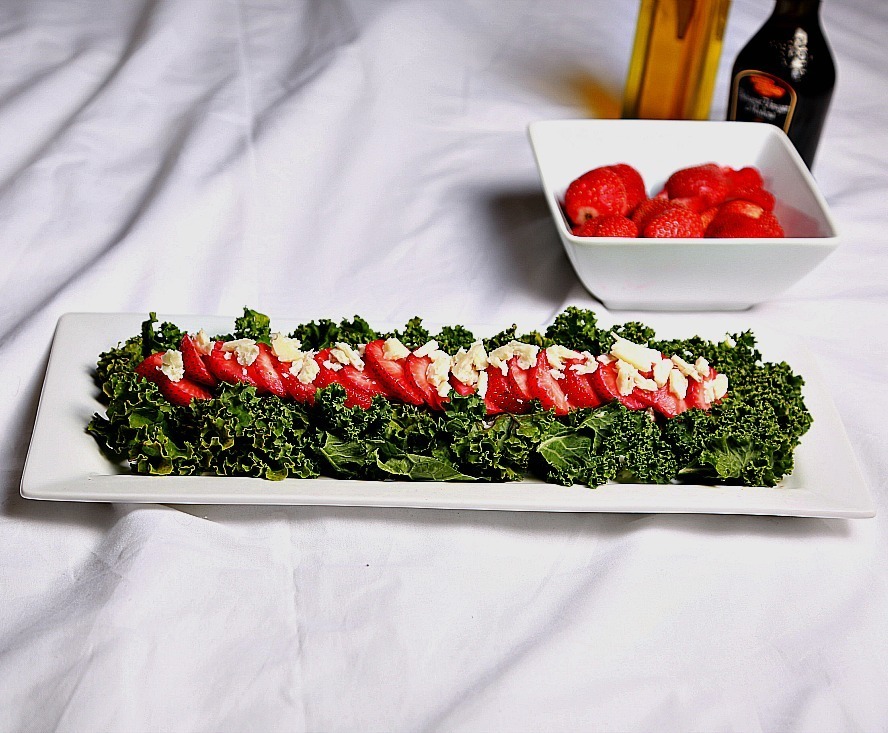 I made this salad months ago, before I had my vacation in August. It was perfect in all means, sweet, salty, and greenish. But I did a big mistake when I photographed the salad, photos were all black! Here is the little story
I wrote about the stress I was having last summer, regarding the blog. I'm glad I did overcome some of the obstacles. One of them is photography. And since we moved to a proper house, I decided to start doing photography of my recipes myself. I did some before, and the others my husband took the photos.
I started to use my husband's professional camera. But since I didn't learn photography the proper way. I wasn't sure what I was doing. When I made this salad, I thought I did choose a good spot. It was a cloudy day, but with enough natural light to have decent photos. I took many photos, I was happy, and excited to check them out, and to share them with you! I asked my husband to download them, and there was the problem, they were all black! I was shocked! I didn't understand what went wrong. There was enough light! What happened? Can you guess?
The day before, my husband did an outside shoot. It was a sunny day, a very bright one. He had to adjust the lighting, so the photo won't be all white! So, I didn't know how to adjust the camera settings. It was embarrassing, and I was frustrated . I wasted my time, my ingredients (Didn't really, I ate them!). But, with my kid around, my time is very limited! So that was a waste, but with a valuable lesson! 
After I got back from vacation, my husband did create a small studio in our house. I was surprised. I was not so happy about it at first, but then I thought that this is a great chance I have now! I can shoot decent photos day, and night! And, I don't even have to wait for my husband to take the photos! But since my hub loves his camera so much, It took me a while to convince him.
Now, let's get back to the salad! Strawberry, and kale, it doesn't getting any healthier than that! Kale becomes a favorite of mine. And strawberry is healthy too!
Why do you need to eat strawberry
Lt's low in calories, with good amounts of vitamins, minerals, and antioxidants like Lycopene!

It has Vitamin C more than you need in a day! Also its a good source of magnesium, and folate.

The real health benefits are coming from antioxidants like antohcyanin, flavonoids.
it does lower cholesterol too. This study found that, the more strawberries you eat, the more antioxidants your body absorb. 
First, I made it with roasted strawberry. I thought it will give the salad a kick. And it did work, it was amazing! Really a very sweet salad, they way I like everything to be! But, when I made it this time, I changed my mind. After I started to eat more raw salad like this beautiful one I want to eat all fruits, and vegetables raw! Therefore, I thought roasting strawberry would ruin this delicate luscious fruit.
I used Halloumi cheese (Cypriot white cheese, very popular in Arab countries). Here is the talented chef David lebovtiz made a simple dish, fried Halloumi! I used to eat it all the time back home! It's divine! You can substitute it with Feta cheese too! Or another white cheese, maybe Queso?
I'm trying to play with plating here, I know this is not the greatest plating ever! Playing with delicate textures, and not easy ingredients to assemble made it fun, and an exhausted experience too!
Now let's get to the recipe!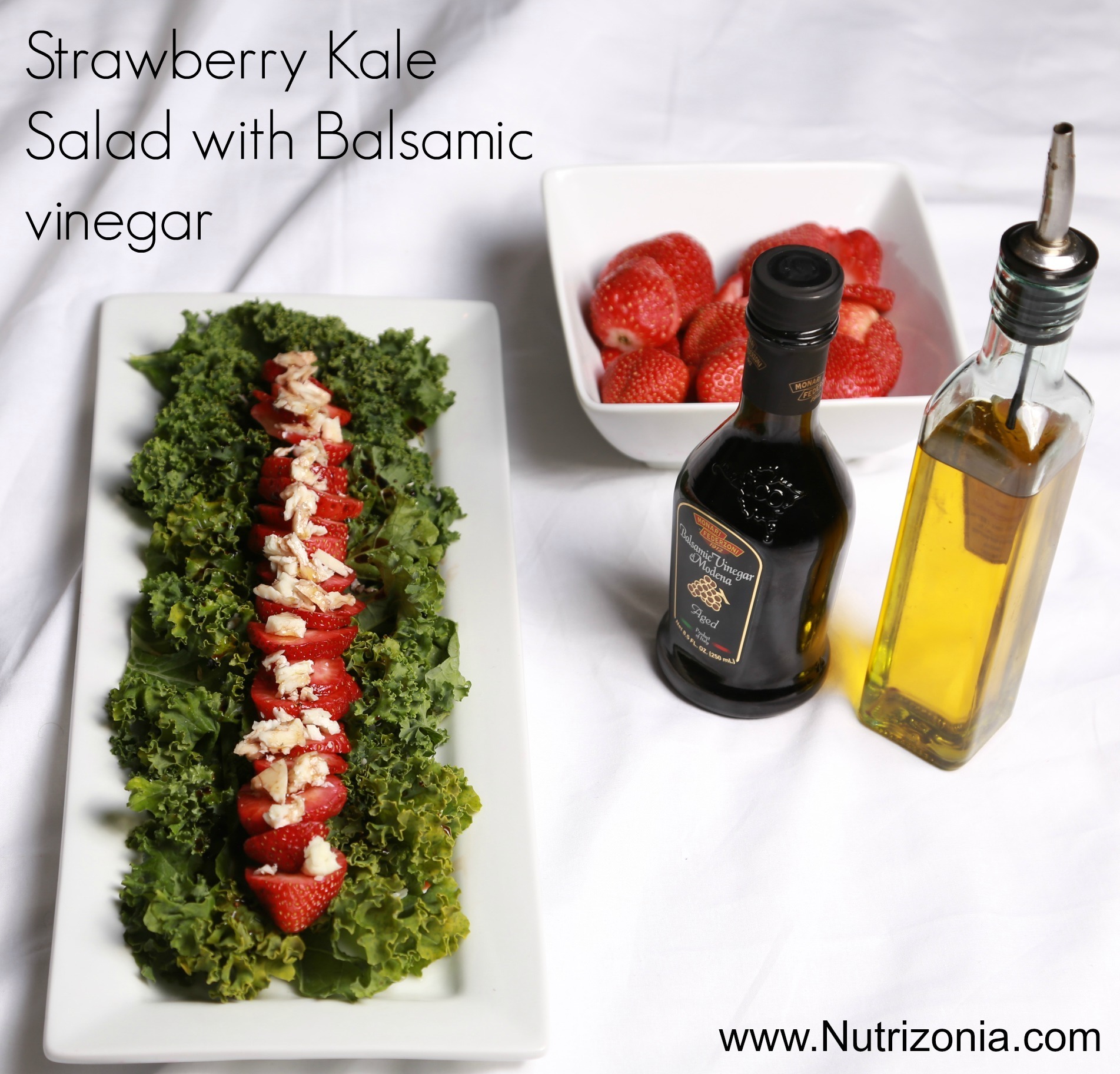 Strawberry Kale Salad with Balsamic Vinegar
This beautiful raw salad, is so easy to prepare. healthy and delicious, plus its gluten free
Ingredients
1 cup of Strawberry sliced or chopped
2 ounces of your choice of White Cheese
2 cups of chopped Kale
Dressing:
2 Tb of Balsamic vinegar
1 Tb of Olive Oil
Dried basil
Ground Black pepper
Instructions
Wash strawberry, and diced it the way you like.
Wash kale thoroughly, and drain it.
Cut the cheese into small piece, or just crumble it.
Mix the dressing and serve it on the side.
Plate your salad, and serve immediately.
Notes
This salad is best when eaten fresh. If you want to keep it in the fridge, keep the dressing on the side.
 What do you think of this salad? Would you like to try it?