I started a series "Arabic cuisine" featuring my traditional food. Today the dish is Kibbeh bel Sannieyh (Meat pie with Bulgur)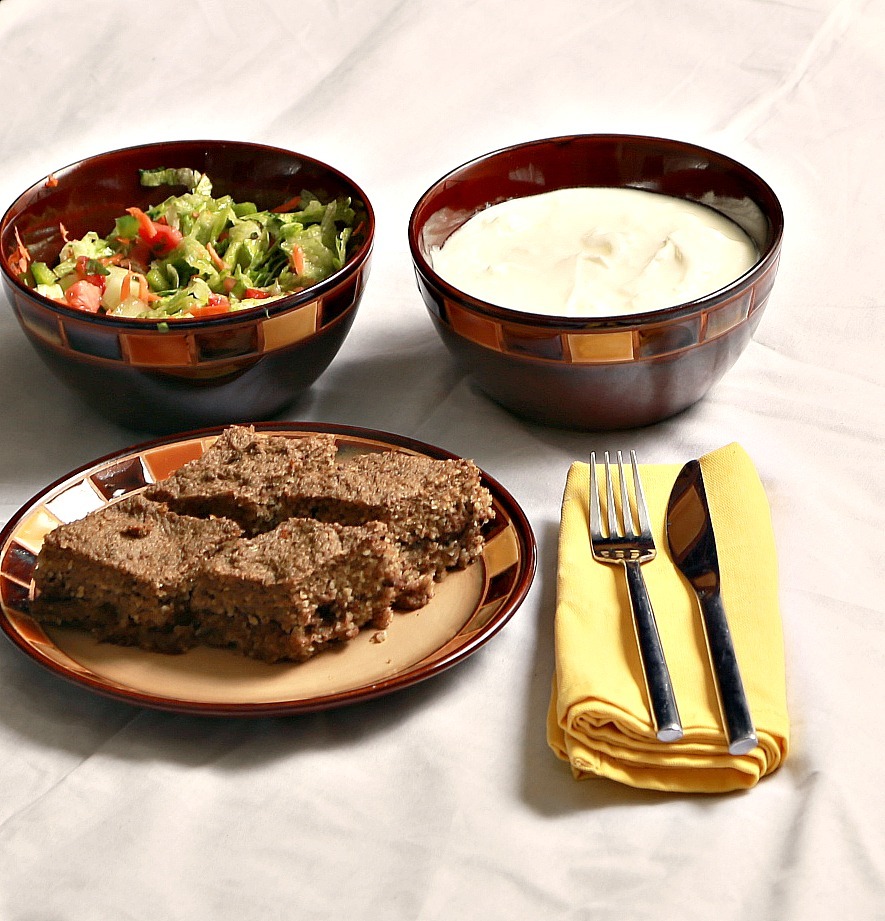 "Meat lovers unite" This dish is for you ! It's meaty dough stuffed with meat 🙂
But the good news is, the dough is meat mixed with bulgur, a whole grain! The basic version has pine nuts, a delicate nut, Some versions don't have much meat in them. But to make it delicious, and irresistible, it should has lots of meats! So to make it extra healthy, use the leanest meat you can find, and add walnuts instead of pine nuts.
Kibbeh is very popular dish in Syria, Lebanon, and Jordan. Also in other Arab countries. But the most popular form, is the fried one. Which are usually looks like balls, or in a diamond shape. But, I don't like it, because it's heavy, and dense. Therefore, I chose for you a healthier one, a baked one. 
Kibbeh wasn't a family favorite, because my dad prefers stews on baked goods for lunch (Which is the main meal in Arab countries). So mom used to cook it on some occasions, or upon request (Me most of the times, and my little brother). It needs some work to do, but when you get used to it, its easy, delicious, and nutritious.
You should choose the finest bulgur you can find. Because if it was a coarse one, it won't stick to the meat. And that goes for meat too, you should pick the leanest meat for the same reason.
I love it, when I see talented food bloggers recreated my traditional dishes. Here is Rehana she made (kibbeh bel sanniyeh) It's a beautiful one . She made the basic version. (And I love that too!)
Here is a close photo for Kibbeh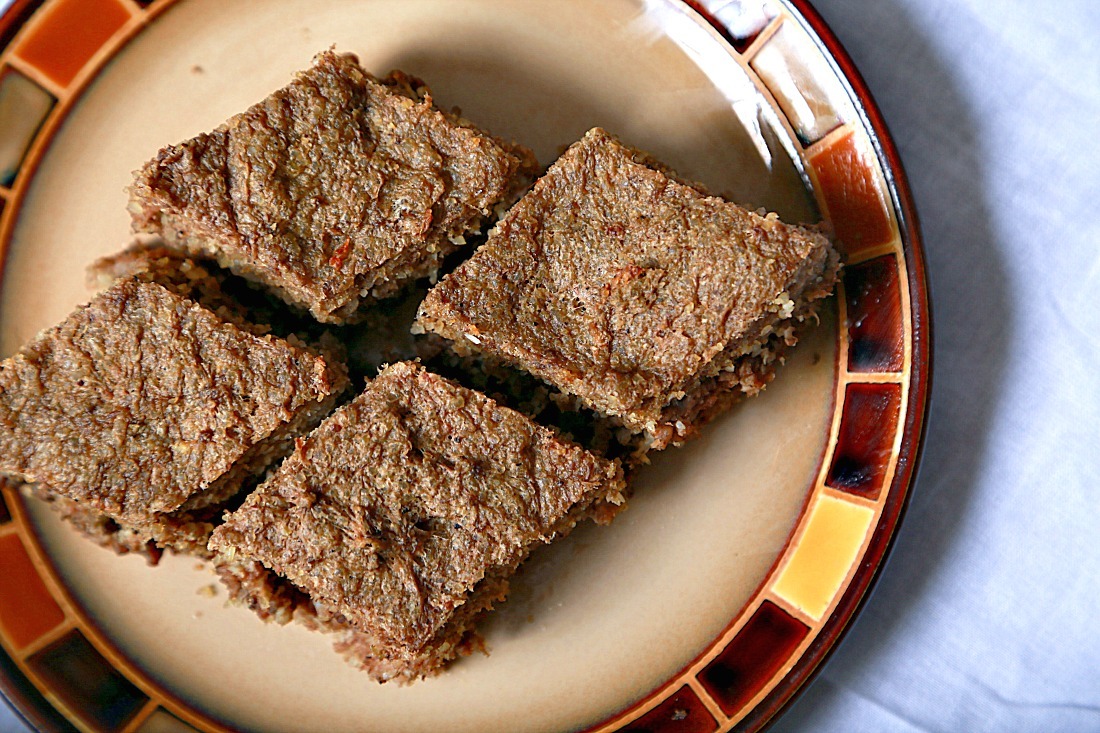 Serve it with fresh salad like this one,
It's beautiful, isn't it?
Enjoy! 
Kibbeh bel Sannieyh (Meat pie with Bulgur)
kibbeh bel sanniyeh is a popular dish in Arabic cuisine. It's delicious, satisfying, and healthy too!
Ingredients
2 medium Onions
1.5 lb of lean grounded Meat (Beef or lamb)
1 cup of very fine Bulgur (If its numbered, it should be 1)
Spices (Salt, ground Black Pepper,Cumin, and grounded Cinnamon)
1 Tb of Olive Oil
butter for greasing or oil
Optional:
1 Tb of Pine nuts or Walnuts.
Salad and dressing:
Roma Tomato
Cucumber
Lettuce
Green bell pepper
Parsely
Shaved carrots
Lemon juice
a pinch of salt
Olive oil
Instructions
Soak bulgur with water, and set aside (At least 15 minutes).
Heat a skillet on the stove, and add olive oil.
Chop one onion, and add it to the skillet.
Saute it on medium heat for 2 minutes, and add the half lb meat. (Also add nuts at this step).
let it on the stove until its done.
Now chop the other onion, in a food processor, or meat grinder.
Add bulgur, mix them together in your gadget.
Add 1 lb of meat, and let the gadget do the work. keep mixing until it becomes like dough.
Grease a baking dish with butter, or oil
Put a layer of meat dough.
Add the cooked meat
Put another layer of the meat dough, you can also add extra nuts at this step.
Bake it in the oven for 25 minutes.
Get it out from the oven, make diamond shapes, so we can guarantee that meat is well done.
Return it to the stove for another 25 minutes or until its done.
While the kibbeh is baking, make the salad,
Dice everything in small pieces. Drizzle it with olive oil, lemon juice, and a dash of salt.
Serve it hot with yogurt or fresh salad.
Refrigerate any leftovers
Have you tried Kibbeh before? Would you like to try it? I would love to hear from you!