I started a series "Arabic cuisine" featuring my traditional food. Today the dish is "Baked Meatballs with Tahini sauce" (kofta bel tahina).
Most of my posts in this series started with this sentence, "This is mom's, or dad's favorite dish"! This series makes me feel like I'm talking to you my friend about my family, what we like to eat, and do. I feel happy that I have a chance to talk all about my traditional food, that reminds me of home everyday (which is far away).
This kofta dish is very popular, maybe more than the kofta I posted before. Mostly, because this one is much easier, it's baked meatballs which has a very distinctive flavor. Usually, people have it with a side of white rice, or pita bread. Or just by itself, when it has potato mixed with it which is what I did.
Meatballs  
I've talked more in details about meatballs in this recipe . While lots of people avoid meat for many reasons, I believe that we can enjoy it in moderate amounts, and mixed with healthy ingredients, like veggies, or healthy fats like tahini. When you mix meat with veggies like this dish, you don't need to eat lots of meats, and that's something good for your body.
Meat is high in protein which gives you satiety, and has vitamin B 12 which you can't find in plants. Also the ratio of essential amino acids is just what your body needs. Choose lean cuts if you can, and have less portions of meat 2- 3 times a week to be on the safe side.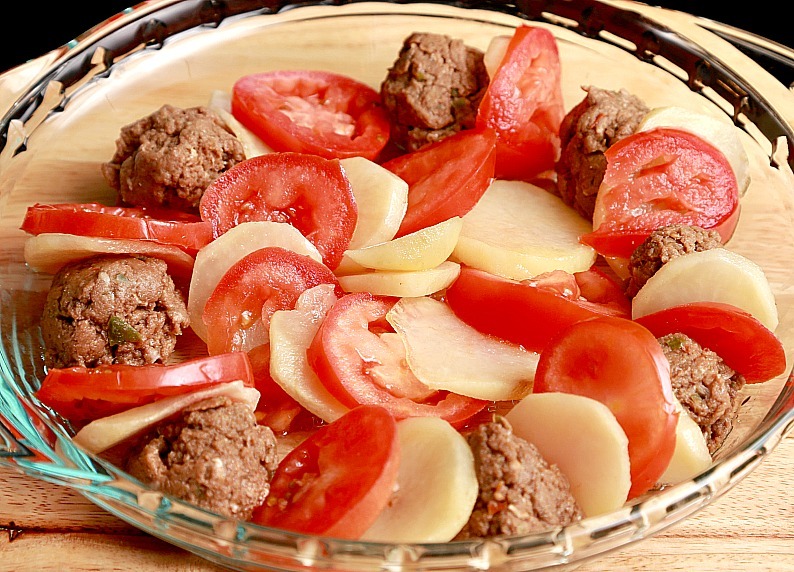 Tahini
Tahini is a staple in my house. I use it for a dip mixed with yogurt for chicken, or to make hummus mainly. I see lots of food bloggers are using tahini now, that makes me feel proud, and happy!  Many of them got creative, and use it beyond savory food, like this tahini cupcake .
Just remember it has good fat, but its till fat. Too much tahini, will still provide with you calories, and fats, remember just to be cautious. You can find tahini online, if you don't have a big store nearby, this is the brand I love and trust.
So let's make this kofta , and let's get to the recipe
Baked Meatballs with Tahini Sauce
Ingredients
For the tahini sauce:
8 Tb of Tahini
Juice of 1 medium (or more if desired)
2 medium roma Tomato
1 medium Potato
10 Tb Water
Spices , salt, ground black pepper, cumin
Meat balls:
½ small onion
½ cup of parsley
½ lb of ground beef/lamb
Mix of spices like ground black pepper, ground cardamom.
Instructions
In a food processor, add onion, and parsley, and minced them really well.
Add meat, spices and mix them with the onion and parsley until the meat becomes like a dough.
Shape the meat into balls, and arrange them in a baking dish.
Cut the tomato into circles and put beside meatballs.
Now peel the potato and cut into thin circles.
Heat a skillet on medium to high heat, add sunflower oil enough for shallow frying.
Fry the potato half way only, and add it to meatballs in the baking dish.
Mix tahini and water, lemon juice and spices to desired consistency, keep it thin, because it will thicken in the oven.
Put it into the oven on 375f for 30 minutes, then another 10 minutes on 400F.
You can broil it too for 2 minutes or so if you like.
Serve it hot, and refrigerate any leftovers
Have you ever tried meatballs with tahini? Would you try it?