A luxurious oatmeal breakfast, that is not like your ordinary one! This one is flavored with orange and saffron, and made with coconut cream! It's very healthy , light , vegan and gluten free too!
Life is getting harder these days or I'm just growing up? I'm feeling like I'm going to lose my mind soon with all things happening on a personal note, also around the globe! How one can create a recipe or enjoy delicious food while stressed or trying desperately to get out of a situation? However, I just had to relax and think clear, and I thought creating new recipe for breakfast (my beloved meal) will make me feel better again , and I was right! This oatmeal flavored with saffron was just what I needed! Creamy oatmeal with unique flavors with sweet fresh orange syrup was really something, I'll always want to devour!
Saffron
It's a plant, that has four flowers. the dried stigma make the threads that we use in cooking. it's origin of European countries and Persia. the best one is the Spanish one.  These small gorgeously red little threads, taste amazing! Subtly sweet, aromatic, and can be bitter if you add more threads than you need. Some people hate, because it can pungent to them. However , I truly adore it's flavor , especially with Persian dishes.
Is saffron healthy?
Yes it is! However it's not something you add daily to your diet, but it adds great flavor to your dishes without adding much fats and calories.  Let me tell why it's healthy:
The plant has so many chemicals that works as antioxidant like beta-carotene and lycopene.
The main active compound called α-crocin which give the saffron it's distinctive yellow reddish golden color, has a  role as antioxidant. And can improves memory , learning and protecting brain cells too. That's why in this study they believed it may has great role for prevention or treatment for Alzheimer disease.
In this study , they suggested that organic saffron could have inhibitory effects on cancer cell proliferation.
Low in calories and has zero fats, and has good amounts of Vitamin C, and B6 , and minerals like iron , manganese, and magnesium.
Oatmeal
Are you a fan of oatmeal like me, or you just hate how it's recipe spreading the web?  Well, I have to tell you, I like creamy food, whether savory or sweet, and oatmeal is perfect for c creamy texture. Even chunky one can tastes great. it's a blank canvas and you add whatever you like to it! it's very healthy, and it helped me before when I wanted to be healthier. Here check out all recipe for oatmeal.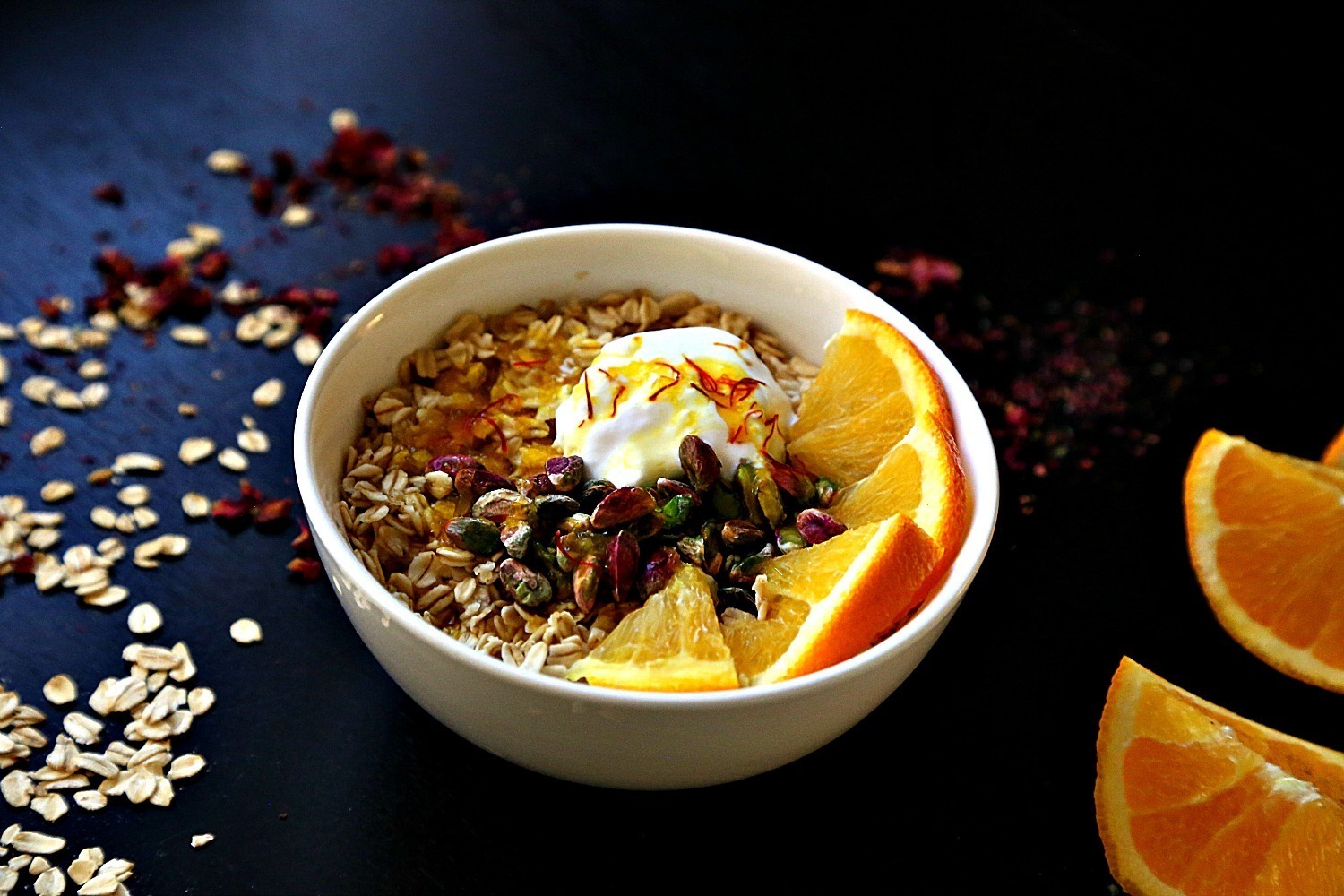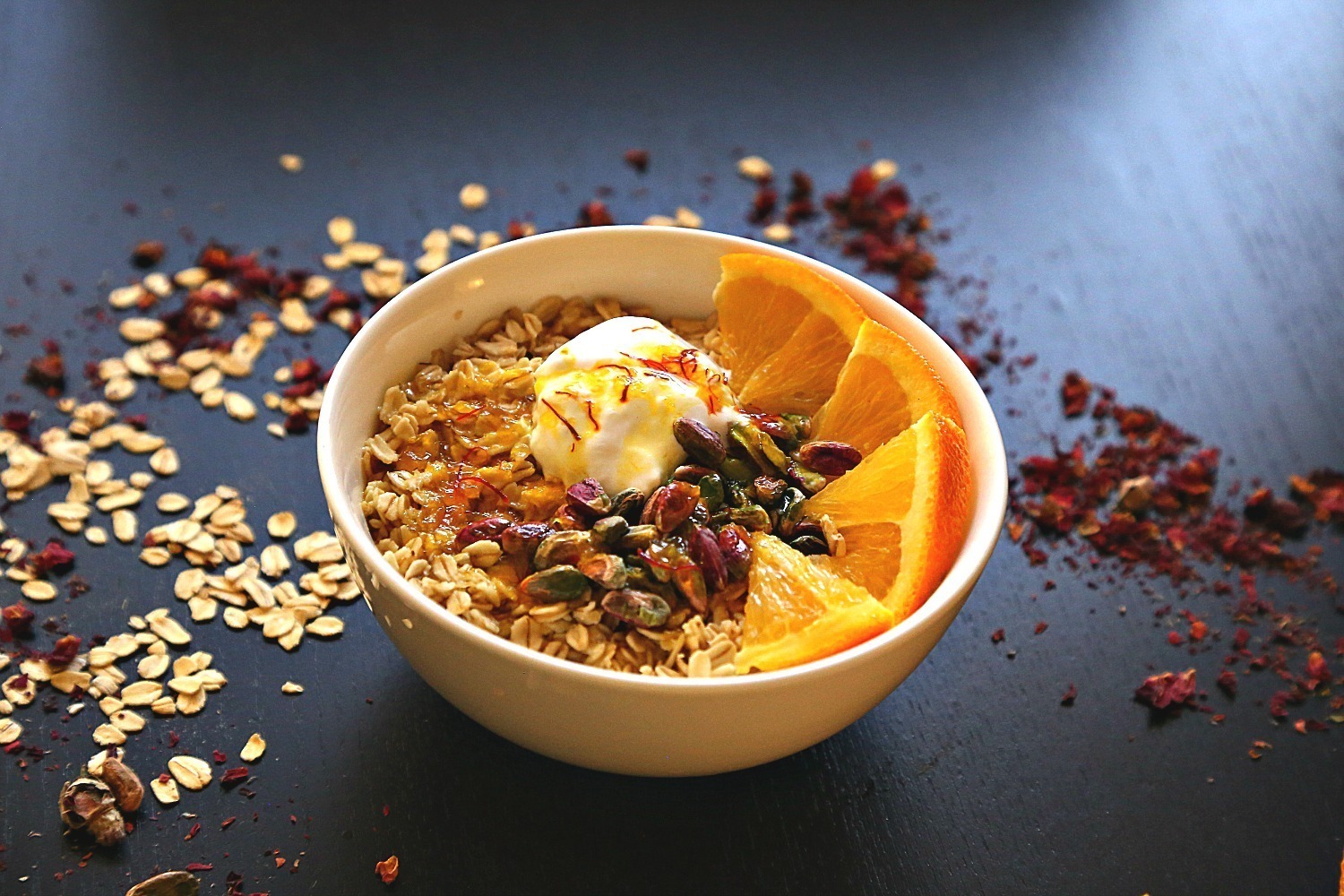 And now lets' go for this easy recipe!
Enjoy!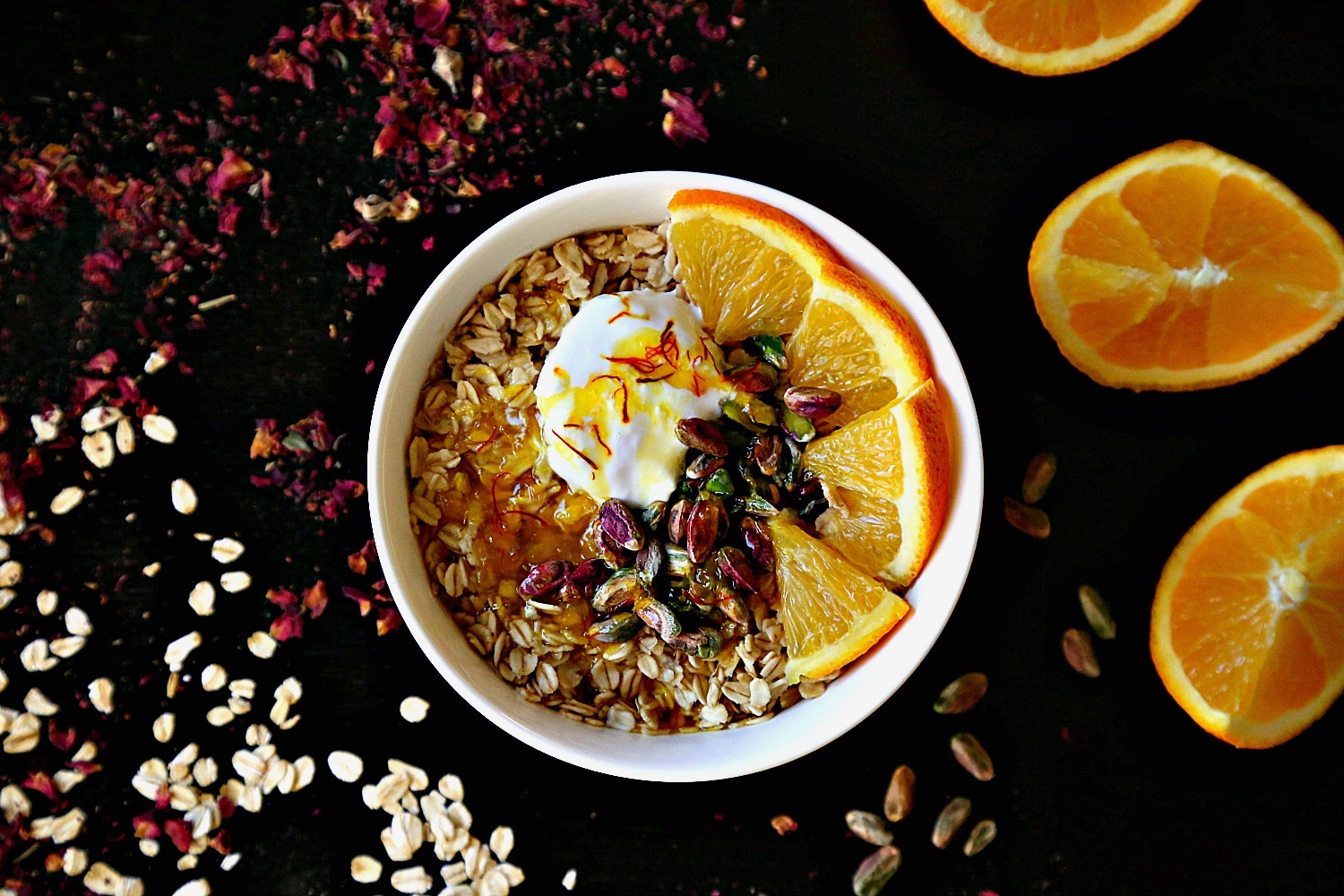 Coconut Oatmeal with Orange Saffron Syrup
Ingredients
300 ml coconut cream
1 cup extra thick rolled oats
Pistachio
Syrup:
1 cup fresh orange juice
1 tsp of honey (2 Tb sugar for vegan)
Pinch of saffron threads
Instructions
In a small pot, add orange juice, honey or sugar, and saffron threads. Let them simmer on a low heat for 5 minutes.
Raise the heat to medium ,and let the syrup boils.
Then lower the heat again a simmer for another 5 minute.
Meanwhile, mix coconut cream and oatmeal until creamy on the stove in a medium pot.
Or just in the microwave as I did, put it for 1 minute, stir and put it again for another 1 minute.
When they syrup is done, pour as you wish, add pistachio and coconut cream if desired and enjoy!
Refrigerate any leftovers.
Notes
You may double the syrup amount and keep it for couple of days.