A healthy chocolate pudding that has silky texture enhanced with rich flavors, and powered with nutrients! This pudding is spiked with espresso too! Moreover it's gluten free, and vegan!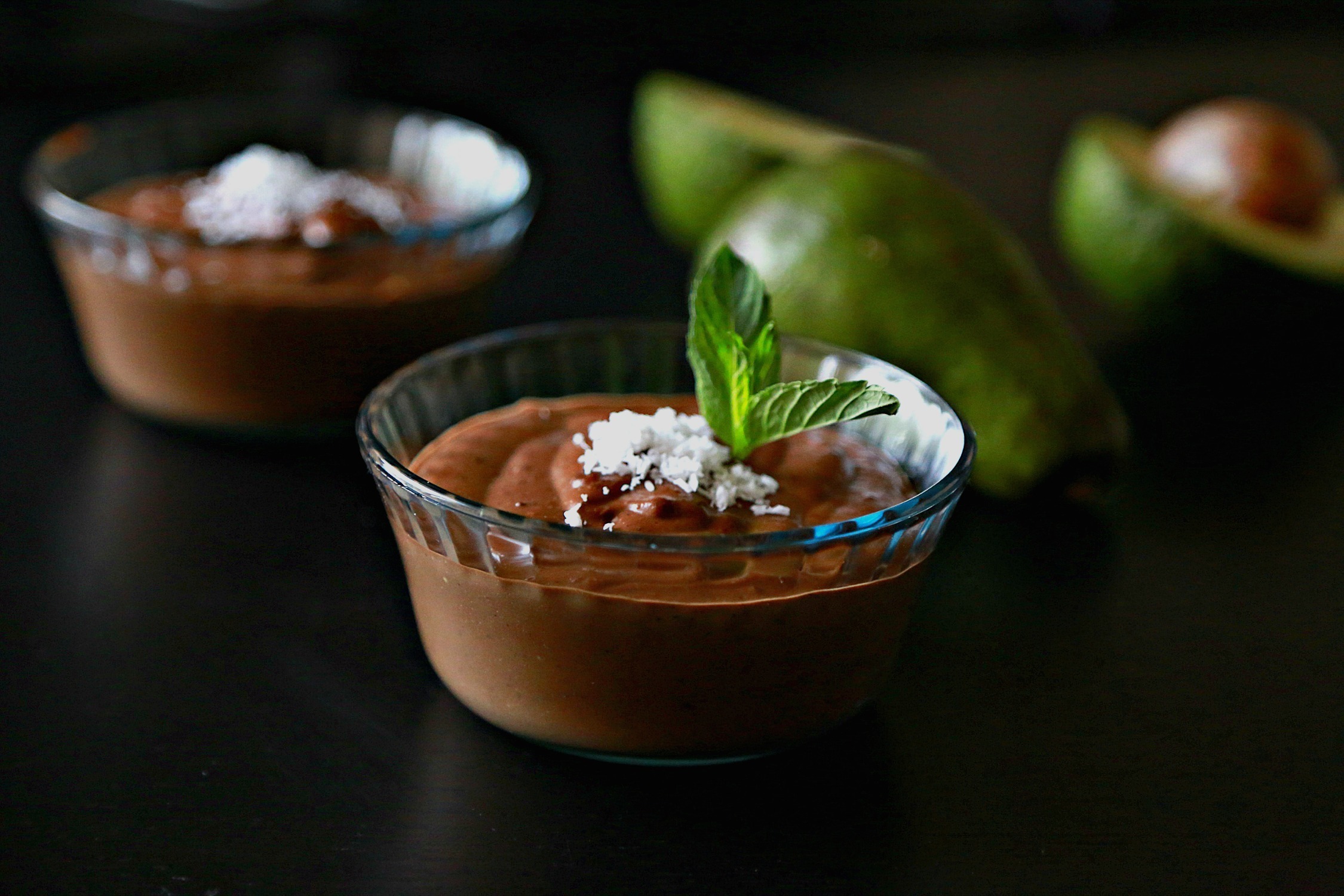 I'm a Huge Fan of Puddings! 
My mom used to make for us a milk with wheat starch pudding. Sometimes she mixed orange too, just like I made this one  before. But my all time favorite is Chocolate. Sometime I get the ready one, but its full of artificial flavors, additives, and sugars. I tried one with peanut butter,you can find recipe here (Unfortunately I don't have a photo, and it's not very healthy). 
This chocolate pudding has all my favorite ingredients,  it's hard to describe how I felt when I had the first bite! It's like moving to heaven in a flash! It has a silky texture, and rich flavors. And Seriously, the aroma of coconut milk, and chocolate together are therapeutic! (figuratively speaking of course)!
I was looking for a healthier version, and yet creamy, and full of flavors . I read many recipes here and there, mainly Pinterest of course! Lots of food bloggers (especially the ones who care about health) add avocado. I was skeptical, until I decided to make the pudding with it myself!
I added other ingredients as well to enhance the flavor. Coffee enhances the chocolate flavor, I don't know the science behind it! I searched, but I couldn't get a good answer. I often add coffee when I bake chocolate cakes, and it tastes so delicious, therefore I thought adding it to this pudding will do the same trick! Another reason is, to boost antioxidants content of course! Also coffee has almost 0 calories. And I added coconut milk because of the a nice aroma, and it has some good fats too!
Coconut milk suits desserts very well. I use it for desserts and breakfast meals too. You can substitute it with cows milk, or any non-dairy milk if you wish for this pudding. But you should be aware that the pudding's consistency will vary, and low fat milk won't make the best pudding!
I didn't add any kind of sweeteners,  coconut milk and avocado have natural sweet taste. And overall, sweet pudding won't match the coffee flavor! This is my favorite brand of chocolate for baking and cooking. I couldn't find info, whether it's gluten free or vegan, but the ingredients list contain only chocolate, so I think it is! But if you are celiac or strictly vegan, you may wish to double check. 
And now Enjoy! 
Espresso Chocolate Avocado Pudding
Ingredients
4 oz Unsweetened dark chocolate
200 ml of Coconut Milk (I used Thai, it's gluten free)
1 medium ripe Avocado
1 TB of instant Coffee or Espresso
¼ cup hot Water
Instructions
Melt the chocolate in the microwave in short intervals (30 sec each) until it's soft. Don't over melt!
Stir coffee in hot water until it's completely dissolved.
In a food processor or a blender or by hand whisk, add all ingredients and mix them well.
You may add water, one TB each time, if you think the mixture is too thick (You don't want the mixture to be too thick, because it will thicken by time)
Pour the pudding into a big bowl, or any kind of cups, or small bowls you desire!
Serve cold, and refrigerate for couple of days.
Notes
This recipe is Gluten Free and can be vegan too (use vegan chocolate)
Nutrition Information
Calories:
305
Fat:
24
Carbohydrates:
21
Sodium:
4 mg
Fiber:
4
Protein:
1
Have you ever tried Avocado in sweets? What do you think? If you don't, will you give it a try?