A creamy luscious ice cream with strong aroma of espresso! This one is no churn, and very easy to make. It happens to be very healthy, it's refined sugar free, gluten free, and vegan!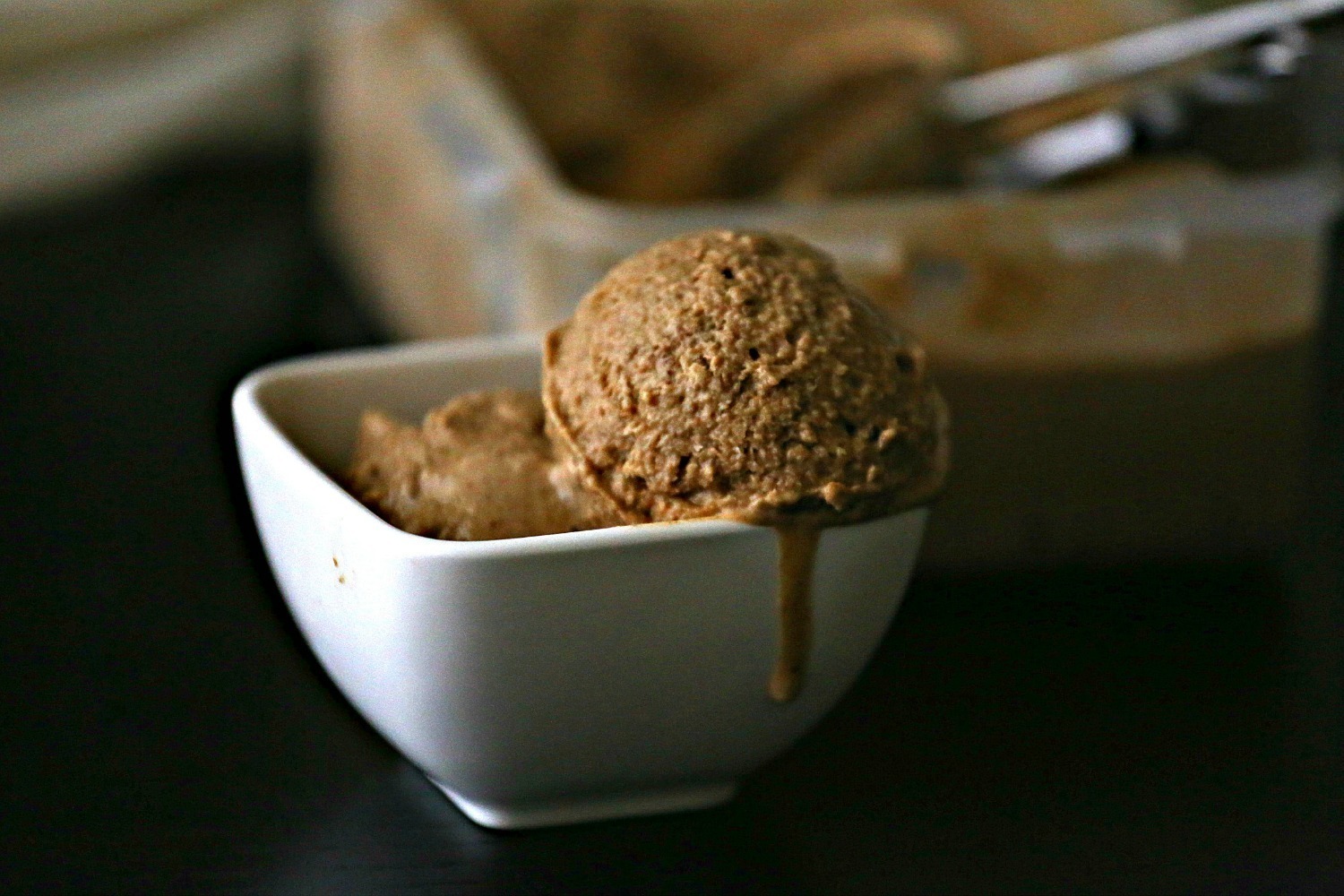 I've used espresso in a chocolate pudding before, it's a great way to add strong flavor without adding calories, and fats. For today's recipe, I think it's time to talk about espresso in depth.
What is Espresso
It's a fine ground from of coffee. It can be a one kind of beans, or a blend of some. It comes medium or dark roasted. Mainly espresso refers the way it's made. The machine force water through the basket of fine beans at very high pressure. I really used to hate it! I could barley have a single shot, until my parents got a machine at home. And my sister encouraged me to join the club. Now I can drink it plain with no milk. I can swear it's aroma heals the soul, and it's rich taste instantly improve the mood.
Not all espresso alike, some brands are really bitter and strong! My absolute favorites are Davidoff, and Lavazza . And for a stronger taste try illy. And this is the most wanted machine at home, and it's the same one my parents have, and I highly recommend it. 
Does espresso has more caffeine than drip coffee ?
If we are comparing ounce to an ounce, espresso has 40 mg caffeine whereas the brewed coffee or drip coffee has 10 mg in an ounce. But then we usually tend to drink more volume of drip coffee than espresso. There is a deceiving feeling that because espresso tastes stronger it does have more caffeine in serving size.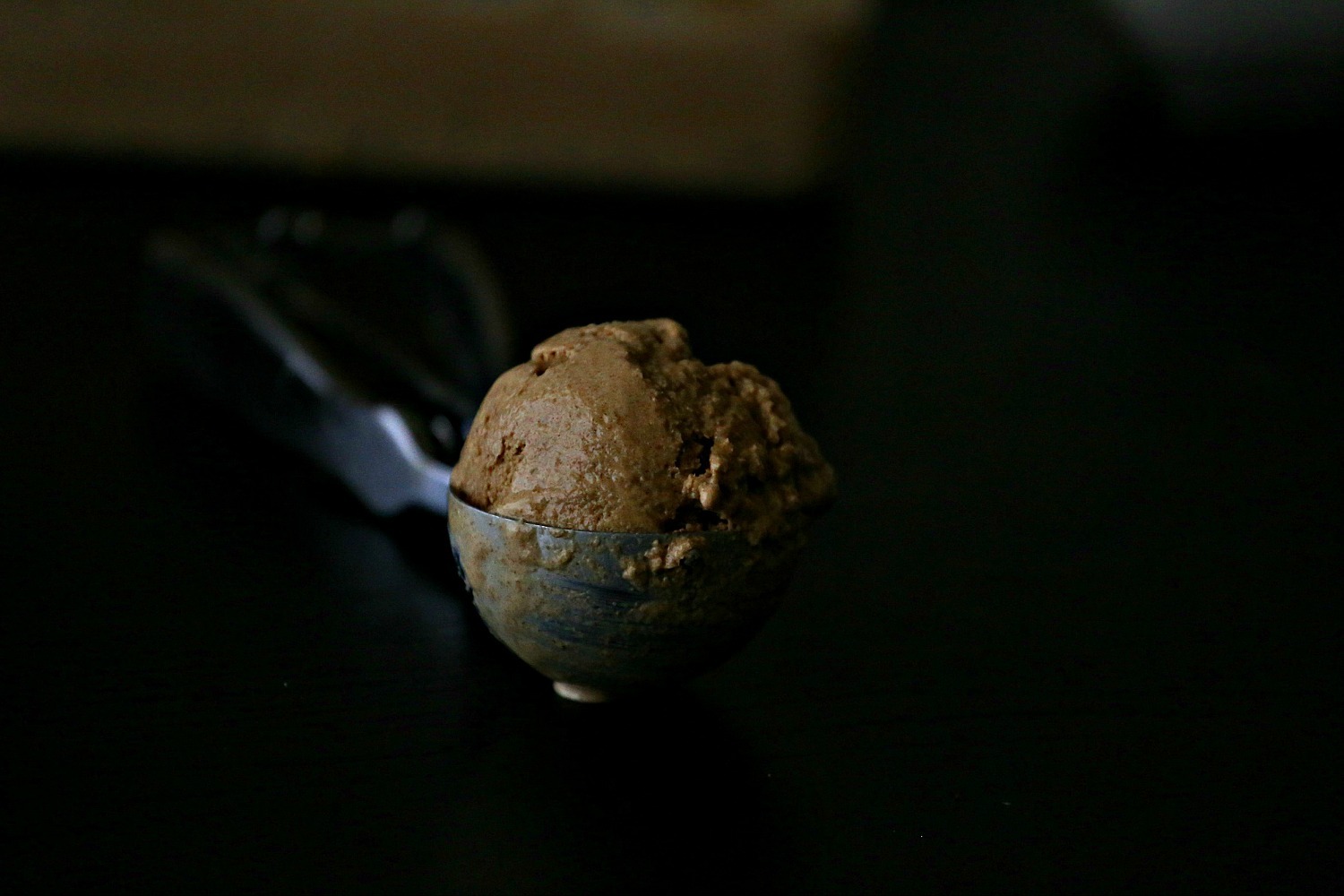 Why do you need to add Espresso into your diet 
Can help you with weight loss by reducing hunger, and suppressing appetite, also it increases your calorie burn rate by increasing the body heat's production.

It's almost zero calorie and zero fat.

Also it's coffee after all, and has great amount of antioxidants, and other benefits, check out here all about coffee .
let's talk about our recipe now
This recipe is really easy, with available ingredients. It's packed with healthy fats of coconut milk, mineral and vitamin content of dates and coffee, and don't forget no refined sugar here!
I wasn't really fond of ice cream until I got married,  my husband is obsessed with it. I remember once we had an ice cream maker, while it's do the work for you, you still need the perfect recipe. And since we no longer had it, i thought we can still enjoy a homemade ice cream. My first trial to make it at home when I tested a recipe form fellow food blogger, and it was great success. and i tired other flavors like cherry!
But this recipe is different. It's a healthier version of homemade ice cream. No eggs, no heavy cream, or condensed milk. And with only four ingredients, this can be your base for many flavors.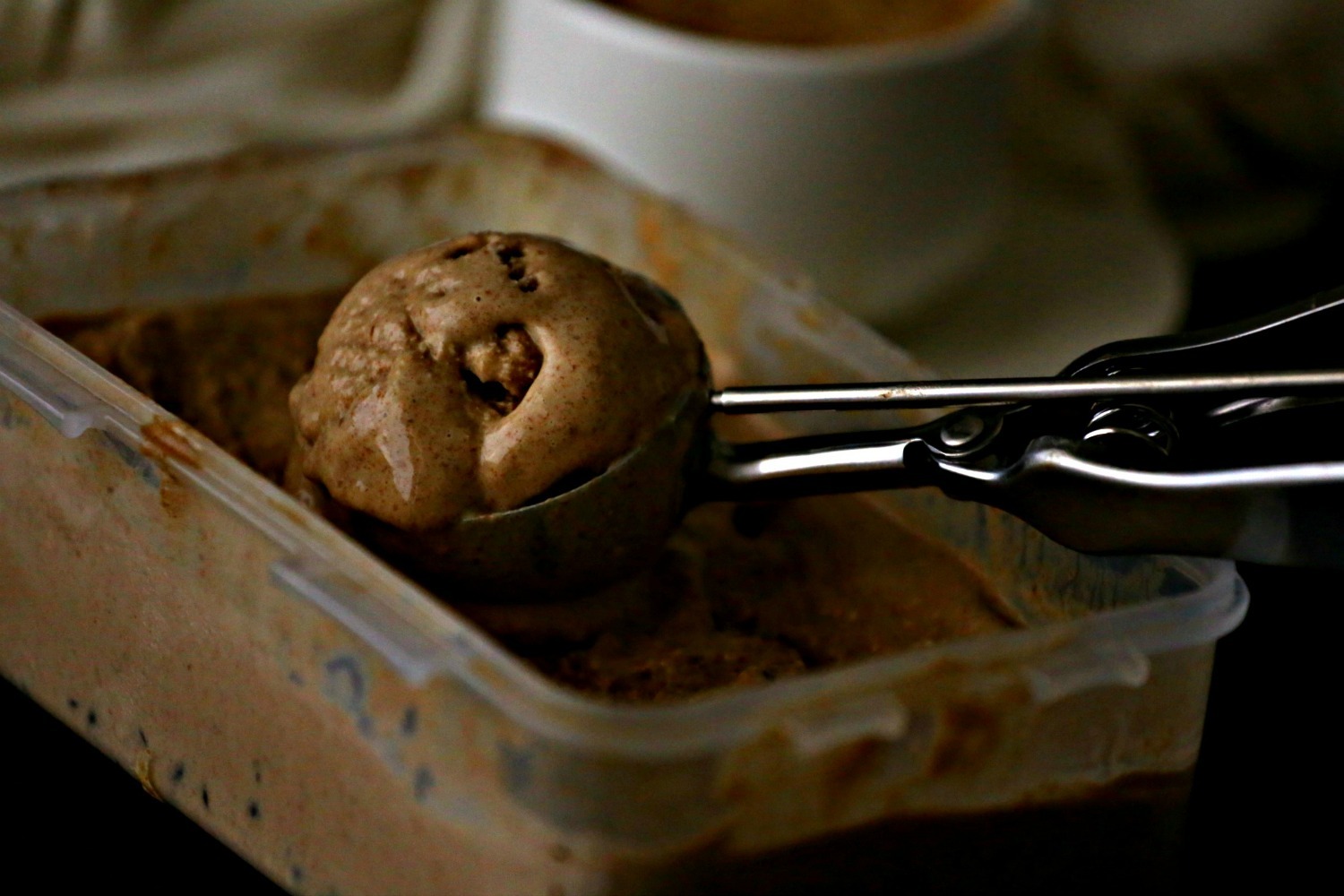 Now, let's go to the recipe! And enjoy! 
Espresso with chocolate chips no churn ice cream
Ingredients
½ cup coconut cream
¾ cups pitted dates
½ cup coconut milk
2 double shots
Optional:
chocolate chips semi sweet ¾ cup
Instructions
pit the dates if it's not pitted already.
Soak the dates in espresso, and leave it aside for 20 minutes.
In a blender mix the espresso date, you want it to be like a paste.
Add coconut milk gradually, and mix.
Whip the coconut cream , and fold in the mixture.
Pour in freezer friendly container, and put it the freezer for an hour, remove and whisk the ice cream again, repeat this step 3 times, one time per an hour.
after the last whisk, add chocolate chips if desired, and fold in the ice cream.
Freeze overnight, and serve cold.
Notes
I whipped coocnut milk using a basic metal mixer. You need to chill out the mixer handle and the bowl an hour before, and keep the coconut cream in the fridge