A  gingerbread espresso cream oatmeal that is bursting with winter flavors like gingerbread. And what makes it even better? Coffee, of course I mean espresso. This is super delicious , and quite healthy, it's vegan and gluten free too!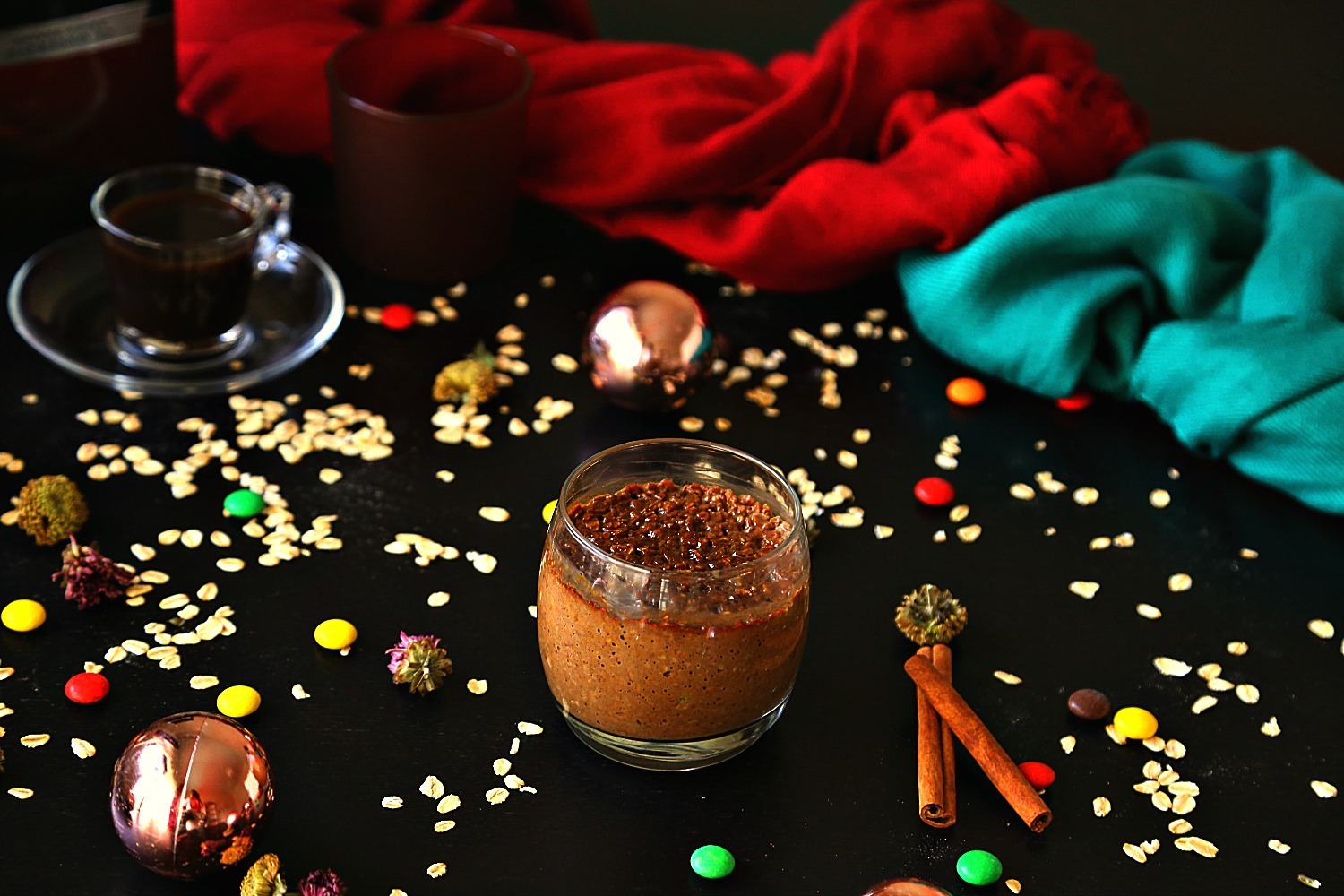 Well I know, it's an another recipe with oatmeal! this time it's a gingerbread oatmeal and it's totally worth it! While this one has molasses, since it's the time of year when you get to use it, but I added brown sugar too. I found that it makes the espresso pop up more and fit well with the creaminess. Brown sugar is my guilty pleasure especially when it's mixed with cinnamon, really I can't help it. but I try!
This oatmeal may not taste like regular gingerbread cookies, but the gingerbread spice mix spice is quite strong in here and I'm sure you will like it! 
Gingerbread
I don't celebrate Christmas, but anyone can eats gingerbread cookies, right? Few years ago when I was in the U.S I've tried it for the first time, and I loved it, I love spiced baked goods, so this was a perfect fit for me. But I never made the cookies. I thought I can do an a healthy, actually a breakfast that is inspired by gingerbread, that anyone can enjoy! It's more like a dessert for breakfast that you can enjoy this holiday season!
Espresso
I can say I'm new to espresso, my sister introduced me to it, and I'm hooked since then. Even I don't drink it on daily basis, but I always look forward to it. I discussed before about espresso and the caffeine content in this espresso ice cream. The espresso flavor in this recipe is strong, but the coffee brand is somewhat mild. It's really a good, I used Davidoff  .
Why this gingerbread oatmeal?
Because
It has oatmeal that is naturally gluten free whole grain,  and it can reduce cholesterol, blood pressure.
It has espresso which is coffee that is packed with antioxidants, and can reduce the risk of developing many chronic diseases. 
It has molasses a natural sweetener, and full of minerals. The darker it is, the highest content of minerals it has.

Packed with spice that contain anti-inflammatory, and anti bacterial proprieties.

Coconut cream that has medium chain fatty acids that can reduce the risk of developing heart diseases.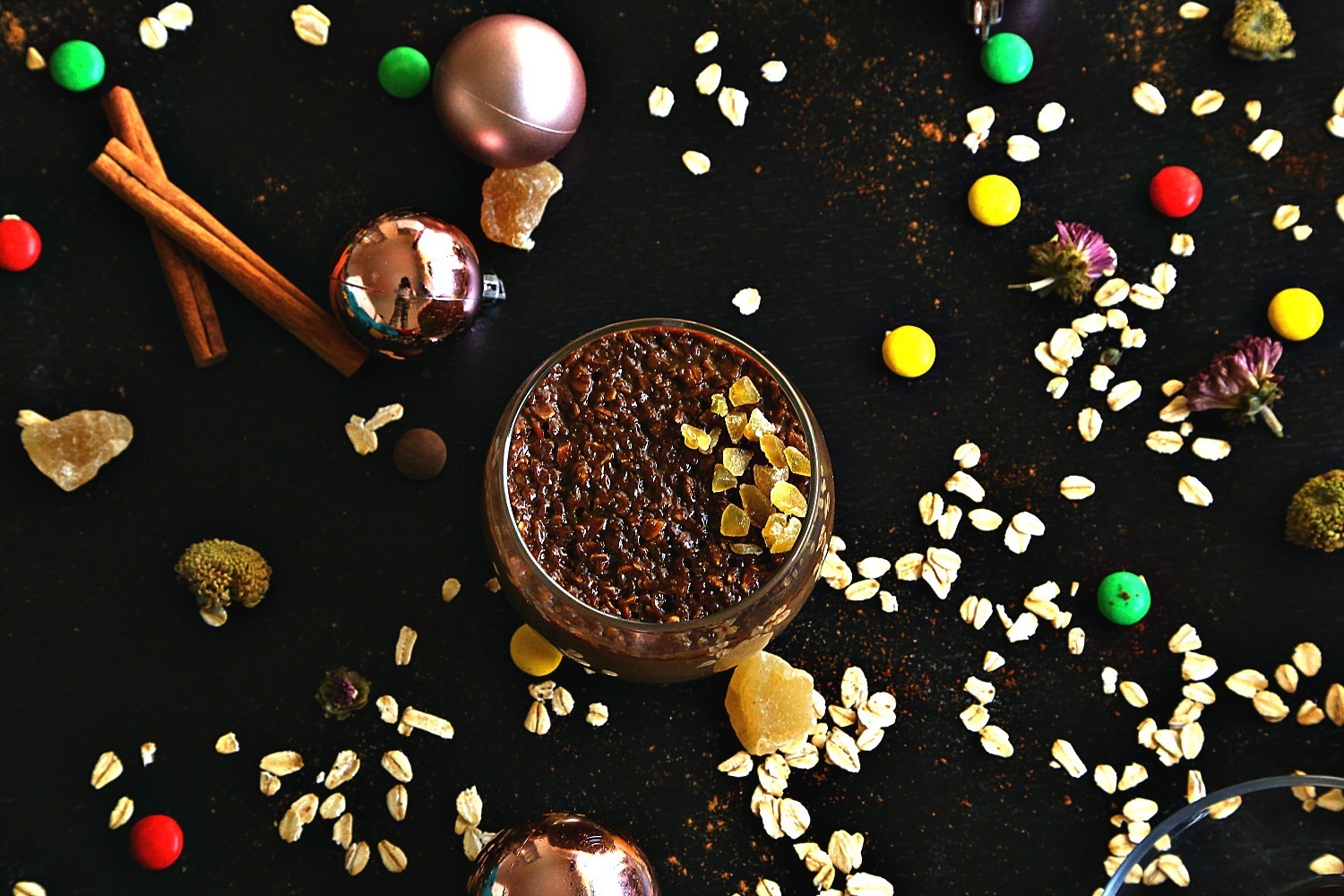 This is such an easy recipe, you can make this oatmeal on the stove, or in the microwave. You may want to use extra thick rolled oats, for a crisper texture.  You can have it without putting it on the stove even! But I liked the harmony of molasses with spices when they are heated. Eating it fresh is the best option, but also it tastes great when it's refrigerated. You can reduce the amount of espresso, if you prefer a milder coffee flavor. 
espresso with coconut cream vars or balls something christamsy
Ingredients
100 ml espresso
1 pack of thick coconut cream 50g and 3 Tb water.
½ Tb molasses
Ginger powder ½ tsp
Cloves powder ½ tsp
Nutmeg ¼ tsp
Cinnamon ½ tsp
1 packed Tb of brown sugar\
150 g oatmeal
Toppings: (optional)
Candied ginger
molasses
Coconut cream
Dash of cinnamon
Instructions
Make the espresso, cool it and put it aside.
Make the coconut cream or pout it form a can, mix in molasses, and spices too.
In a small pot, add oatmeal, coconut cream mix, and espresso.
Keep it on a stove until it reaches light boil, turn it off, and pour in your desired cup or bowl.
Enjoy it hot or cold, and add candied ginger if desired.
Refrigerate any leftovers, it's good up to 1 week.
Notes
The preparation time only for making espresso in a kettle, if you have a a machine you only need couple of minutes.