An easy breakfast potato hash with a fried egg on top, that is nutritious, fulfilling and gluten free too!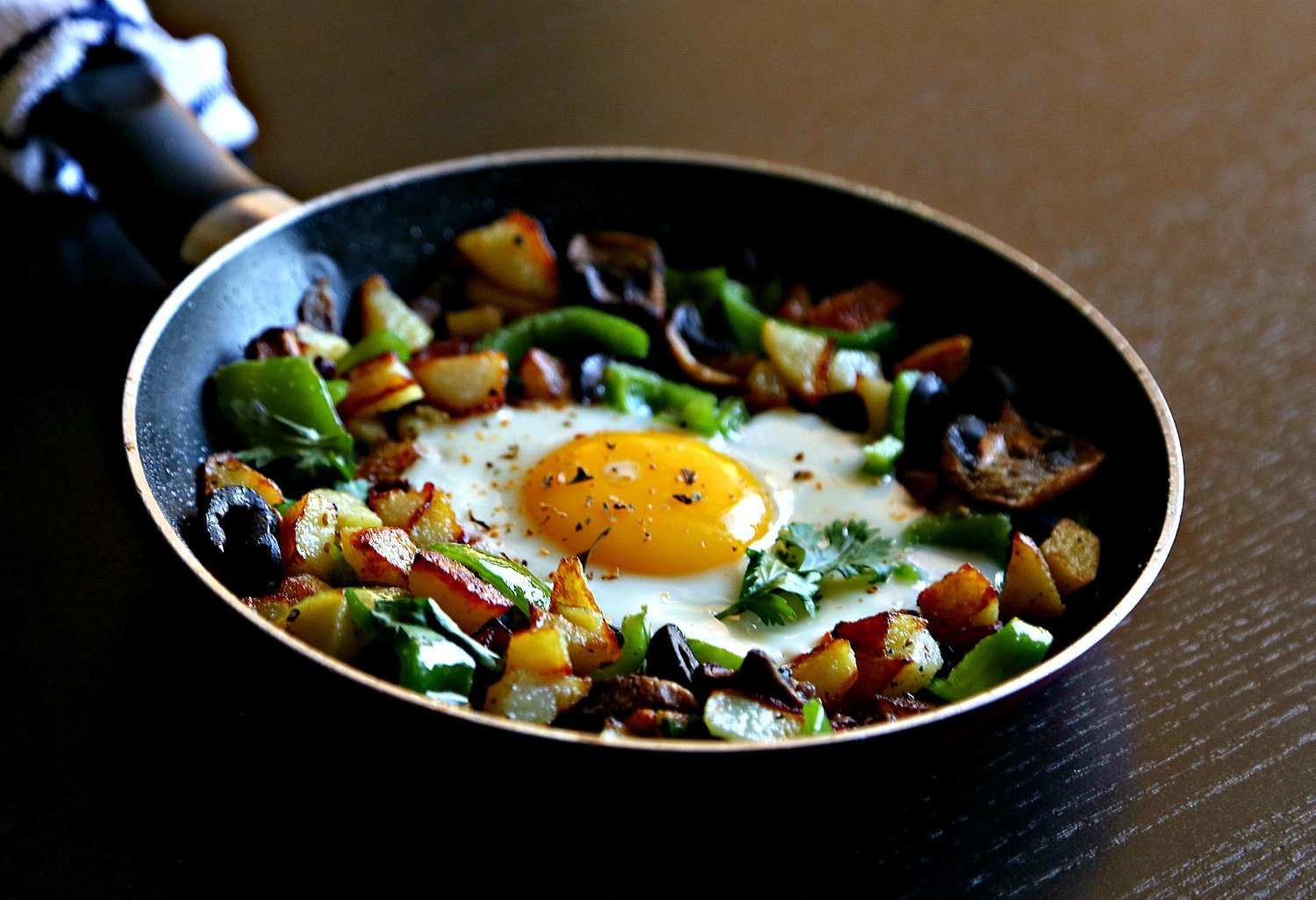 Well I know this is not a unique breakfast, but a common one. While it's common with day-to-day food ingredients including potato. This potato hash is very easy to put together, satisfying, and will you keep full of hours!
If you check my latest recipes, you will see that I'm into savory recipes lately, well mainly because they are healthy, kind of easy, and the truth is I had many failure attempts with baked goods lately, and it's very frustrated. It's not always easy to accept failure, but criticizing, and troubleshooting. make it less emotional. I'm a bit overwhelmed by life lately, and failed baked goods just added little drama to it.
And because I hate to waste food too, well not all of them went to waste, some were really good but need improvements, but the others were total failure. And some were made with imported ingredient that are already expensive, so I'm here wasting money, time, and sweat, while there are some kids go to bed hungry.
Well this is a food blogger's dilemma, because offering recipes in new prospective may cost our environment, however I try to educate myself before I make new stuff, and also creating recipes with ingredient I love and use daily like in our recipe today! This potato hash!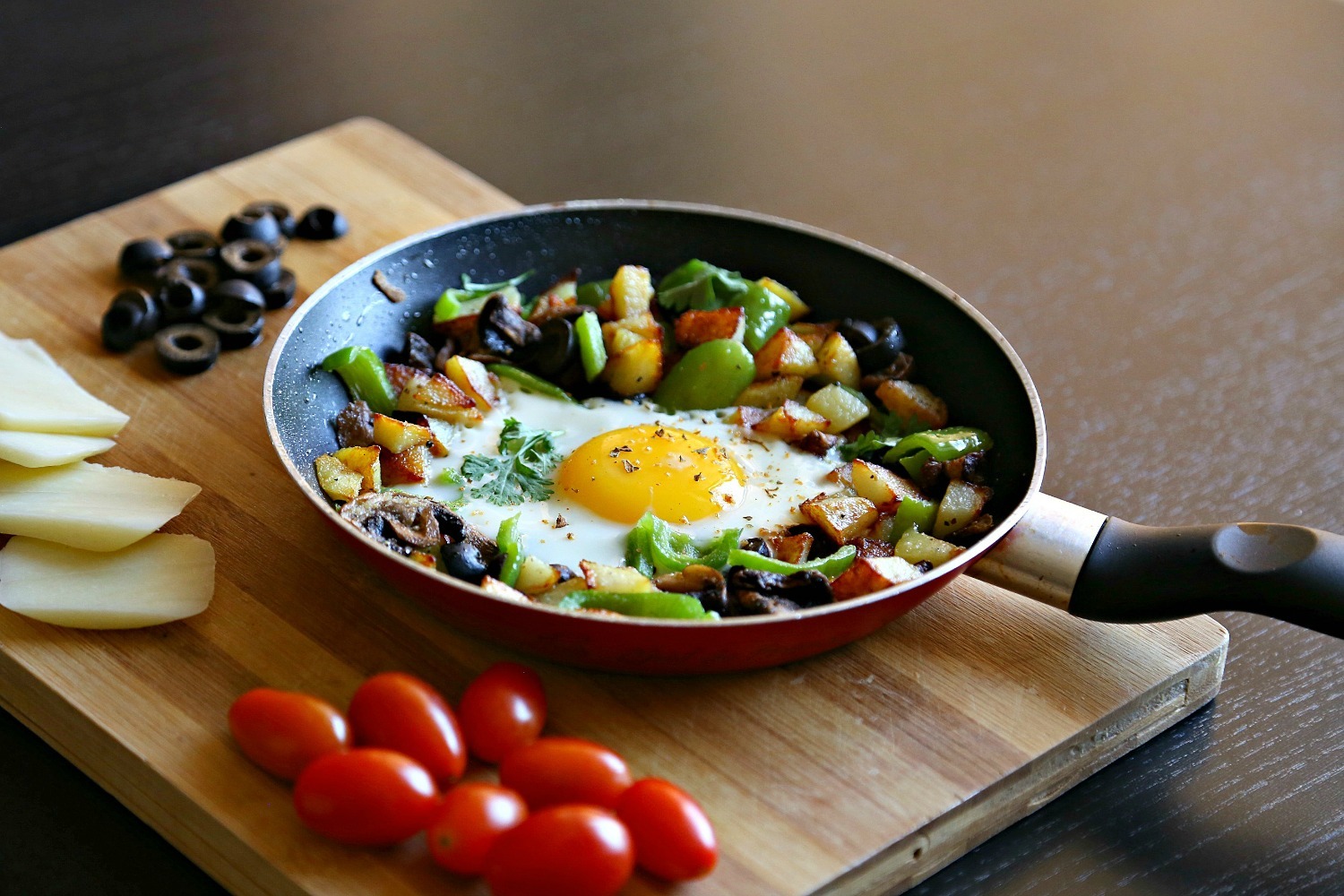 Why do you need to eat potato:
It's high in potassium, and vitamin C. Also has good amounts of folate, iron, and fiber. 

It has many nutrients that are important for the body's health, such as lutein that is good for eye's health, and choline that reduce inflammation. 

If eaten on its own, baked, potato is considered low calorie food. 
Well, potato has a bad reputation, because of the carbohydrates content and high glycemic index value. But using it moderately and avoid combining it with fats, and cheese, but with healthy add-ones, like veggies and eggs like in our recipe today, makes it less better.  
Note: You can easily substitute potato with sweet potato, however it wont be the same taste, but healthier for you. If I and some in the house, I would use it!
Eggs
I almost eat an egg daily, its' nutritious, high in protein, low carb, and light on the stomach. Plus, perfectly affordable! To read more about the health benefits of eggs, and whether it's safe to eat a runny egg or not, I highlighted all debunkd myths about eggs.
Mushrooms
Hash potato mainly refers to potato and some kind of meats, like bacon or sausage. I used to eat beef or chicken sausage before and I'm not happy with that, the process of making it, contains lots of fats used, nitrites and other unhealthy ingredients. Maybe the fresh is a better option , but I'm not familiar of it to know .But how about a healthy substitution? Mushrooms! They are great substitute with meaty texture, and low calorie -low fat! They tastes better when eaten fresh, or wild if you can get your hands on some where you live!
Bell pepper
I don't think I've every use bell pepper in my recipes on the blog, even it's very nutritious, versatile, and a staple in my house. I will highlight the nutrition benefits in future posts.
Now , enjoy!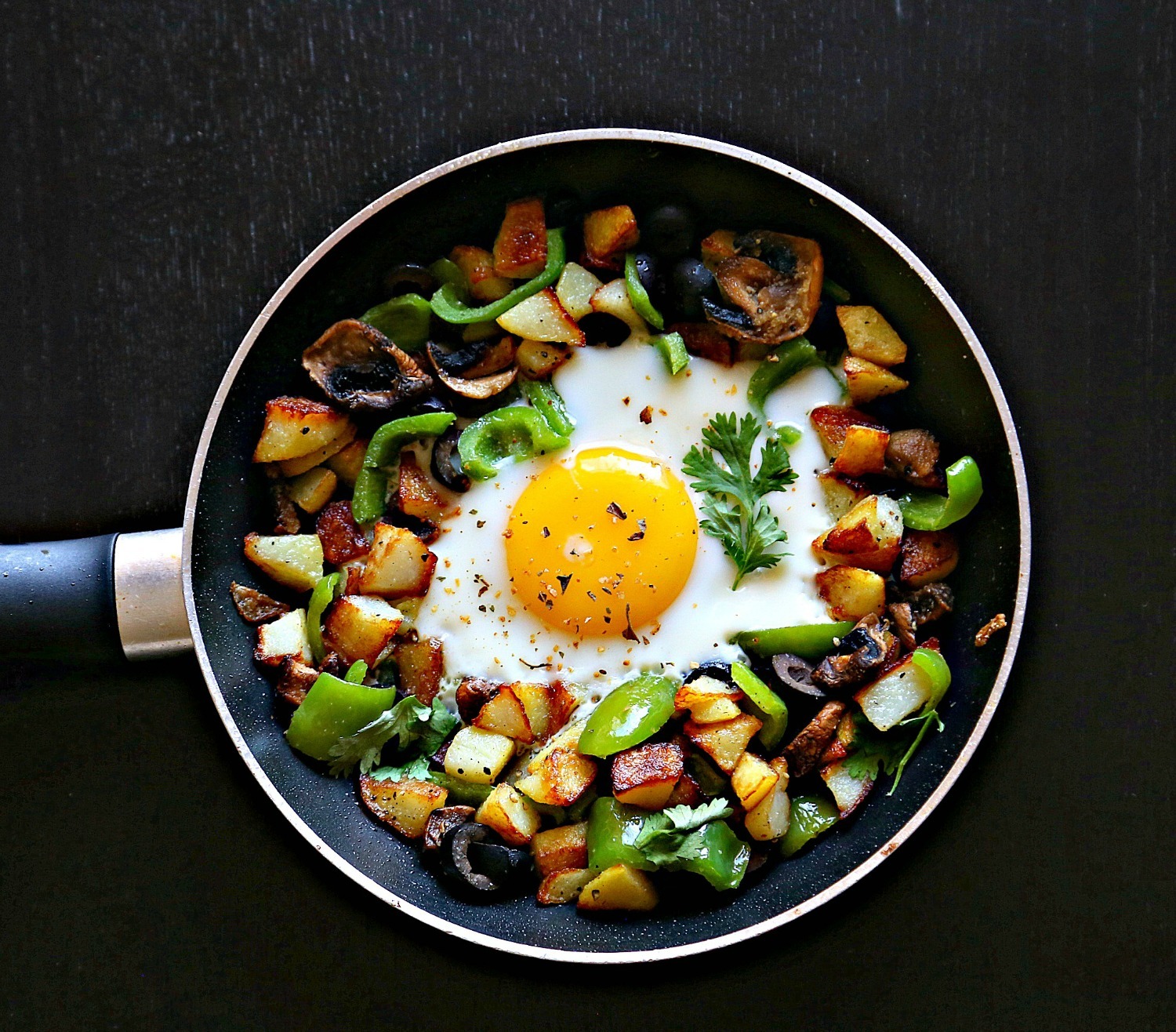 Healthy Potato Hash with Fried Egg
Ingredients
3-4 small mushrooms
1 Tb pitted black olives
1 small potato diced
1 small green bell pepper diced
1 egg
1 Tb of olive oil , optional: ½ tsp olive oil
½ tsp of onion powder, garlic powder
Salt and black pepper (up to desire)
Instructions
In a regular skillet or iron cast one, heat 1 Tb of olive oil on a medium heat.
Add diced small potatoes , and stir them. When they start to get a brown golden color, cover the skillet with a lid, and reduce heat and leave it for 10-15 minutes.
In the mean time, prepare bell pepper and mushrooms.
Add them, and when they are almost done, add olives.
Make a well in the center, add ½ tsp of olive oil (optional) and crack the egg.
Cook the egg as you wish, but you need the white to set, which takes almost 5 minutes.
Remove from the stove, and serve immediately.
Enjoy this hash with cheese slices, cherry tomatoes, and coffee if you wish.