A refreshing hibiscus iced tea that is flavored with real cherry and scented with natural mint. This one has a real gorgeous color, thanks to antioxidants in cherry. It's naturally vegan, gluten free, and packed with nutrients!
Well, I've disappeared again, and I'm trying my best not to do that. I have huge issue of what offering to you my readers. There are millions of good recipes, which many of them are healthy or even super healthy, due to the increase of awareness about the importance of healthy food.
I've pointed to this issue before when I made this chocolate oatmeal. Do we need another recipe of chocolate oatmeal? And I ask myself this question every time I post a recipe, so I ditch lots of good ideas, because I believe they are well presented by others. Or is it a confidence issue? Still weighing to know the difference.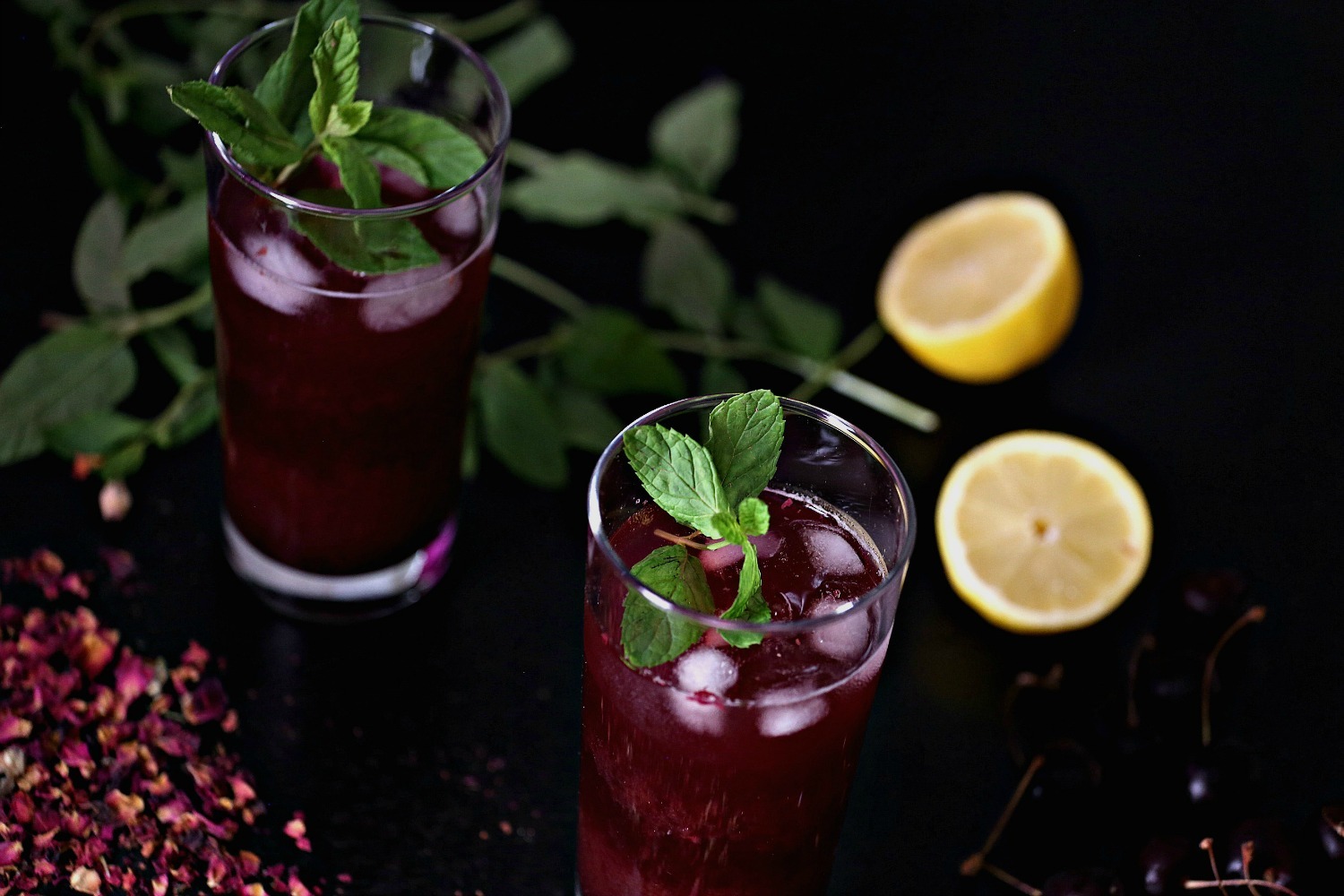 So of most of super healthy recipes you can find online, they have super food that are hard to find, and super expensive! While many people who follow healthy path, can afford these stuff. But as we are looking for the healthiest food ever on this planet, there are thousand of kids are dying of starvation and malnutrition. I know, this is kind of dramatic, but health is not about buying super ingredients that are trendy and makes you look cool (I'm guilty of doing this too). Health is to get your body the nutrient it needs to survive and function properly, but with food abundance in developed countries, others are struggling to get dinner on the table every night. My country is no exception of hunger, and it hurts to see hungry kids while we throw food, because we were lazy enough to let the produce go bad.
Now the question is what to do? You can fetch local charities that deliver food to families in need. And if you are thinking of doing this online, one of my favorite food bloggers Dini from the flavor bender united with a campaign against hunger.  She made it easy to donate and/or share the campaign.
In my most recipes I love to use gourmet food ingredients I can find and explore, but in real life. I make lots of soups, smoothies, to not to waste any produce, I freeze leftover, even cakes. This one is no exception and I had some extra cherry that I don't want to go bad, so I thought of using it in a different way.
Let's talk about our drink for today
This drink is inspired by a tea bags my sister got from M&S . For those who don't know it, it's a British multinational retailer started in 1884, they have gourmet food section in almost every branch. And it offers great brands, and unique flavors, so was this tea. It tastes amazing, and has a great color, but I checked the ingredients, it has at least 2 dyes, 2 kinds of sugar, and artificial flavor for fruits. So I said why I can't make it myself?
This cherry hibiscus tea is way better than the store bought one my sister got (But, really thanks!) that is full of additives, and coloring .  Hibiscus is healthy for you, and mixing it with seasonal fruits like cherry is an extra bonus. Here in the middle east it is easy to find, and kind of affordable. But I checked online, it costs more than here. However, buying in bulk, and from middle eastern shops can save you extra bucks. 
I've mentioned before the benefits of hibiscus tea, but here is a remainder :
Why you should have hibiscus tea
There are some human and animal studies shown that extract of hibiscus lower blood pressure, and lipid profile. It's almost effective as Captropirl medicine.
It has anthocyanin, a flavonoid compound with antioxidant activity. There is an association between cardiovascular diseases protection and consuming anthocyanin-rich food.
It's almost zero calorie on it own, has great amounts of vitamin C and good amount of vitamin A & vitamin B1
It works as diuretic, and helps with constipation too.
Keep in mind that hibiscus may not be safe for pregnant women , and for any one who takes blood thinners. Always consult your doctors before having herbal drinks.
Cherry
They are small soft round sweet or tart fruits. They are very delicate, and need to be handled with extra care, therefore cherries are mostly expensive . I've used them before mixed with dark chocolate in a delicious recipe
They are considered low calorie food. Plus, they are good source of vitamin C, potassium, and fibers.  

They have phenolic compound called anthocyanin, which has antioxidant activity, which known to fight cancer by getting rod of free radicals.  

In this study they found that consuming food rich with anthocyanin like cherries, improves memory and cognition inpatients with mild to moderate dementia.

The anthocyanin block some enzymes called cox 1, cox 2 they play a role in production of inflammatory compound, thus consuming cherries can ease arthritis pain. 

This study found that cherries are likely to lower risk of gout attacks. 
That is it for today, now make this drink and Enjoy the last bit of summer!
Iced Cherry Hibiscus Tea with Mint
Ingredients
Hibiscus tea:
2 cups of hibiscus dried flowers*
1 cup of water
Cherry syrup
1 cup of cherry pitted
6 Tb water
4 Tb of sugar
Instructions
Soak hibiscus dried flowers and set aside for at least 2 hours
Pit the cherries, and in small pot, on low heat, add cherries, water and sugar.
Let hem simmer for 15-20 minutes or more, it depends on the cherry, some are easier to break.
Remove from stove, and mix it in the blender, you should get a thick syrup, you can add water to thin it if you wish.
Strain the syrup though strainer.
Put the strainer on top of large bowl, and pour the juice of hibiscus. Squeeze the flowers to get any juice left.
Now add the syrup with the hibiscus in a large pitcher. (Dilute again if needed)
Add lots of ice, and fresh mint, serve immediately.
Refrigerate any leftovers, it is good for 5 days. However, it gets stronger by time, so just dilute and enjoy
Notes
The hibiscus amount makes the tea strong, you can put equal amount of hibiscus flowers and water.