A soft and chewy fragrant oatmeal peach bars, they are flavorsome and very nutritious. They are naturally vegan and gluten free too!
This recipe I made before I went to Istanbul , but couldn't post it. Now, it's officially fall, but you still got some peach , right? These are easy to make snacks, and lavender addition make them unique rather than ordinary. I love peach so much, I always wonder why I don't create more recipes with it! Mainly because I love to enjoy it whole, which is the most healthy way to eat it anyway!
Why do you need to add peach to your diet :
It is high in Vitamins like A and C, and minerals like potassium.
It has a pigment called carotenoids which it gives the peach the orange color. It acts like antioxidants and it turned by liver or intestines into vitamin A which is necessary for your immune system.
In a study by T&M , they found that peaches and other stone fruits have bio-active compounds that help fighting the syndrome X the disease that believed to be one of the causes of chronic diseases like diabetes and cardiovascular diseases.
Here another promising study for cancer treatment, it shows that extracts from peach reduce the growth of breast cancer cells without affecting the normal ones.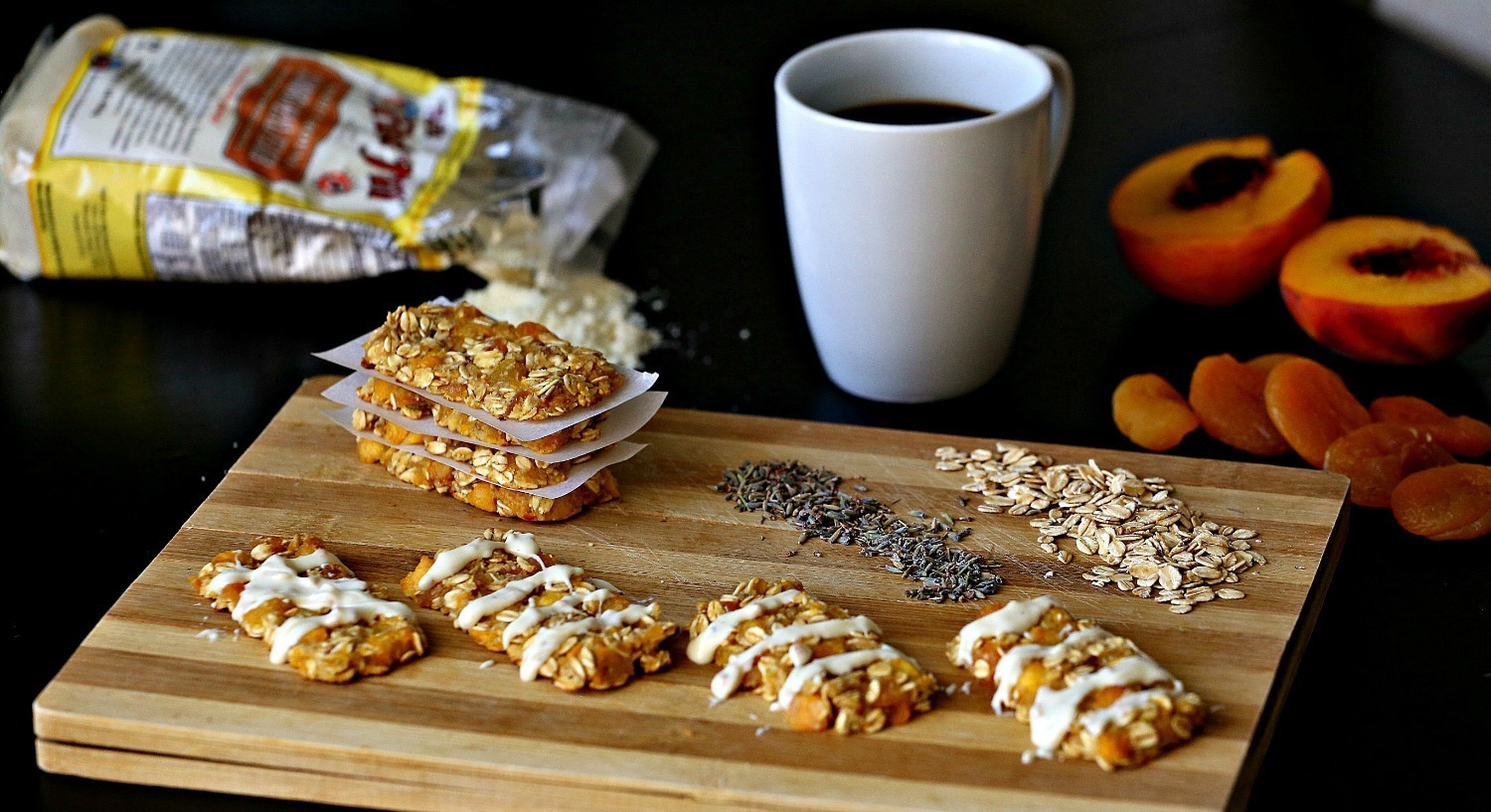 lavender:
I used lavender before in creamy coconut white hot chocolate, and it was so aromatic and amazing. It's great too with these oatmeal bars, but I grind it this time. The flavor become more intense, but this it becomes even with mix. Please be sure not to exceed the amount I mentioned in the recipe.
Here are some health benefits:
It can enhance sleep quality and reduce anxiety.
It can reduce the intensity of depression, and can be a part of anti-depressant drugs.
It has anti bacterial, anti fungal proprieties , antioxidant activity.
Lavender is a powerful herb, so if you have any healthy condition, especially if you take medicine, consult a doctor before using it.
Oatmeal is my favorite food ever, I always love to add different ingredients . And since I like mixing herbs, with fruits together,  I choose lavender and peach, and for a change, I made bars.
White chocolate here is totally optional , but it add creaminess to these chewy bars. You can have these bars for breakfast with a cup of coffee, or you can grab them to go. But if you glaze them I prefer not to do that, since white chocolate easily melt, especially if it still hot where you are now.
Almond flour
This is the first time I use almond flour. Will, I wasn't  big fan of using flour in bars, but it has very subtle flavor of almond comparing to the almond butter, and it gives less dense texture comparing to using wheat all purpose flour. It might be expensive, but I think it's worth it, and I can't wait to make more recipes with it, and I'll highlight it's health benefits in future recipes.
Now enjoy these bars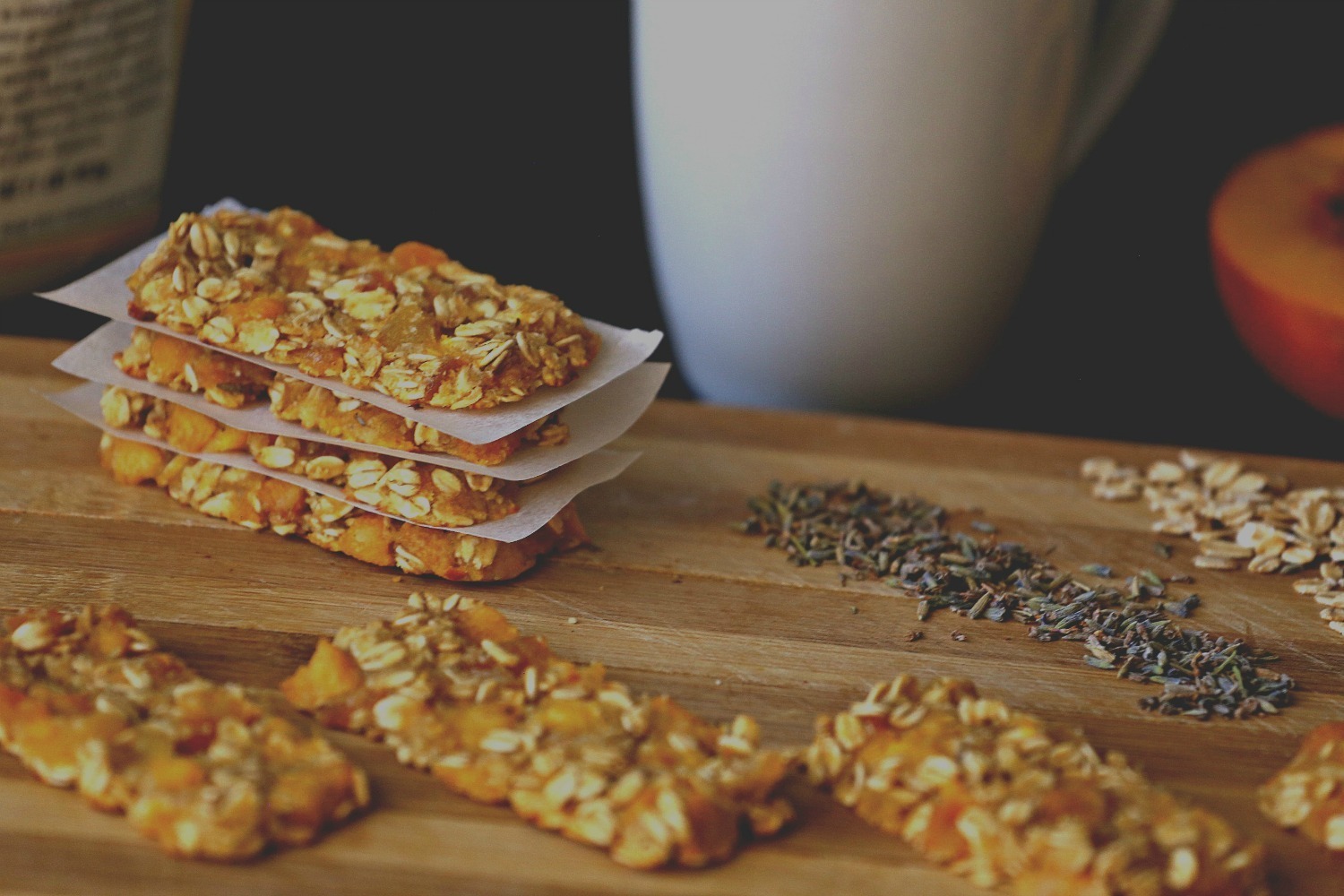 Peach Oatmeal Bars with Lavender
Ingredients
2 medium peach diced
2 small dried apricots diced
100 g rolled oats*
4 Tb Almond flour
1 tsp ground lavender
1 Tb maple syrup*
Instructions
preheat the oven at low temperature around 175 C
Grind your lavender and set aside.
Put diced peach and apricots in a big bowl
Add almond flour , and stir the mix.
Then add rolled oats, lavender, and add maple syrup gradually.
Form them as bars or one big pieces, if you prefer it, but I find it easier this way.
Put them in the oven for 8- to 10, watch closely, since they will burn easily.
Remove form the oven, let them cool completely.
Optional:
Melt one ounce of white chocolate in small bowl in microwave for short interval 15 seconds each, and stir every time, until completely melted and nut burned.
Glaze the bars, and keep them in the refrigerator, in an air tight container
Notes
I used extra thick, because it's chewy, however you may find working with normal size rolled oats or even quick oats is easier.

You can add more maple syrup if you wish, but with glazing with white chocolate, you need the bars to be less sweet. And you can use honey instead of maple syrup if you wish, but it won't be vegan, and I find it tricky in baking.