Quick and easy to make strawberry smoothie bowl! Packed with protein, probiotics, healthy fats, and antioxidants! It can't get any healthier than that! Plus it's gluten free!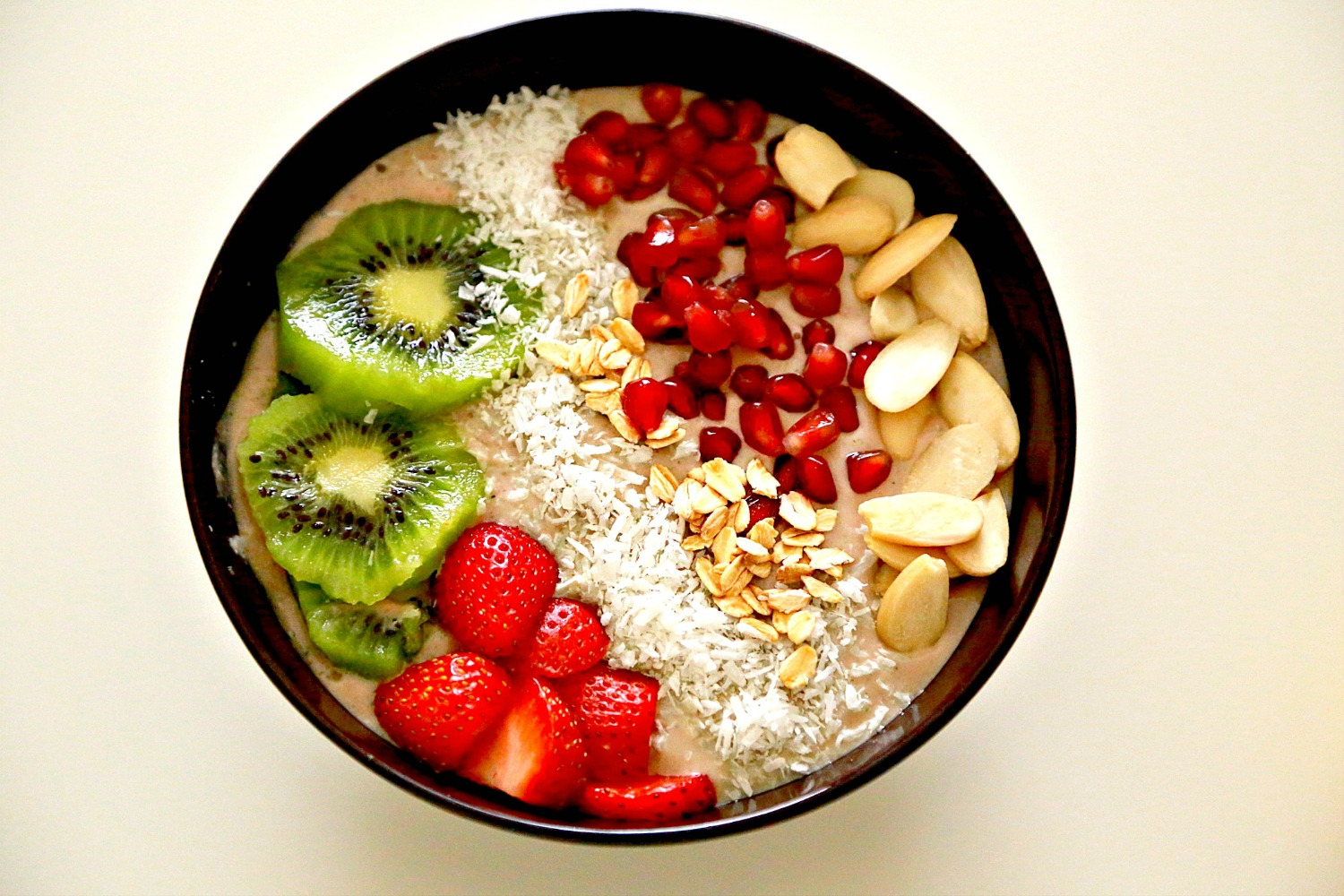 Eating healthy can be a real troublesome! While the healthy fresh produce, seeds, and grains are more available and affordable, but organizing the pantry and the fridge can be a real challenge! Do you have problem with having too many produce that may go bad? Or nothing at at sometimes? I bet many of you do! 
Being really busy with life, can put our healthy at stake. I didn't really understand how can busy anyone can get until I tried to explore things in life, that I didn't do before. After years of exploring, and with having a toddler now, I'm not really motivated to cook meals that take time as before! Even this is my favorite kind of meals! But now I can't spent hours cooking in the kitchen, while I miss being outside, mainly! Including workout, running, or going out with friends! Therefore again, I'm here with a new recipe for a healthy quick smoothie bowl!
Smoothie bowl
There are maybe tens of smoothies with strawberry out there on the web, but sometimes, we just need something quick, uncomplicated with available ingredients, and of course healthy. In this post– my first smoothie bowl- I explained all why smoothie bowl can be good for you, and how to have a balanced one.
Note: This time I didn't add greens, honestly because I didn't have any! But the main reason is most greens are better steamed or cooked rather than raw, I may add some spinach or kale. feel free to add any other greens you think fit this smoothie. However, as I said don't stress this out.
Yogurt 
It's my favorite protein source! It's affordable, and available, and can be eaten with fruits or a side for savory meals. I have used yogurt in many recipes here on the blog, but not really give it the credit it deserve. Let's talk about some of it's health benefits:
It has good amounts of protein, calcium, zinc and vitamin B12 , and vitamin b2

It has probiotics that aids your digestion and can be used in prevention and treatment for many gastrointestinal diseases. 
Yogurt can reduce blood pressure too. 
Strawberry
Now I've discussed strawberry health benefits many times before. It had high amounts of vitamin c, and other vitamins? it also a rich source of lycopene, and antioxidant is very important for your health, especially for the men, because it can reduce the risk of developing prostate cancer. 
 
Now enjoy your smoothie bowl ==>
Quick Strawberry Yogurt Smoothie Bowl
Ingredients
4 Tb halved almond
2 Tb grated coconut unsweetened
250g strawberry
1 small avocado
170g yogurt
1 Tb lemon juice
8 Tb instant oatmeal
A handful of mint
Toppings:
1 small kiwi sliced
3 small strawberries
Pomegranate Ariels
Grated coconut and almonds
Optional but recommend:
A drizzle of honey
Instructions
In a blender add first yogurt, strawberry, lemon juice, and blend them for 1-2 minutes.
Add oatmeal, grated coconut, almonds, and mix all together for 2-4 minutes.
Add avocado for a creamy finish and blend until you reach the desired consistency.
Serve cold and add the suggested toppings, or anything you desire.
Refrigerate any leftovers for couple of days only.
Notes
If the yogurt you wish to use is thick, you can add water by Tb, but the one I used had a runny texture.

If you can use Greek yogurt, that would be extra healthy!