A complete meal with white zucchinis stuffed with minced meat and plunged in a 

flavorful

, creamy yogurt sauce!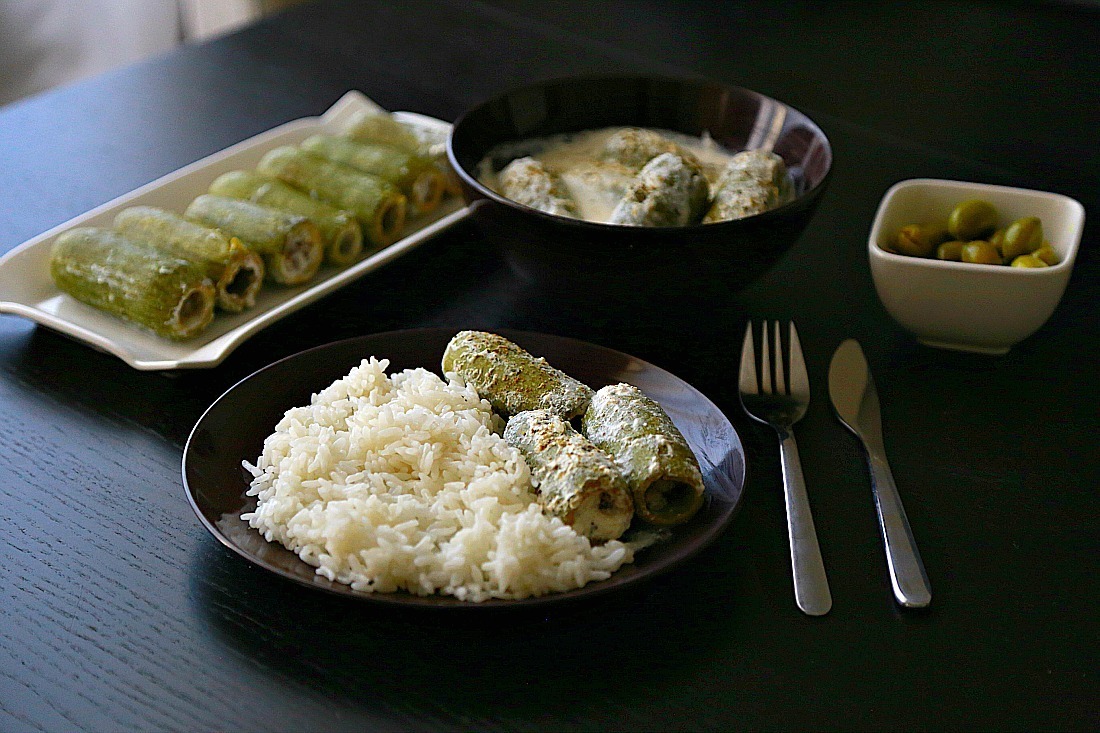 Here are the white zucchini if you didn't see them before, they are cored and ready to be stuffed!
This is one of my favorite dishes ever! It's very fulfilling, you can eat it like soup or with a side of white plain rice.
Kousa is a local veggie here in Jordan and other middle eastern countries. It's called a white zucchini. When I was in the U.S I never found it, but I know some states that have some! It tastes like the green zucchini, but with a stronger flavor! Now this recipe was a staple in my family, It needs a lot of work, but it is totally worth it! And I remember helping mom making it. It needs some accuracy and attention, but once you used it to, you will do it with eyes closed!.
I was looking on the origin of this recipe, I couldn't find accurate information (When I do, I'll update this post). But I know in Jordan, Palestine, Syria, and Lebanon make it with some alterations. Some make a thick sauce, and some add garlic and mint. And it's known that it has a Turkish origin, but I'm not really sure about that.
Now I wanted to post this recipes months ago, but I hesitated more than once. Why? because I need to core the zucchinis. I used to do it easily, but lately, I'm not sure what happened to me. But the good news is, you can get the zucchini cored and packaged neatly too! While I always love to do these things myself, it's kind of good thing if you ask me! Let me explain, here in Jordan, some housewives do this job for you- coring the veggies- its their job. And then the big stores buy the veggies from them, and they got paid. So it's nice to help those in need!
Now I've discussed before how zucchini can be good for you, when this made this soup, and this stew. However, I would love a remind you! 
Why white zucchini is good for you:
High in potassium, which helps your body regulate your blood pressure.

High water content, it's almost 95% which is really good for hydration, and keep your digestive system healthy.

It's low in calories, fats, cholesterol, and carbs which makes it perfect choice for weight loss.

It's high in vitamin A and C which they are powerful antioxidants.
Final Note: As I said there are many versions, my mom do pan frying before dropping the zucchinis in water. I chose to skip this step, I feel its add extra fat only! The zucchinis, meat, and yogurt are seasoned very well, and don't need extra flavors.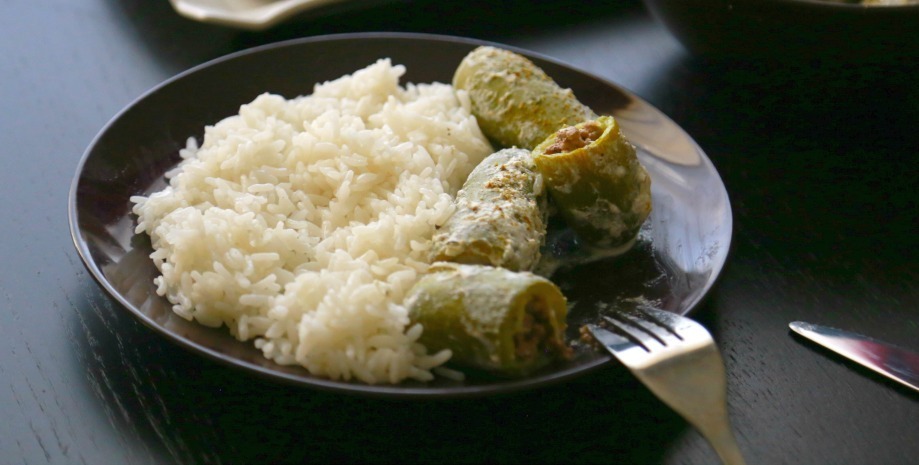 Stuffed White Zucchini in Yogurt Sauce (Kousa bel laban)
Ingredients
2 lb White zucchini or summer squash cored.
1 small onion
250 g minced beef or lambs (I used a mix)
1 Tb vegetable oil
2 cups full fat yogurt
1 egg
Optional for the yogurt: 1 Tb cornstarch
Salt, black pepper, and cinnamon
Optional side:
Side of plain white rice.
Instructions
First core the zucchinis if they aren't cored already.
In a skillet, on medium heat, add vegetable oil, and minced onion. Leave it until becomes translucent.
Add meat, spices like salt, black pepper, and ground cinnamon.
When the meat is done, remove from the stove, and let it cool for 10 minutes.
Fill the zucchinis using a teaspoon or by your hand.
In a medium pot, boil water, and drop the zucchinis for 20 minutes. Keep an eye on them, you don't want them to be mushy, just softer.
In a bowl, add yogurt, egg, garlic powder, some cumin, cinnamon, salt and black pepper, and whisk them very well.
Transfer the yogurt mix to a medium pot, and stir the yogurt. Don't stop or it will curdle, until it's warm enough.
Drain the zucchini and save the water.
Drop the stuffed zucchinis carefully in the yogurt, and keep stirring slowly.
Add 1 cup of zucchini water to the yogurt, and keep stirring until the zucchinis are soft and soaked with yogurt.
Serve warm in a soup bowl or with a white rice on the side.
Notes
Preparing time, dose not include coring.

Cooking time include, boiling the zucchini, and dropping them into the yogurt sauce too.