Today I brought to you another recipe for a quick dinner, that is healthy, and delicious. It is pan seared tilapia with sweet and sour veggies.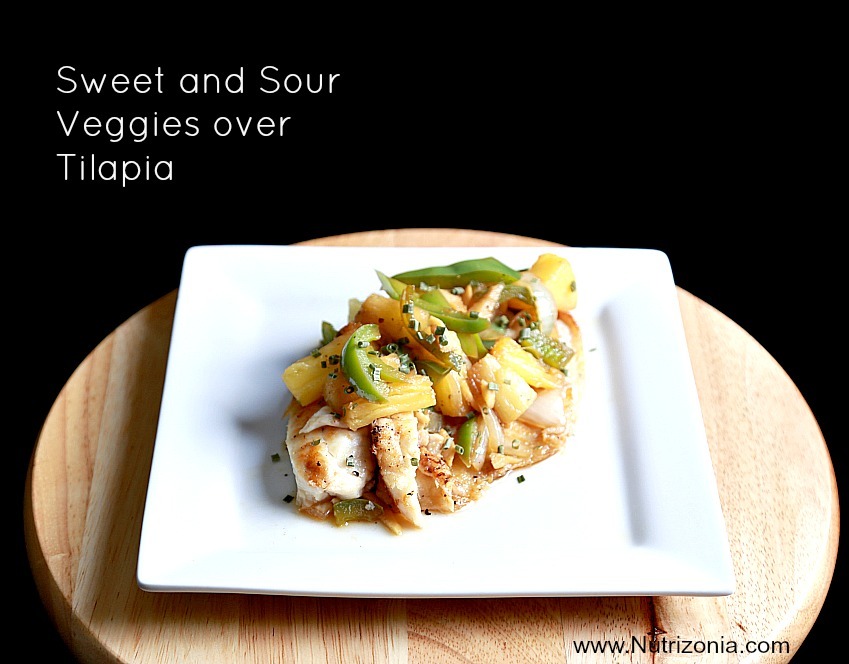 This is the first time ever I cook fish! and since I have no idea of how much time a fish needs to be done, I chose the easiest way for a fillet fish, which is pan seared
. Some people avoid it, because they think its not healthy. Yes, baking could be a a better option, but if you didn't use a high heat for searing, you will be in safe place.
Since my family lived in the Arabic gulf for a long time, that means an easy access to local fresh fish, so they kept the habit of having fish regularly. When I moved out from the family house, I rarely had fish, and I regretted that when I was in Doha, I never cooked fish.
There was so many local options. But I was not brave to try other seafood, even I did love salmon sushi, but I can't get my self to cook it home. Until I decided a week ago to cook a fish myself.
I love sweet and sour veggies, actually I love any sweet addition to savory curries, salads, or pilafs. I made a strawberry bulgur salad, and I added raisins to my pilaf, and apple to a beef curry.
Tilapia

It's an easy fish to cook, available, and an inexpensive fish.
Why you need to add tilapia in your diet:
High in protein and low in fats, calories, and carbohydrates.
Has omega 3 fatty acid that is very important for our health, and for pregnant women.
It has a good variety of minerals and vitamins, such as potassium, and selenium. vitamin B3 and vitamin B12 and has low amount of iron.
There are so many cautions about tilaplia, being farm raised and feed corn and soy. Or because of the contamination of mercury. Well its not easy to be sure of that, and its a good option for healthy inexpensive quick dinner. To be on the safe side, fetch local wild fish whenever its possible, and always try different kinds of fish and seafood.
Note: I'm not an expert in fish, but tilapia low in mercury level so its safe for pregnant women.
lets get to the recipe, enjoy!

Sweet and Sour Veggies over Tilapia
An easy dinner you can prepare with tilapia in less than 30 minutes, its healthy, delicious and its gluten free.
Cuisine:
Asian and American
Ingredients
1 Medium fillet tilapia fish
salt and black pepper
Half cup of Pineapple cubes (fresh or frozen)
1 Tb soy sauce
1 medium green bell pepper
Fresh ginger (as desired)
small onion thin sliced
1 tsp brown sugar (optional)
1 Tb of olive oil divided.
Spices (Optional):
A ground coriander and ginger
Instructions
Wash the fish with running cold water, and pat it with kitchen papper to dry it well. Season it with salt and black pepper.
heat a skillet on medium heat, and add ½ Tb olive oil.
Wait until the oil is hot (but not very hot) and place the fish.
Keep it on side for 5 minutes, don't shake the pan or the fish.
Flip the fish, and wait another 5 minutes.
Now remove the fish from the stove, and add another ½ Tb of olive oil.
Add onions, ginger, pineapple and green bell pepper, saute for 5 minutes
Add soy sauce, spices and salt and pepper if needed. (if you want to add the sugar now its the time).
Stir well, and keep it for 5 minutes.
Now add veggies to the fish and enjoy.
Notes
If you have fish or oyster oil, it would be great to add it. I don't have any at this moment, but sauteing veggies in the same skillet after searing the fish, adds the fish oil flavor you need.
Nutrition Information
Calories:
181
Fat:
8
Carbohydrates:
16
Fiber:
3
Protein:
16
 Have you ever cooked tiplia? what's your favorite recipe?