A delicious side of Turkish bulgur with tomato. An easy to make pilaf, and very fulfilling that you can it by itself! It's packed with nutrients and fibers! 
You know by now, I'm a fan of bulgur (cracked wheat) I love to eat it cooked in a pilaf or raw in salads like the famous middle eastern Tabbouleh salad. But this turkish bulgur, I tried it first time when I visited Turkey . And I fell in love with it, and I have no idea , why I've waited so long to recreate it at home! So now I just made it the authentic way, I cooked it with chicken stock, you can cook it with vegetables stocks so you can have a vegetarian version or even with water for a vegan one. It's mostly a side comes with kebab , but it's great with yogurt too.
This is such an easy pilaf recipe to follow, my most beloved meals. You can add more stuff to it, but I love it this way, the original one! Just remember you need to use the medium or coarse bulgur for this recipe.
Why this Turkish bulgur
This Turkish bulgur is healthy and good for you,
Because:
It has bulgur that is Bulgur is high in fiber, magnesium, and low in fat. It's a good substitute for rice, for anyone wants add fiber, and protein to their starchy carb option. And you can read more about bulgur, in this article about  Quinoa and bulgur
It has tomato which contains vitamin C and lycopene too.
It has green bell pepper that is high in Vitamin A ans fibers.
Its fulfilling and delicious!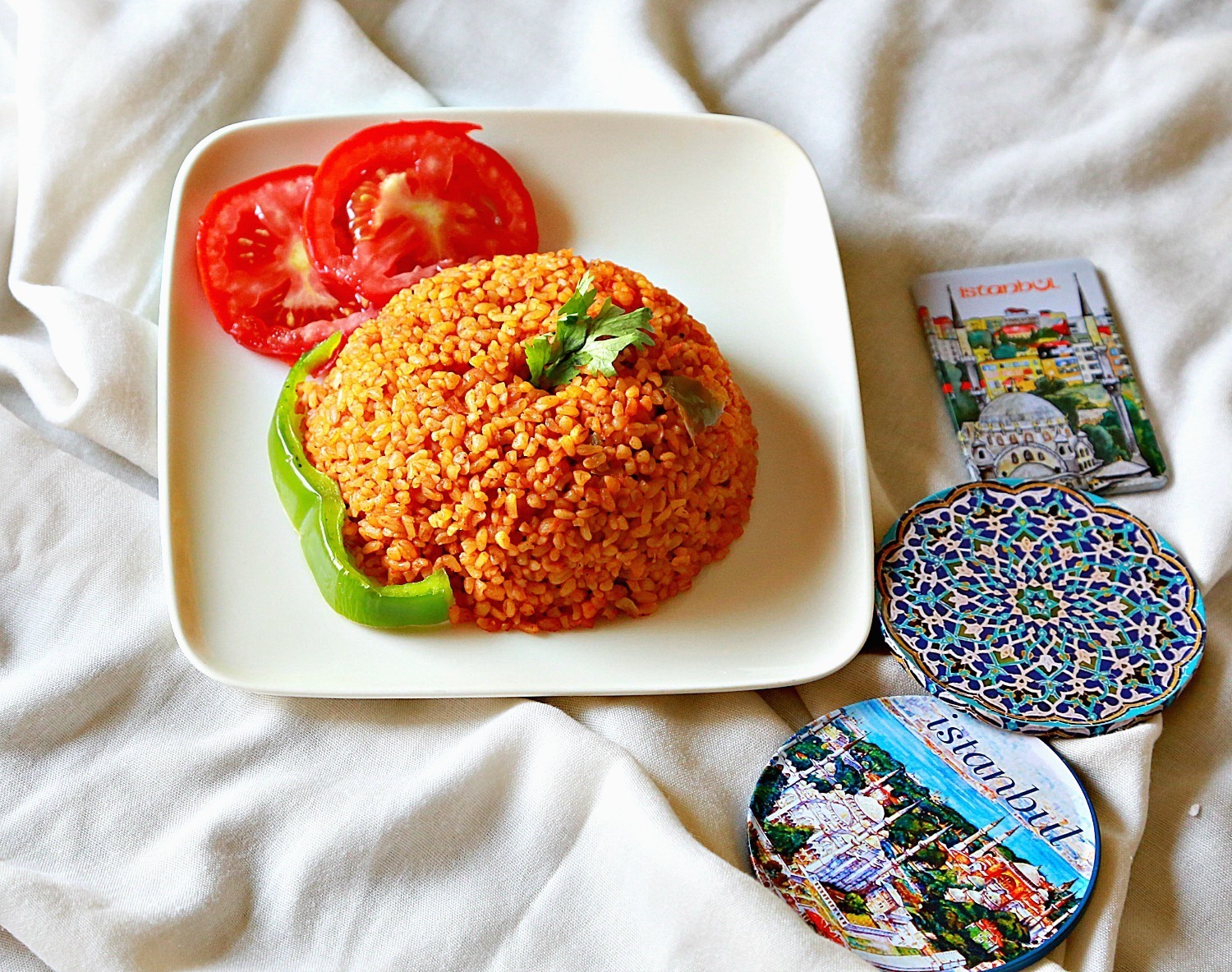 Enjoy!
Turkish bulgur with tomato
Ingredients
coarse Bulgur ½ cup
Tomato 1 medium grated
1 small green bell pepper
½ Tb tomato paste
1 Cup chicken/vegetable broth
½ Tb butter
½ olive oil
Salt and pepper
Instructions
In a medium pot, add butter and oil, on a medium heat.
When it's warm, add grated tomato, green bell pepper, tomato paste, salt and black pepper.
Then add bulgur , and saute all together for 3-5 minutes.
Add chicken stock to bulgur and cover the pot.
Then let it simmered for 15-20 minutes or until the bulgur is fully and absorbed all the liquid.
serve it hot with kebebs , yogurt or by itself.
Refrigerate any leftovers.