Broccoli, and brussels sprouts wasn't in my diet, when I was young. I'm glad now that I can add these healthy vegetables into my diet. Since I don't like broccoli, I was looking for a good alternative, so I choose brussels sprouts from the same family, to compare it with broccoli. So today's is another post is in the "Which is healthier" series,  "Brussels sprouts vs. Broccoli"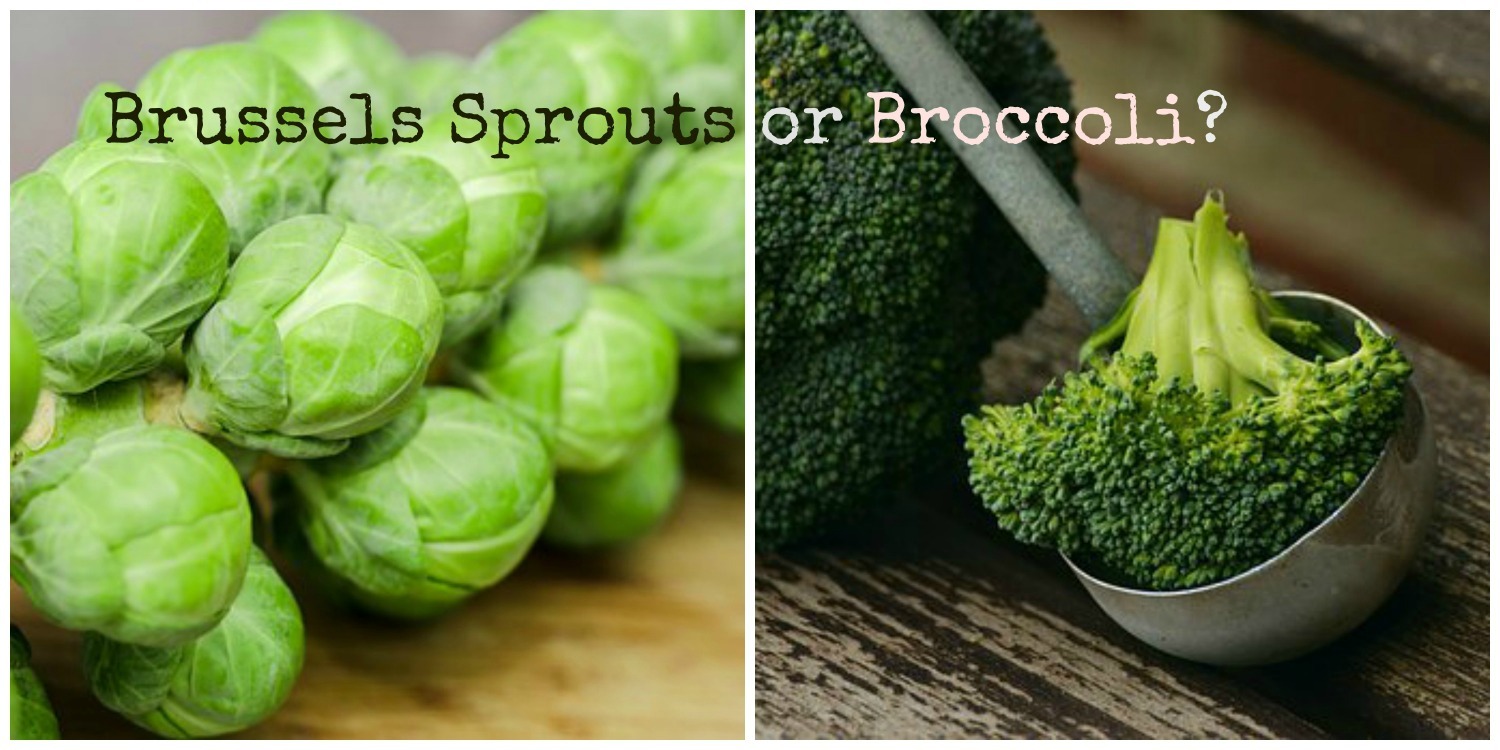 Nutrition
Broccoli and Brussels sprouts have very similar amount of calories, protein, carbohydrates, and even vitamins, and minerals. The differences are very subtle.   
Fighting diseases 
Broccoli, and brussel sprouts has very similar composition. They have similar phytochemicals, and antioxidants. Most of the research is done on broccoli, since its has higher amounts of these compounds. So most of the studies I could find is about broccoli. There are so much health benefits, I'll mention some as I see these are so important:
Cancer:
Brussels sprouts and Broccoli contain the same compound that is believed an anti-cancer which is an antioxidant sulforaphane. But broccoli has higher amounts. According to Express Dr Stephen Franklin, chief executive of drug company Evgen created a pill that contain sulforaphane in mega dose, that the body needs, to fight cancer growth, and reducing the risk of getting it.  
In this study researchers in poland, found that bread enriched with broccoli sprouts, can be a chemopreventive potential for stomach cancer.
In case control study in Spain done on men older than 30, for four years they found that broccoli can reduce the risk of lung cancer.
Anti-inflammatory: 
Both of broccoli and brussels sprouts have anti-inflammatory effects. they have compounds called glucosinolates, they get rid of unwanted inflammation.
Lowering Cholesterol :  
Since they have good amounts of soluble fiber, fiber binds to cholesterol, and got removed through circulation. It goes to the bowl system instead of blocking your arteries.
Other Benefits:
An interesting finding, according to this Chinese study they found that having a tea made with broccoli sprouts, can fight an air pollutant (Benzene) that believed to be carcinogen, through excretion it into the urine.
Taste
I can't stand broccoli, and I mentioned that before . But actually after reading a lot about it, I may give it another try. Maybe a broccoli cheese soup? But the good thing I can eat more of brussels sprouts. I have tons of recipes. And I love this collection too. Also I created this recipe last year. It was so delicious, and it was all raw. It's great to vary my options, and include it more in my diet.
Raw or Cooked? 
I discussed here when, and how to choose an eating method of some fruits, and vegetables. And according to American Cancer Society , cooking can reduce some anti-cancer components in Broccoli.
Availability & cost
It's really great that these power houses of nutrition, are actually cheap. You can find both of them fresh and frozen all year around. But you should follow your region. In Jordan (Middles east) I know that there is a local broccoli, but not Brussels sprouts. You don't have to pay much for imported food, while you have a good local alternative.
So who is the winner? Broccoli ! But listen to your body
As they may contain similar anti-cancer compounds, and there is lack of research for Brussels sprouts. You might start eating both of them, don't feel tangled to only one of them! But If you can't like one, check the other ! It would be a good option too!
Which one do you like? Broccoli or brussels sprouts? I would love to hear from you! 
photo credit: JeepersMedia via photopin cc