A succulent  Thai baked chicken with pineapple that is so easy to make, but flavorsome! This dish is nutritious, full of antioxidants, naturally gluten free!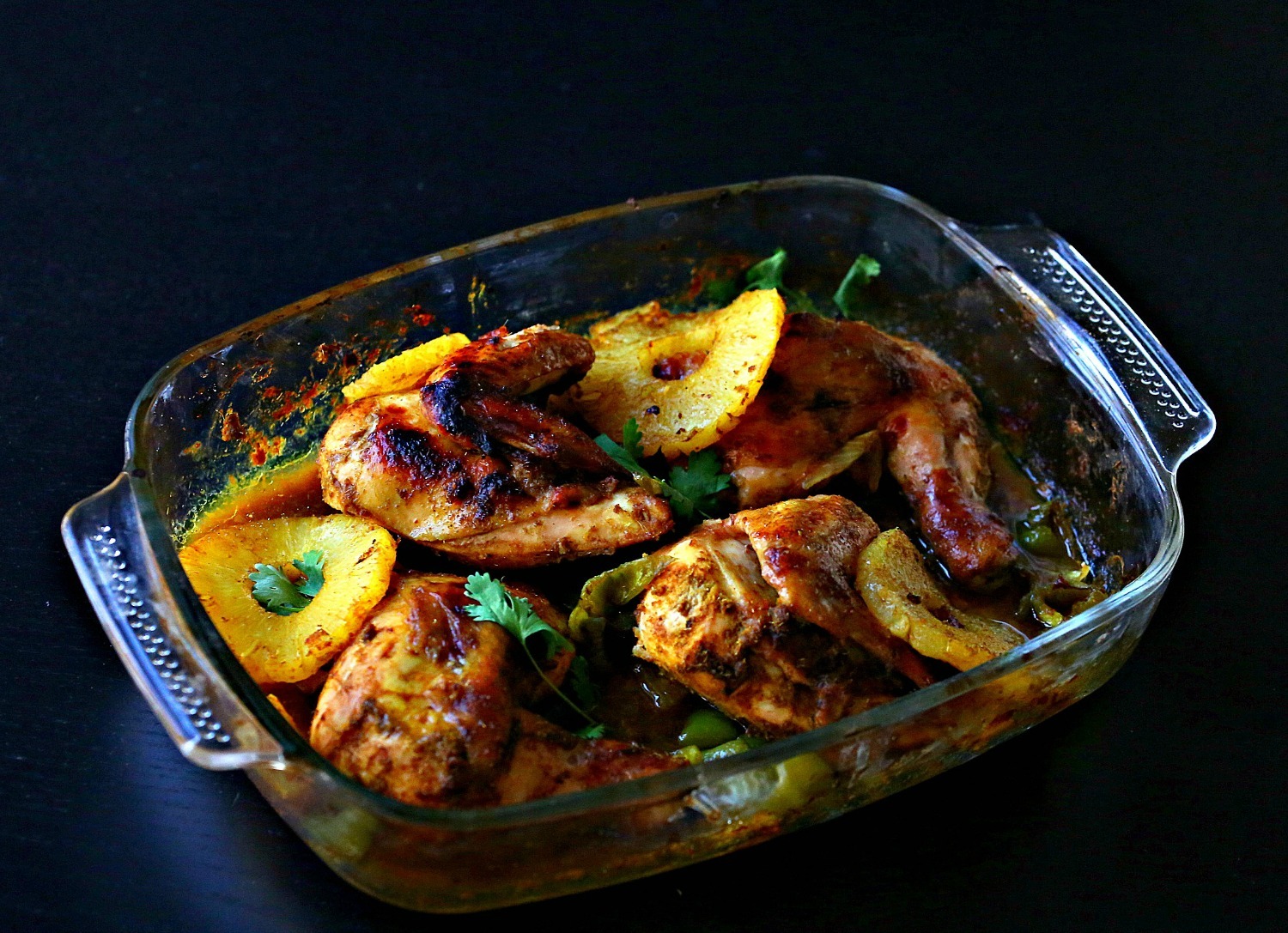 It's been a while since I post a chicken recipe, even it's the most meat I cook! Mostly, because I just add veggies I have at time and toss it in the oven, or sauteed with any side for it. So I thought I need to make something new, easy with almost available ingredients and delicious of course!
While I was looking in my small cupboard, I found a small jar of Thai yellow curry, of course I bought it after I read the one that Kevin made  I would love to make dressings or marinades myself. But it's not easy to get Asian food here. I've tried but couldn't find all the ingredients. So I just accepted it this harsh truth, and bought it, assuring myself  that a small one won't harm anybody.
And when I was thinking of pairing, I couldn't see more of a a fit than pineapple, and green bell pepper because I love this combo together, with soy sauce, fresh ginger, and sugar syrup of canned pineapple. That would make a nice glaze for the chicken!
Yup, I've added the sugar, you and I can skip it of course. But sugar elevates the flavors. I've been addicted to sugar before, I literally used to eat it with a spoon! Sneaking of course! I had tooth decays when I was around 10 years old or less, I used to lick sugar syrup and all these stuff, and I used to hate dietitian that told us what to eat, like why the heck they want to control our lives?
Well, I was wrong, while I still believe sugar is tasty, and makes you feel happy, there are so many ways to make you feel that way. It's that simple! I'm no longer making desserts daily, or even I'm not craving them like before. So anyone can have a good balance!
So yes today I'm posting a recipe where it has some sugar syrup in savory dish. You need to know that it's totally worth it! and this dish is finger licking one! However, using fresh pineapple on low heat can get it out the sugar too, and I'm sure it will be tasty too! It's just I don't have fresh pineapple sitting around most times.
let's talk about the recipe!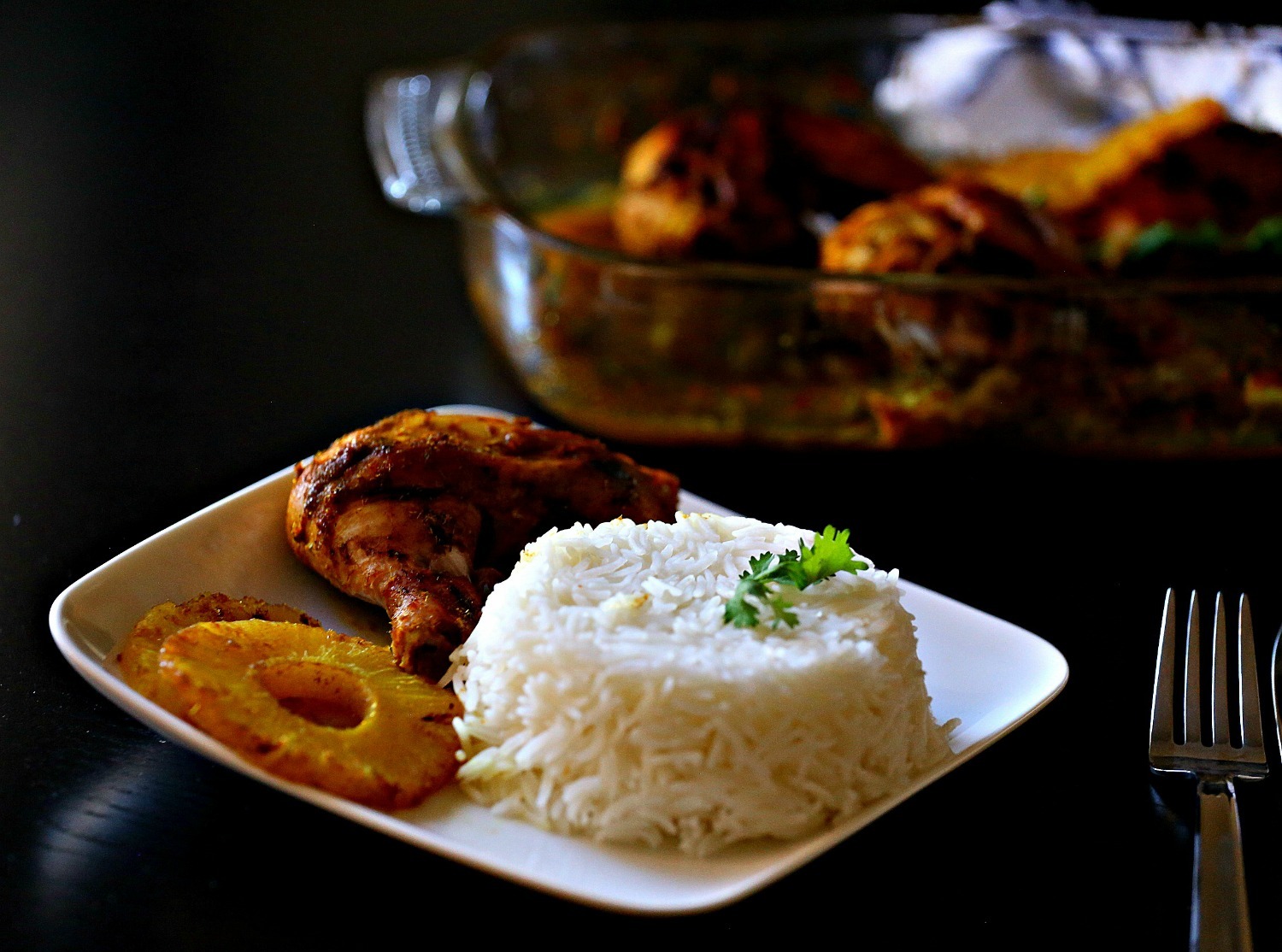 All you need is to marinate the chicken for couple of hours with Thai yellow curry paste, add pineapple slices canned or fresh, green bell pepper, fresh ginger, throw some spices, put it in the oven and you are all set!
Chicken
It's an affordable source of protein that is versatile, and can be consumed in so many ways, including healthy ones. Boneless or not, skin on or not, chicken is good for YOU! Please click on this tag to know more about chicken, and check out all recipe. And check this recipe where I discussed they myths of fattening chicken thigh and skinned chicken too.
Here is a reminder why chicken is healthy :
It has high protein quality, that is lean. Also low in calories, and fats relatively.

Has high tryptophan amount, which helps you sleep, and makes you feel better.

High in magnesium, and high in zinc that is good for raising testosterone level, and boosting immunity.

Has high amounts of niacin (especially the breast) which helps the body do natural detoxification and helps lower bad cholesterol, and raise the good cholesterol. 
It's the best if you serve this chicken dish with Thai jasmine rice which is I really love, but I don't have it at the moment. So I opt for Basmait rice which is close to it, and I think naan, would make a great pair too.
Why do you need to eat pineapple:
One of the healthiest fruits, it has so many healthy benefits, lets mention a few: 
High amount of vitamin c, fibers, potassium, and manganese.

Contain the beta carotene pigment that acts like antioxidant.

 Since it's high in potassium, it helps with reducing blood pressure.

Also it helps with digestion due to high fiber content and water content too

.
 However, Fresh pineapple is the best, Canned one adds more sugar and less vitamin and mineral content, get fresh ones when you can, or canned with a light or fruits syrup.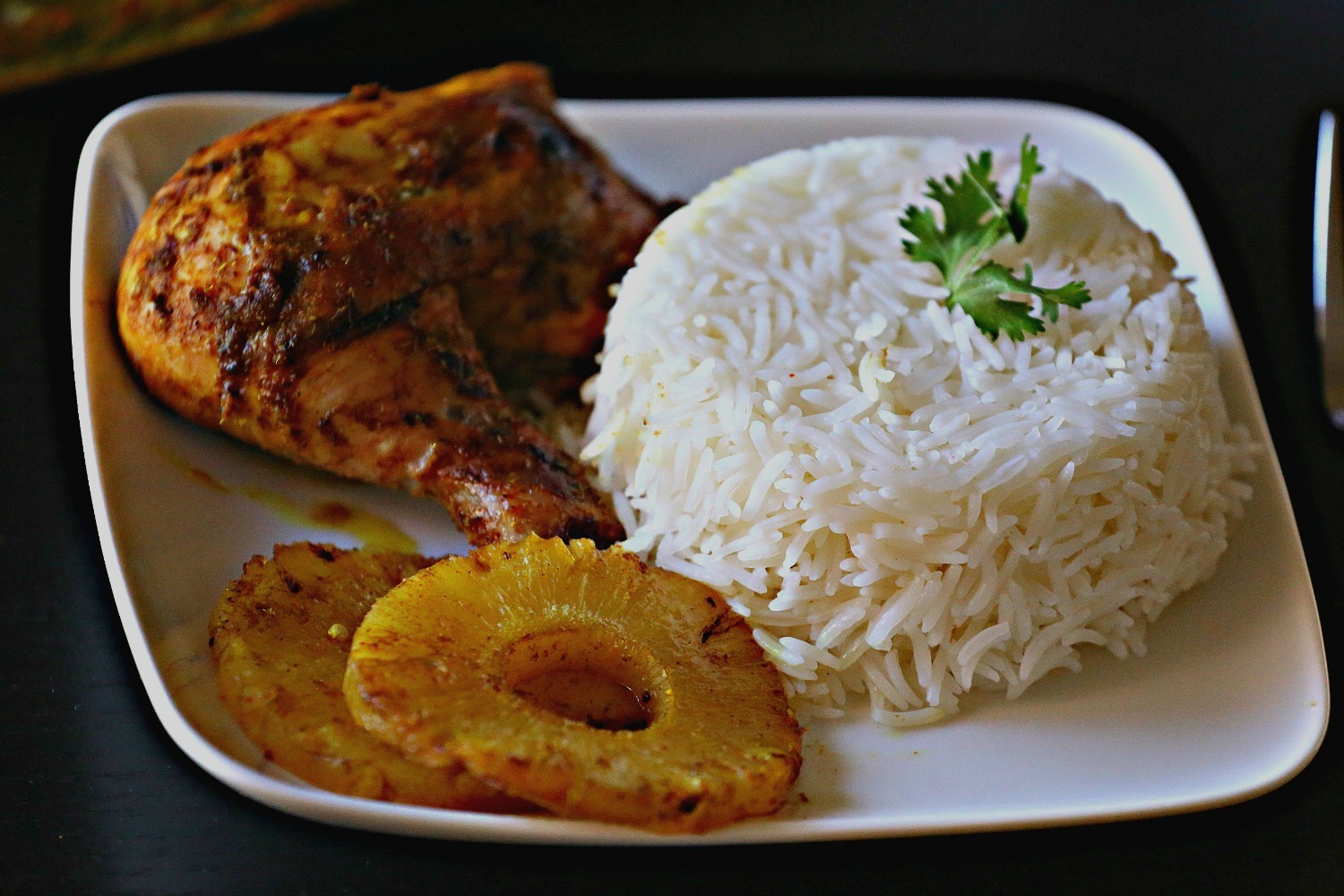 Easy Thai Baked Chicken with Pineapple
Ingredients
1 Whole chicken cut into four pieces (skin and bone on)
2 Tb of Thai yellow curry
1 Tb lemon grass paste
6 pineapple slices
1 big bell pepper sliced
Chicken pieces
2 Tb Soy sauce
2 Tb Worcestershire sauce
Fresh Ginger (up to taste)
1 tsp Ginger powder
Salt and black pepper as desired
Instructions
Rub the chicken with the yellow curry, and lemon grass paste, make sure to put under it the skin, and poke the chicken too.
to get the most flavor. Add Worcestershier, and soy sauce, marinade for couple of hours.
Remove from the fridge, add pineapple , bell pepper slices, and fresh ginger. Place them wherever you want, they would taste great if you put them under the chicken too .
Put them all together in the oven in a baking dish on a medium heat.
After an hour, check the chicken, flip it until it's done.
Broil if you want for 10 mins on each side.
Serve with basmati rice.
Refrigerate any leftover
Notes
This dish is naturally gluten free, however if you have celiac disease, you need to make sure that all the dressings (yellow curry paste, soy sauce, worcestershire) and canned pineapple if you use it, to be certified gluten free.