This Chicken and dried apricots Tajine is the ultimate healthy comfort meal for a chilly day! And even on a hot day, you can cook it outside!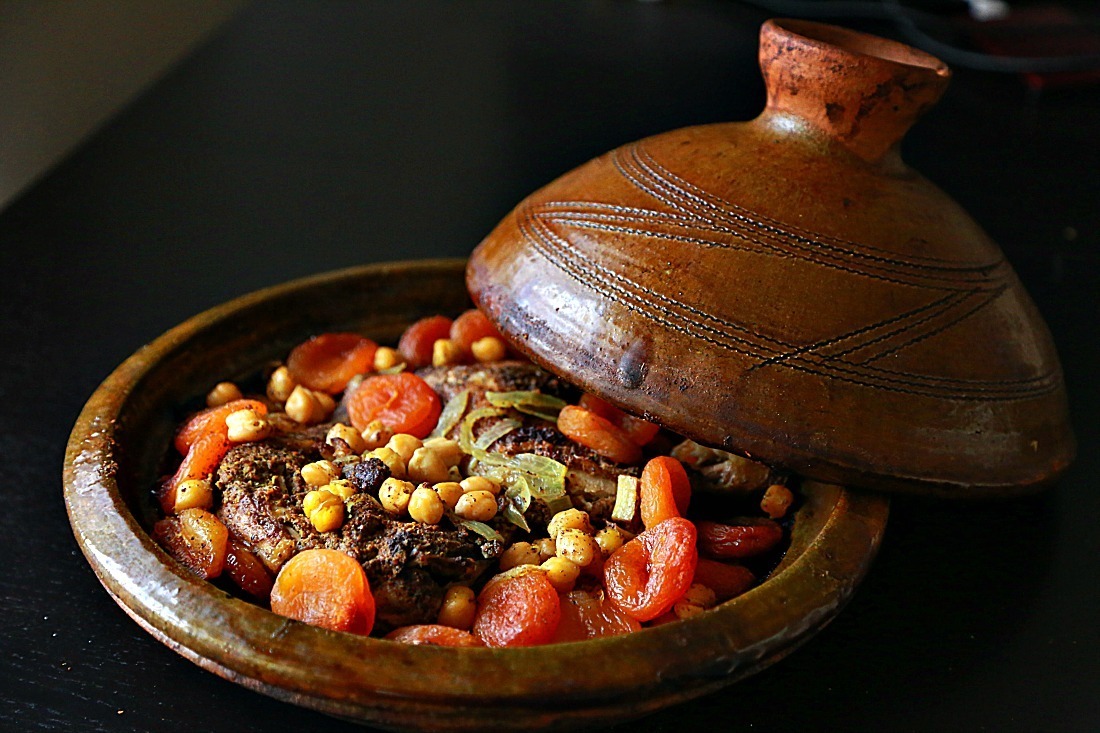 Tajine
There are so many versions of tajine, because it simply refers to the used cookware not the dish/technique itself. It's a north African dish, but the Moroccan ones are the most popular. Mainly it's chicken/meat mixed with vegetables and usually well spiced. It's kind of like a stew, but not a complete liquid.
My dad has a love affair with Morocco, he visits it at least once in a year. He used to be go to meet other writers, and poets in big cultural festivals. Now he go for leisure too, and of course to have a rich cultural vacation. One of the biggest cities are Marrakesh, Casa Blanca, Tangier, and others. it has high mountains, coastal cities and also a large portion of it, is a dessert. Therefor it's nature, highly impacted it's cuisine. I've never been to Morocco, so I'm not very familiar of the cuisine. I wish I can go, it's on my list. 
Although dad went there so many times, but he is not a collector, therefore he didn't bring much with him from Morocco, he used to buy us (his daughters) some traditional jewels, and after so many years he decided to get a tajine!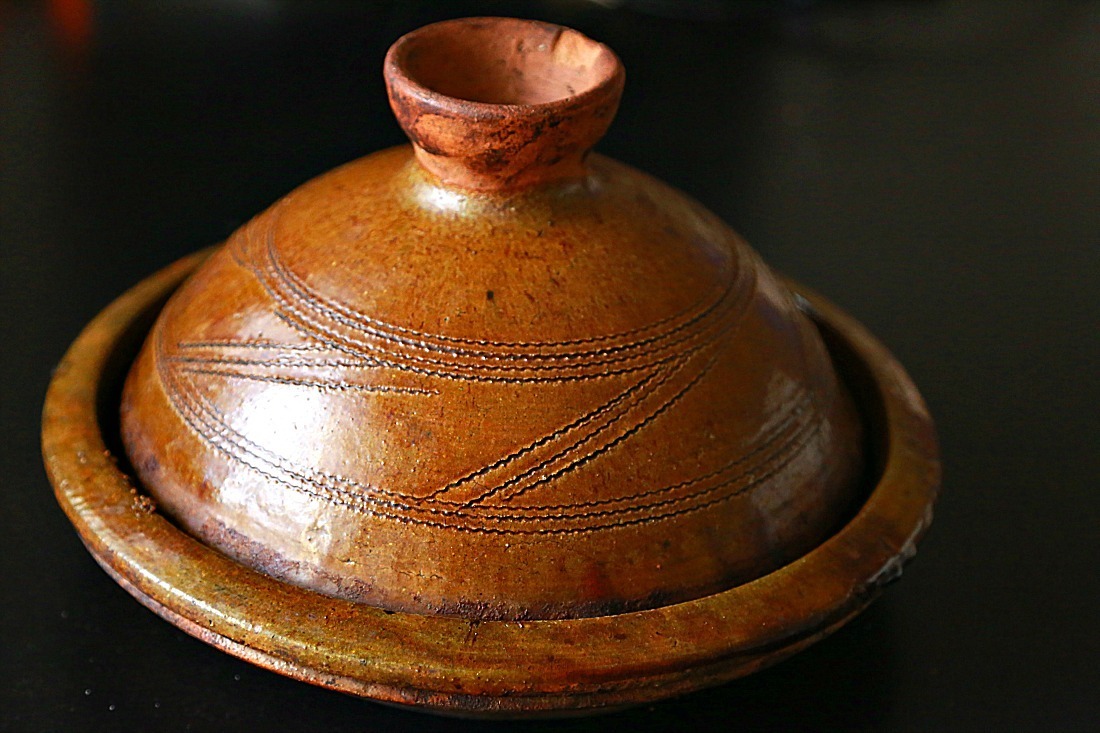 You can make a whole chicken in tajine (depends on the tajine size) , chicken pieces with skin and bone, or even with boneless and skinless chicken. I do love to use skin on, pieces with bones with these kind of recipes, make it really flavorsome, and if you are concerned of the eating thighs, or using the skin, please read  this post.  Note that I don't really eat the skin, but I like to keep because it makes the chicken moist and juicy, and flavorsome!

Tajine is healthy dish, usually it has more than one kind of fruits or/and vegetable, and many spices. The spices has so many health benefits, such as turmeric which is an essential spice of tajine seasoning. Many spices has anti-inflammatory, and anti-bacterial properties. 
This recipe is on the sweet side, you can play with it if you prefer less sweet main dish, but I wanted to show you the traditional way of cooking this dish. Moroccan cuisine is very rich, and there are wide varieties of dishes.
If you are a regular reader here on Nutrizonia and you love using fruits in main courses, you should check this Roasted Chicken with Balsamic Vinegar and Dried Orange & Chicken with Mango Stew Recipe.
And here are some reasons to include chicken in your diet: 
There are so many health benefits of eating chicken, to mention a few:
It has high protein quality, that is lean. Also low in calories, and fats relatively.

Has high tryptophan amount, which helps you sleep, and makes you feel better.

High in magnesium, and high in zinc that is good for raising testosterone level, and boosting immunity.

Has high amounts of niacin (especially the breast) which helps the body do natural detoxification and helps lower bad cholesterol, and raise the good cholesterol.  
Now make this dinner on the weekend or for a special weekday meal!
Chicken and Dried Apricots Moroccan Tajine
Ingredients
100 g Apricots
1 Tb honey
1 cinnamon stick
100 g chickpeas
2 chicken thighs
2.5 cup chicken stock divided
Spices: (All ground 1 tsp)
Coriander, cumin, cinnamon, turmeric, salt, red pepper
1 onion chopped
4 garlic pieces sliced
2 Tb olive oil divided
Half Tb butter
Instructions
In a small bowl add half Tb olive oil, spices, and mix them together.
Rub the chicken very well, rub under the skin too.
In a medium pot, add 1 cup chicken broth, 1 cinnamon stick, apricots halves, and honey, and simmer for 10 minutes.
Meanwhile, in a skillet, heat a half Tb olive oil, and half Tb butter, and brown the thighs for 4 minutes on each side.
Remove from the stove and put them in the tajine.
In the same skillet, scrap the skillet, and add halt Tb olive oil, and saute onion, garlic and chickpeas for 5 minutes.
Remove from the stove and add to the tajine, add another 1.5 cup of chicken broth
Put the tajine in the oven for an hr at 180 c. Check after 30 minutes and add extra chicken broth as needed to keep the apricots from burning. You can add water too