A fudgy decadent chestnut brownies that is made with real ingredient! It's full of fibers, nutrients and antioxidants! It's vegan and gluten free too!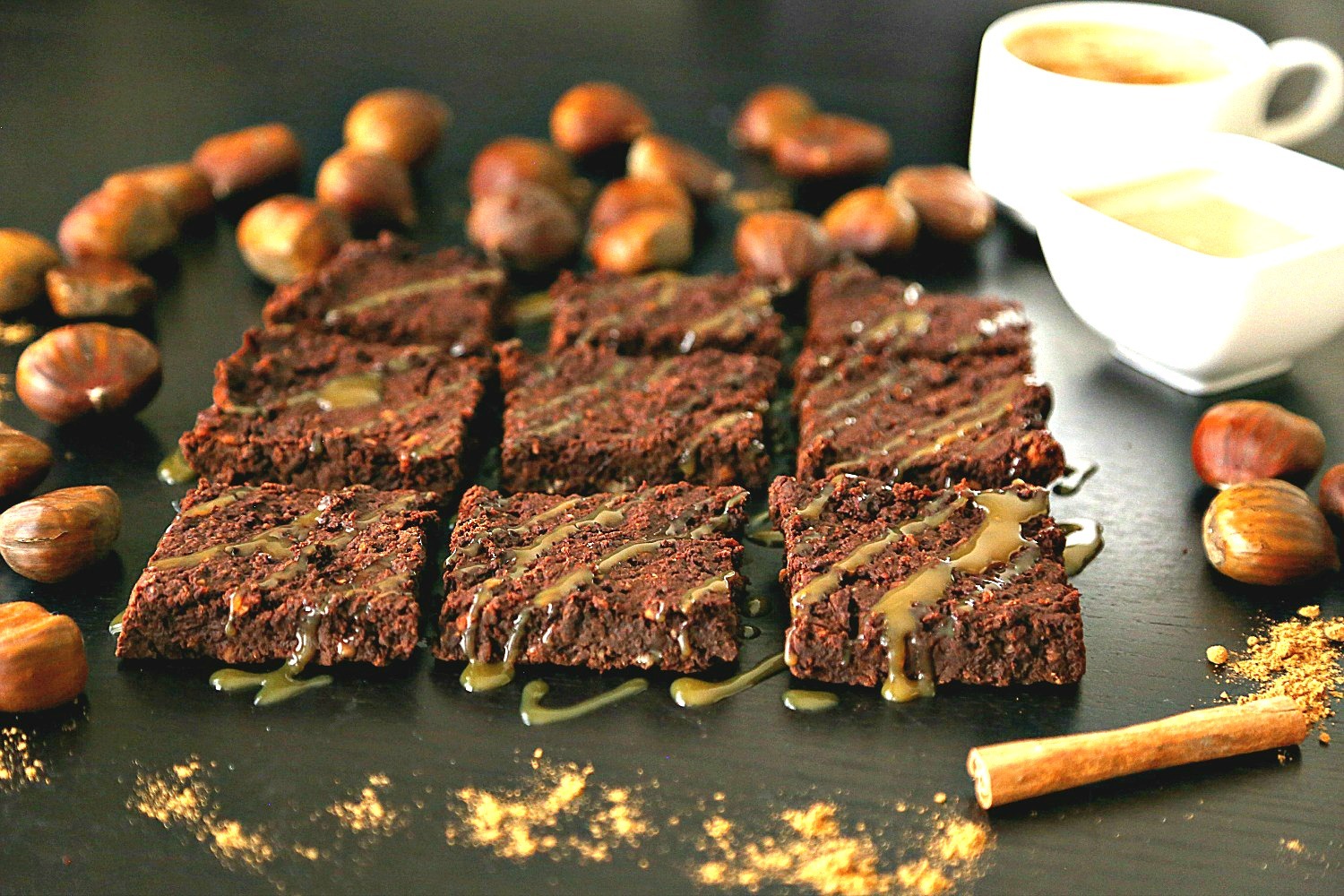 It's been so long since I posted new recipe, after I posted my Za'atar made from scratch. My son got sick, and I hardly got time to do chores or even do quick cooking, then at that weekend my cousin died of leukemia! While I didn't know my cousin closely – since she grew up when I was away- her birthday marks today, the 20th. She left us young, but I hope that she is now in a better place. She was strong, and fought with a great spirit. It was hard again to think about delicious food, while my uncle is weeping.
However, I don't want to sound depressing and passes this to you, I vowed to celebrate life, every minute of it! While this is maybe a western concept, I still believe anyone can enjoy life no matter what are his/hers beliefs . Life is becoming uglier, and more brutal, but with spreading love, good quality healthy food to feed the body and the soul, we can brighten the days for others! For whom we love! 
So let's talk about brownies now!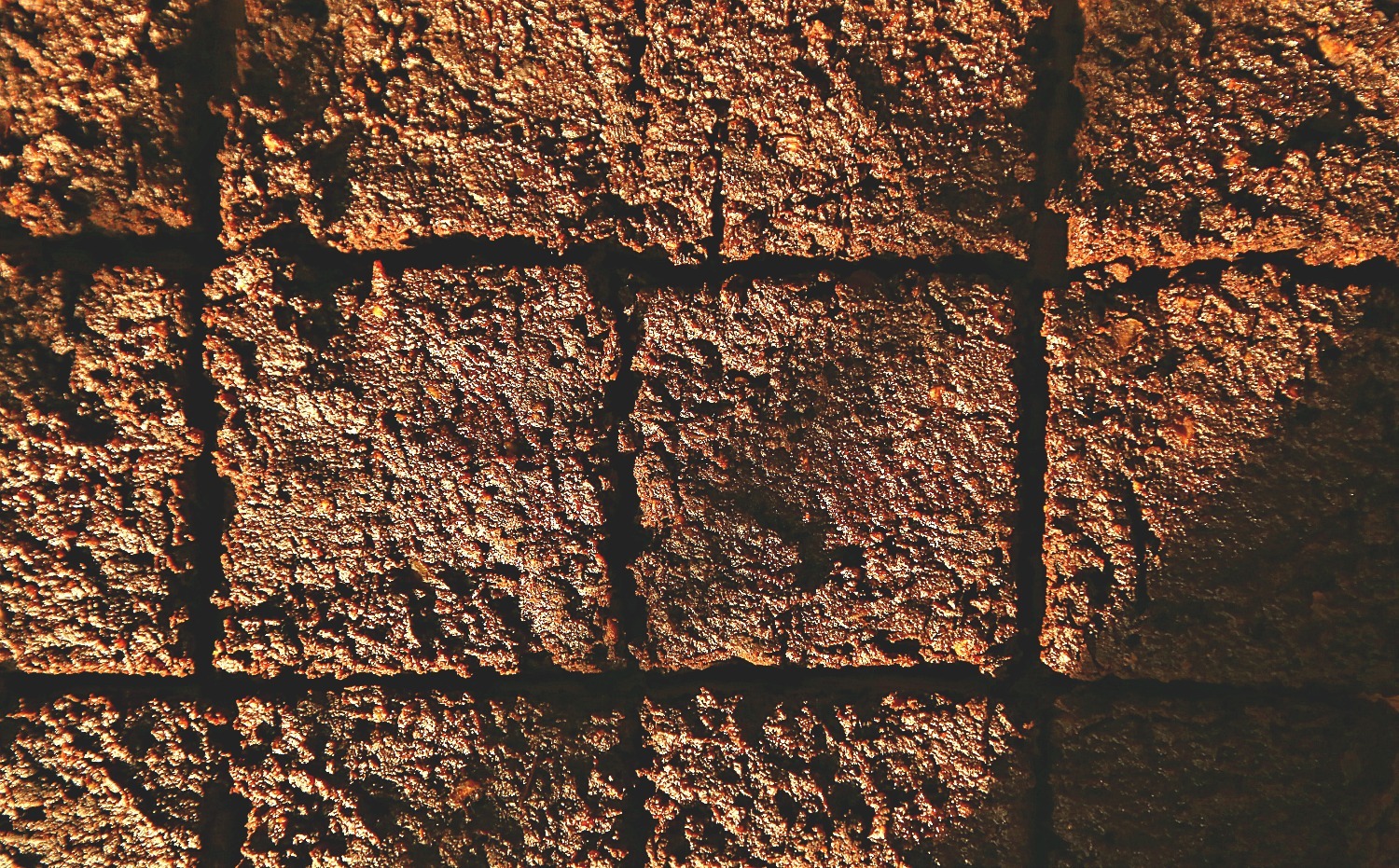 I think it's first time I made brownies from scratch, sometimes I buy a box, even I don't like ready mixes, but I didn't give brownies a real dedication, but I was wrong, I should have! Brownies made from scratch, are really different with a great flavor! A healthy one with real ingredients it's just a real win! Fudgy, rich, full of flavor and has chocolate too! This time I used Lindt 90% dark chocolate. A deeper flavor, less sugar and fat! 
Chestnuts
I can't get enough of chestnut – I think it's obvious already! It's healthy, nutty, makes you feel warm in this freezing weather here! Well it may be the last recipe for this season, but can you blame me if I make more? 
Tahini
It's a sesame seeds butter, that is a popular spread in the middle east. It's also a great addition to many other dishes. I used tahini so many times on the blog here, but with chocolate specifically before when I made these bars , it's a great substitute for oil in any recipe. Remember, it is rich so you need to be sure what you want to make, and how you want the texture to be. If you can't find tahini near you, you can buy it online, and I recommend using this brand. 
Why do you need to make chestnut brownies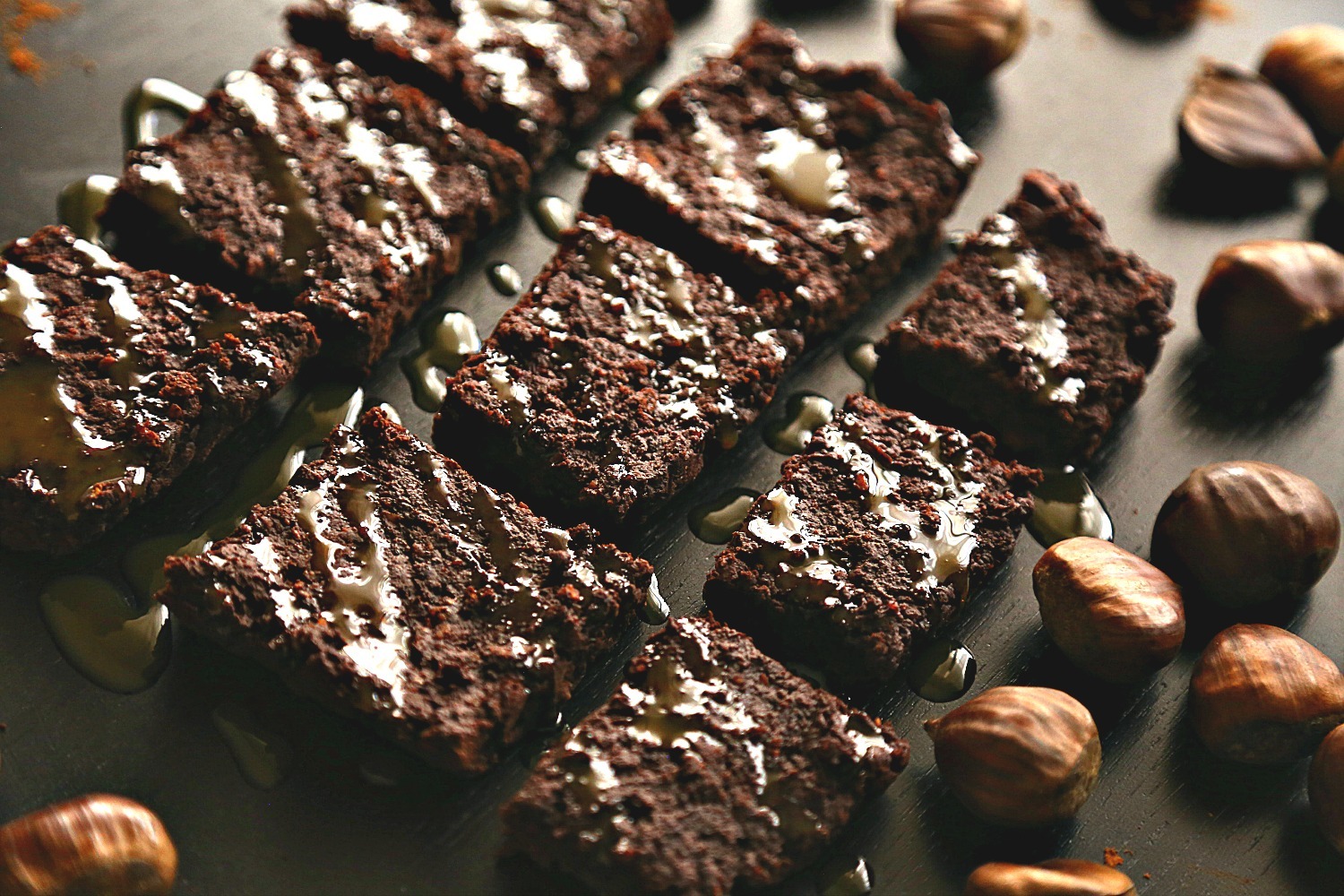 It's based on chestnut, which is 

high in vitamins such as vitamin C, folate and thiamin. And minerals like copper, potassium and manganese. 

It's low in fat, and has good amounts of fiber and protein too.

It's full of chocolate that is full of Flavonoinds. In this study they found that cocoa enhance mood, but there is no effect on better cognitive ability. Even in this article of cocoa health benefits the researchers suggested that cocoa may have a role in prevention, or treatment for weight loss, cancer, allergies, and mood enhancing. For more health benefits, click here . 
It has tahini that has good amounts of calcium, copper, and Vitamin B1. It has polyunsaturated fats, and antioxidants. It can lower cholesterol, and can decrease risk of CVD in diabetic patients

It has chia seeds, they are high in omega 3 fatty acids, fibers, and minerals like manganese, iron, calcium, and manganese, It has so many antioxidants that can boost the immune system too.
Even though this chestnut brownies is a high carb dessert due to the chestnut amount, the carbs are complex, which means they stabilize blood sugar level by digesting and absorbing it slowly. Moreover, the good fats makes you feel completely satisfied and full. 
Enjoy!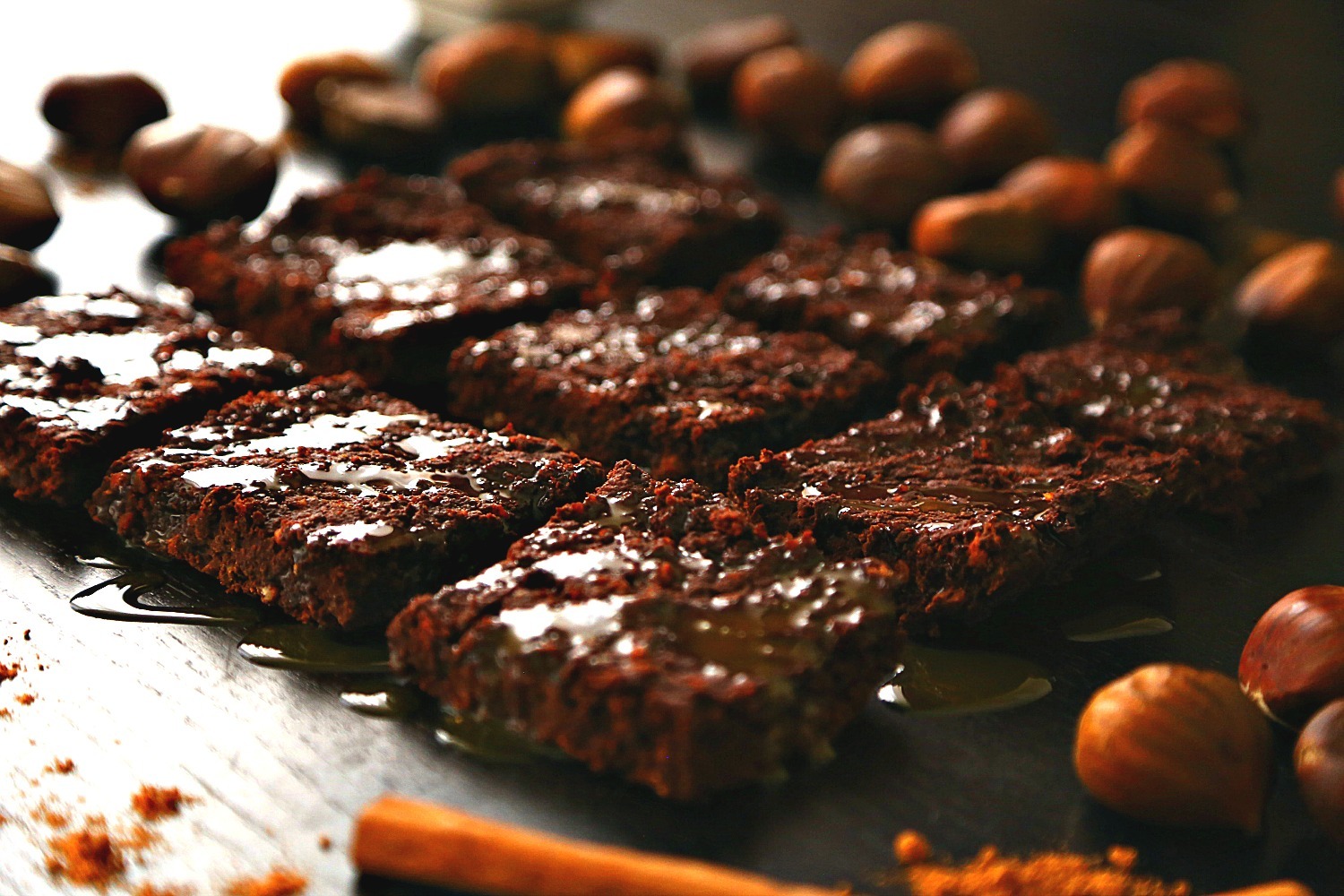 tahini and chetsnut brownies
Ingredients
¼ cup tahini
15 oz chestnut puree*
Chia seeds egg (1 Tb chia seeds + 3Tb water)**
1 tsp vanilla extract
1 tsp spice (optional)***
3 Tb Coco powder
100g dark chocolate
½ cup brown sugar
Instructions
To make the chestnut puree:
Preheat the oven at 180 C and roast the chestnut (about 24 pieces) for 25 minutes.
Let it partially cool, then peel them and put then in a medium pot covered with water, until they are soft (about 20 minutes).
Drain the chestnuts is done, and -keep the water- put them the blender and puree, you may use the water for better consistency.
Preheat the oven again at 375.
In you desired pan , line parchment paper and make it high form the edges.
In a small bowl, melt the chocolate in the microwave for short intervals 15-20 seconds, until its completely melted. Set aside, and let it cool.
In another small bowl, mix chia seeds and water gently, and keep in the fridge for 15 minutes.
In a large bowl, mix chestnut puree with vanilla essence, spices, and add tahini gradually.
Add coco powder and brown sugar, and make sure everything is well mixed.
Add chia seeds gel and melted chocolate, stir again.
Pour in the pan, put in the oven , and check doness after 30 minutes****.
Notes
* You can just buy a boiled peeled chestnuts to save yourself some work, or you can do it the day before, and store the puree in the fridge for couple of days.

** You can use flax seeds instead of chia, just another option.

*** I used pumpkin spice, and 1 extra tsp ground cinnamon.

****Brownies tastes better slightly undercooked
Would you give these chestnut brownies a try? Please let me know if you did! Use #Nutrizonia on Instagram!