A tasty nutritious salad (balanced meal) that is very easy to assemble and ready in less than 20 minutes! It's vegan friendly, and gluten free too!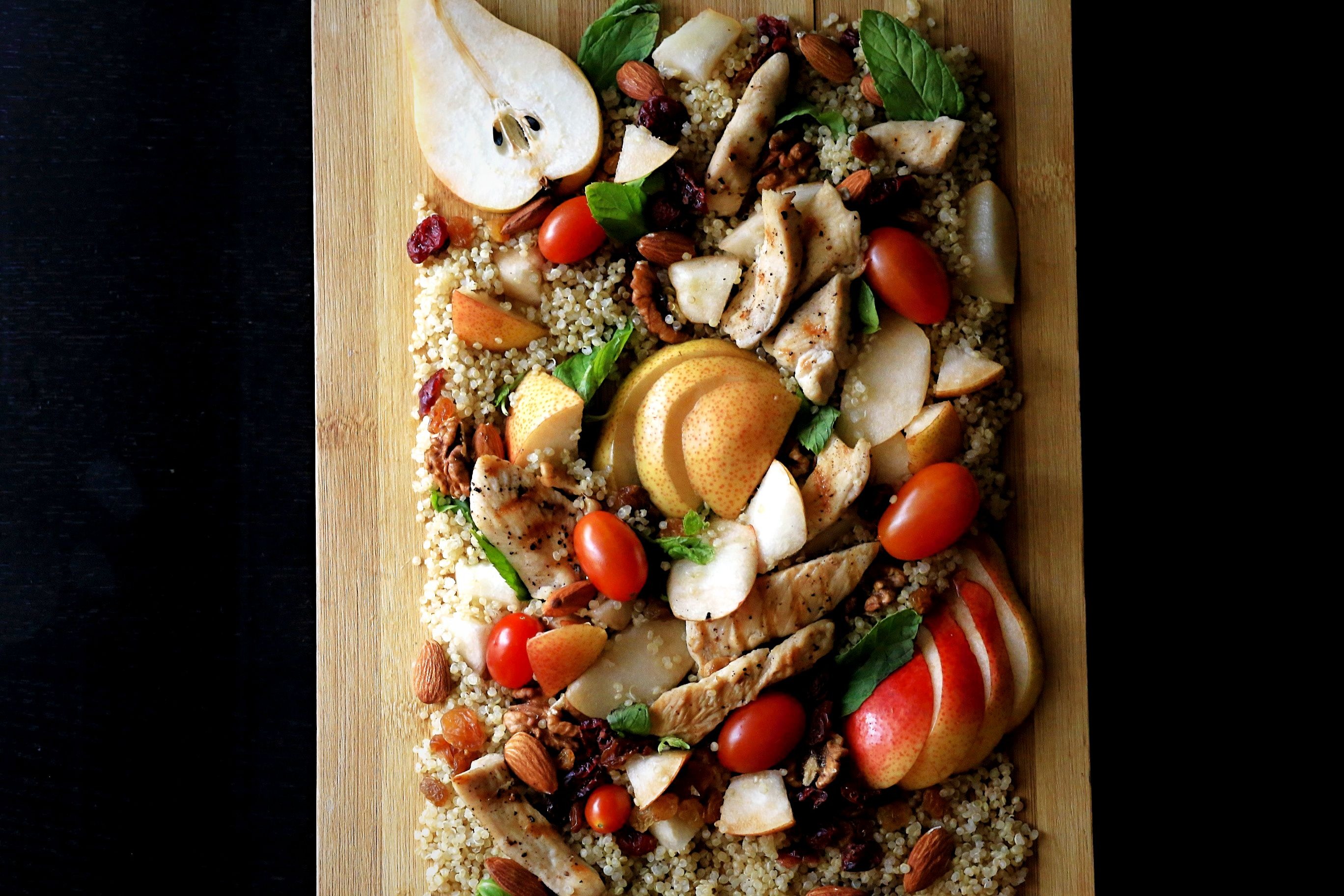 My blog was hacked for so long, malware, viruses and technical problems with the host, Dns files and so on. It was working well on the mobile device, but the link considered spam and I couldn't be active on Facebook and Instagram as I wish.  My bro , my life savior was working on it. But, it took so long, lots of chatting back and forth with support teams. I missed my blog, it's part of mine, it's my outlet where I share healthy nourishing food, beautiful photos (I hope they are), and some thoughts. It's kind of escape from the brutal reality, and to ensure there is some beauty and self love thru healthy food that nourish the body and keeps you in a good mood.
But I miss YOU the most, your comments, your engagement on social media, and all your appreciation and support thru this journey! So enough with drama, let's talk food now!
Well, where to start, this salad has lots of delicious food items, that are super healthy, quinoa, pears, walnuts, and the rest comes after. This salad is vegan friendly, and you can just skip the chicken part, quinoa has complete protein that will get you all the essential amino acids you need for stronger muscles and body. However, chicken gives an extra taste and a different level of texture, so it's totally up to YOU!
Why I chose quinoa over different seeds/grains?
The fact that quinoa is gluten free, is a main factor. While I don't have celiac or either gluten sensitivity (well, I'm not tested) but I find gluten makes me bloated and make me feel uncomfortable. For this salad, you can choose bulgur (cracked wheat) for a nuttier texture and delicious taste too. And if you are not sure what to choose, here I compared bulgur to quinoa .
My salads, and most of my meals are on the sweet side. I can't help it! the sweetness transform the salad to another level. Well, we are not talking about sweet ready made dressings, I just add dried fruits (naturally sweetened or unsweetened) or sweeten the salad with whole fruits. Maybe its not perfect, but truly good and satisfying!
Why this quinoa salad is healthy:
It has quinoa that quinoa that is low in calories, fat, high in protein, and a good source of fiber.
It has chicken that is high protein quality, that is lean. Also low in calories, and fats relatively. And has high tryptophan amount, which helps you sleep, and makes you feel better.
It has pears that It's high in fibers which is crucial for regular bowl movement.It's a good choice for diabetic patients, since it has low glycemic index value. And also its low in calories, good amounts of vitamins, especially vitamin C, and antioxidants
Enjoy!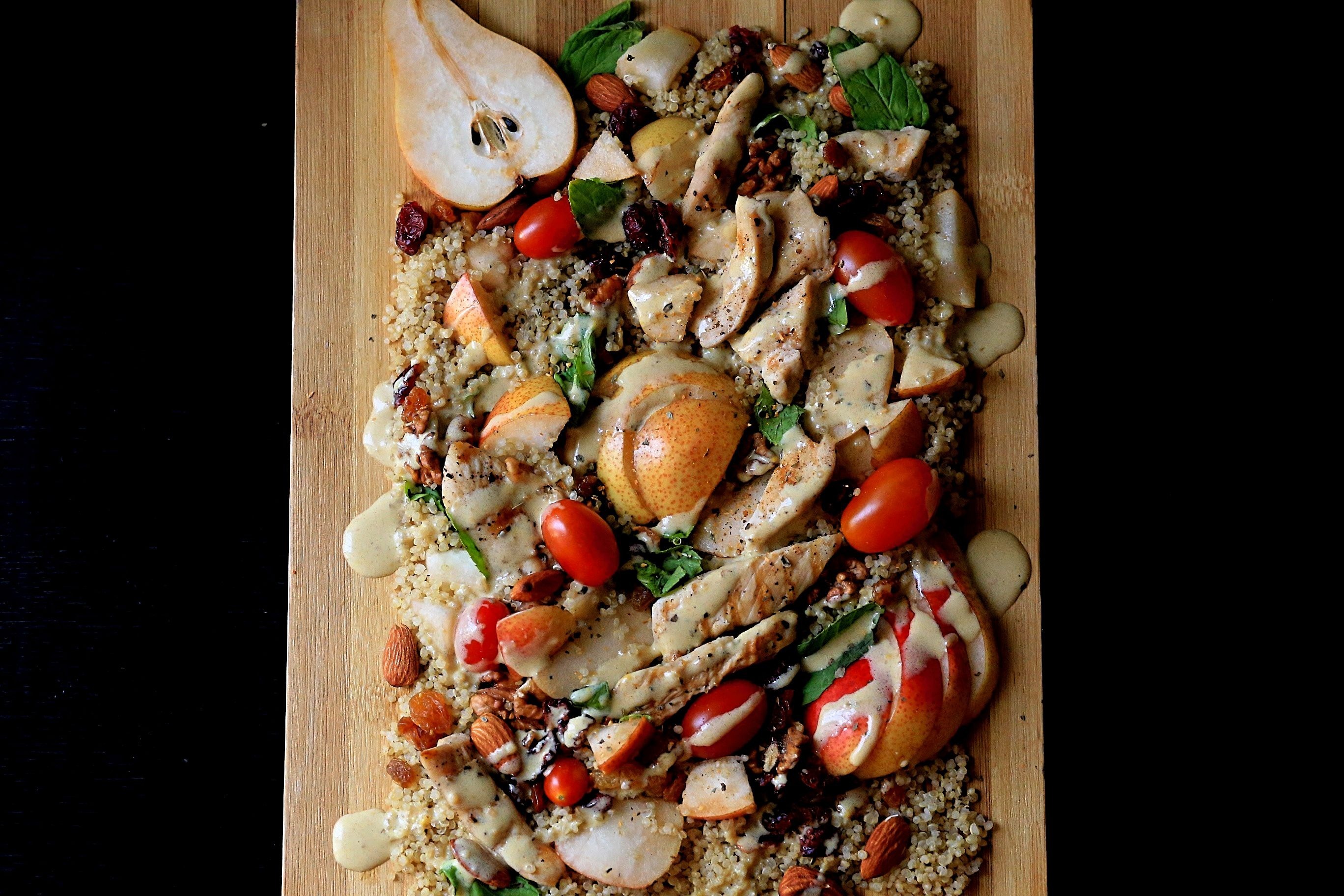 Easy Quinoa Salad with Pears and Cashew Cream Dressing
Ingredients
Cranberries and raisins (about 1 Tb)
1 small chicken breast cut and grilled
2-3 medium pears
few pieces of cherry tomato (or more!)
Around 10 pieces of walnuts
Mint leaves
Dressing (optional):
Cashew cream 4 Tb
1 tsp dijon mustard
Cajun 2 tsp
Salt and pepper
½ cup uncooked quinoa in 1 cup of water
Instructions
On low to medium heat, add quinoa in a small pot , and cover with water,and leave it for 15-20 minutes in a covered pot.
Grill chicken with only salt and pepper and maybe a smear of oil.
Cut the pears in any way you like, I prefer to cut then lengthwise,from the side. Cubes are not preferred here, they will lose their texture and taste
Prepare the dressing by mixing all ingredients. you may need to add more mustard to the get the desired consistency and for a stronger flavor.
remove the quinoa pot from the stove, and let its stand for 5 minutes, the quinoa should be fluffy and doubled in size.
In any bowl or flat plate, arrange your salad. Or just toss them all in one bowl 🙂
Enjoy the salad, keep the dressing on the side, and refrigerate any leftovers.