First time I had risotto was, when I was engaged to my husband, in a nice Italian restaurant. I remember that I didn't like it, not because it was mushy (I like mushy food ,sounds yikes, but it's very comforting), but because it was not the thing I had in mind. I remembered that I ordered it, because I watched Hell's Kitchen. Its was the 1st or 2nd season only (don't do the math, its long time ago). I wanted to feel like having a gourmet meal.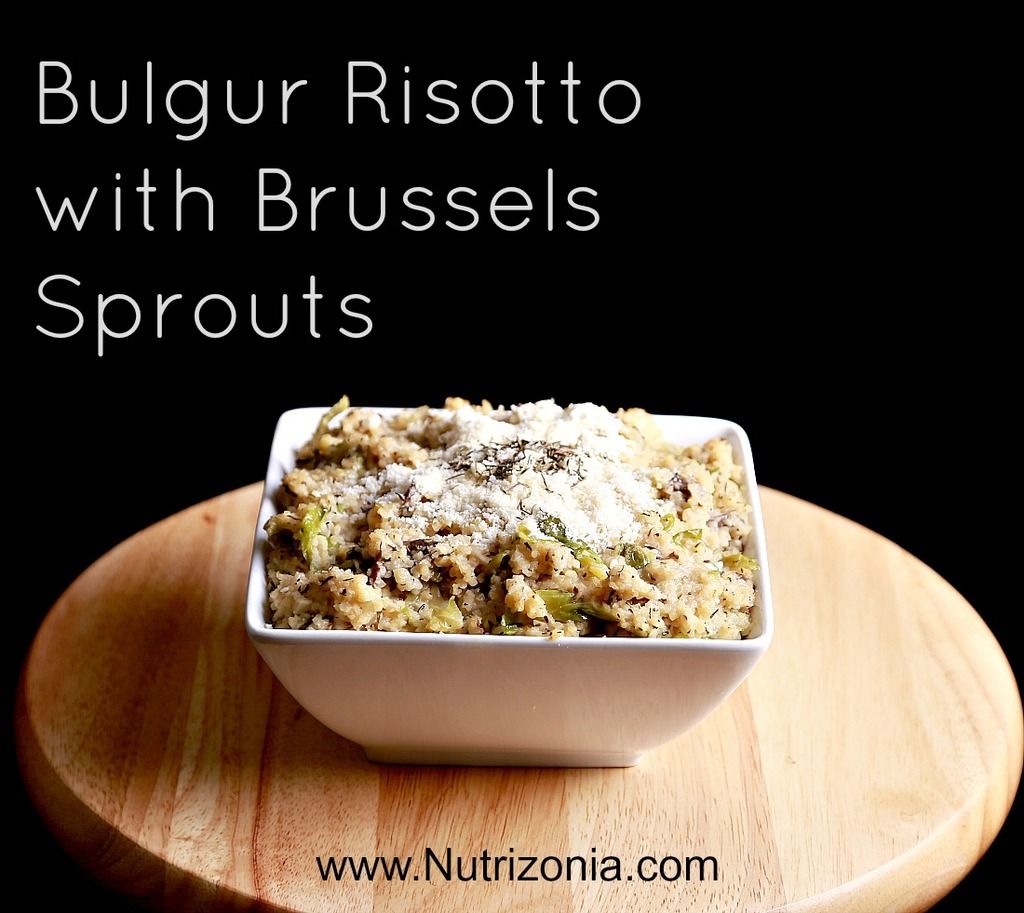 And then I didn't give it extra thought. But recently I stumbled upon this blog "The Iron You", I loved it. I love his writing style, the photography, and of course the recipes. I liked this risotto with saffron. It's seems so delicious, and very interesting idea. I thought it's time to make risotto myself!
Mushrooms 
Can I express more my love for mushrooms? I can't say enough how much I love the meaty texture, and its taste. They compliment pasta, and other grains very well. I mentioned the health benefits here.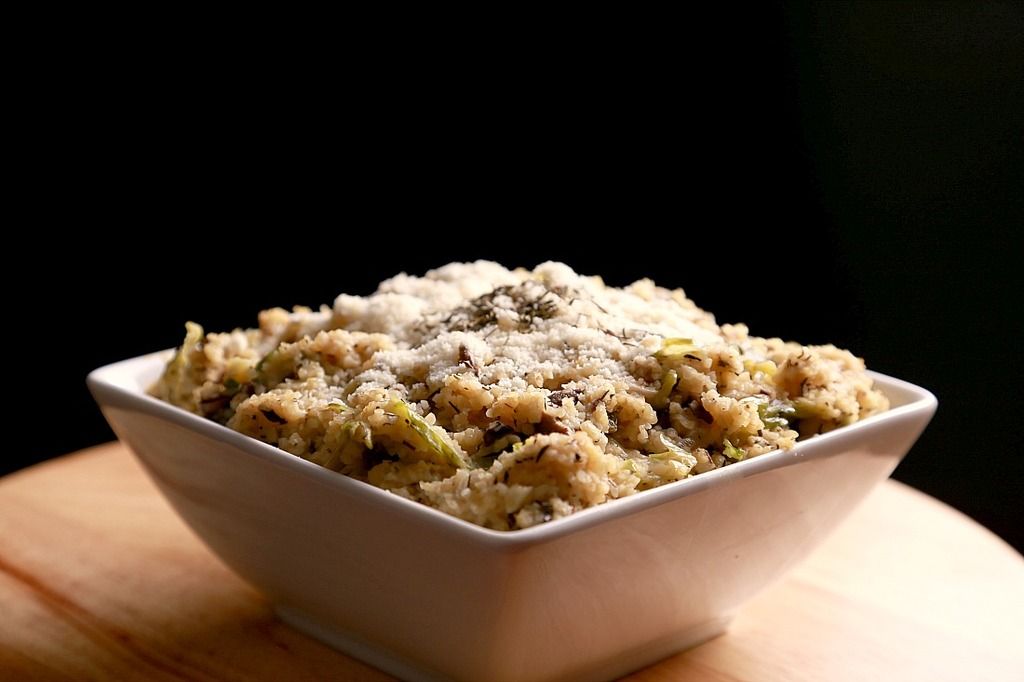 Brussels sprouts
Still new in my diet, I made a salad before, a raw one. And I did compare it to broccoli, since they are very similar. It's very healthy, versatile, and you should add it to your diet!
Bulgur 
It's a cracked wheat, so its whole grain. It does share lots of health benefits with quinoa. I did compare them here . Its much cheaper than quinoa here if you can get it from a Middle Eastern store, and actually depends where you live in the world. Which one is local in your country?
It become my favorite lately, I love it raw, and cooked! You can mix it with anything you like, fruits, vegetables, or even make it for breakfast! I like it savory, I made a pilaf with beef before, and a strawberry salad just recently.
This risotto maybe intimidating at first, but it becomes very easy when you get used to it. You just need o pay attention, so the texture won't ruin. And don't add Brussels sprouts from begging, it wont taste good at all.
This recipe is vegetarian, fulfilling, and very healthy! Now lets get to it! 

sauted garlic brussels sprouts with mushrooms
A healthy delicious risotto, that is a vegetarian recipe that you can easily transform it to vegan or gluten free one
Ingredients
4 oz mushrooms (cit in cubes)
1 and half cup of fine bulgur
4 oz Brussels sprouts shaved
small onion (cut in wings)
4 cups of vegetable broth
2 Tb olive oil
Salt , pepper, and thyme (tsp only)
2 Tb olive oil or butter
Half cup divided of Parmesan cheese
Instructions
Heat a skillet on medium heat, add 1 Tb olive oil, and onion, mushrooms saute for 3 minutes.
Add bulgur, stir with the other ingredients.
Now start adding ½ cup of the broth every 5 minutes. Stir well after each addition.
Add salt and pepper, thyme.
Add 1 Tb olive oil, Brussels sprouts, Parmesan cheese, give it a quick stir, and serve it immediately.
Have you ever tried risotto? If so, would you try it with bulgur? What's your favorite recipe? Please share in the comments below!