A healthy soft and airy candid ginger cake with tangy flavors! It's low in sugar, with a hint of Early grey tea! Make it for a luxurious afternoon tea!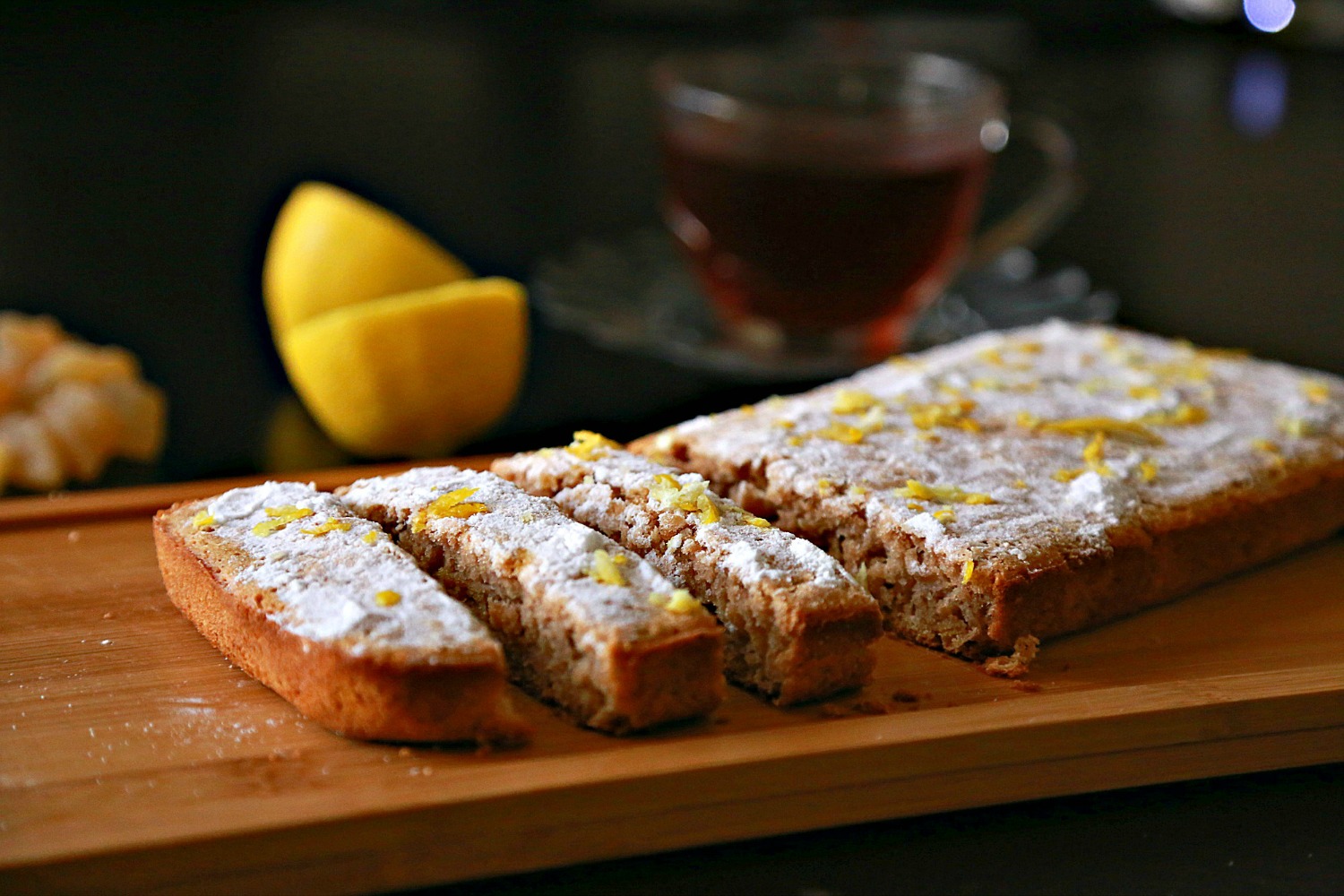 A cake and healthy? Yes it can be! Ginger is a healthy vegetable, yes it is! But it's treated as spice or herb, since you can't eat a whole ginger root! I was thinking of doing a lemon ginger tea recipe, with detailed health information about ginger (they are so many) like I did with the Arabic sage tea, and Arabic cinnamon drink .  But I thought a candid ginger cake would be a different and better way to deliver the message (it's cake of course it's better!).
To be honest, I didn't know why I bought candid ginger in the first place! I can't resist dried fruit! Orange, apricot, raisins, I have them all in my cupboard. I also tried some pomelo, but wasn't that good any way. Therefore, When I was in the market, I saw the candid ginger, and decided to have some. I added some to  orange smoothie I made earlier this year, but they were a bit bitter for my taste, and spicy, as my kid described them. So, to have this ginger flavor in less harsh way, I thought chopping them fine, and mix them with lemon and tea in a cake form would be great, and it was!
Tea
If you are regular reader here, you will know how much I love tea, especially "early grey tea" is , I think it's one of the best tea on Earth! Most favorite brand is the Twinnings, and I tried other brands as well, such as Restone , Ahmad tea, and Delimah. and I frequently enjoy a cup of herbal tea, I even  compared it to coffee, the number one loved beverage, no sorry coffee , it's tea!
Why do you need to add ginger to your diet 
There are so many health benefits for ginger, it's hard to mention all, here are few of them:
Lemon
The yellow popular tangy fruits, that contains vitamin C , that is necessary for improving iron absorption, and vitamin c boosts the immune system. It suits savory dishes and desserts as well, including cakes! I will talk more about lemon in depth in future posts, now I'll leave you with this beautiful healthy cake!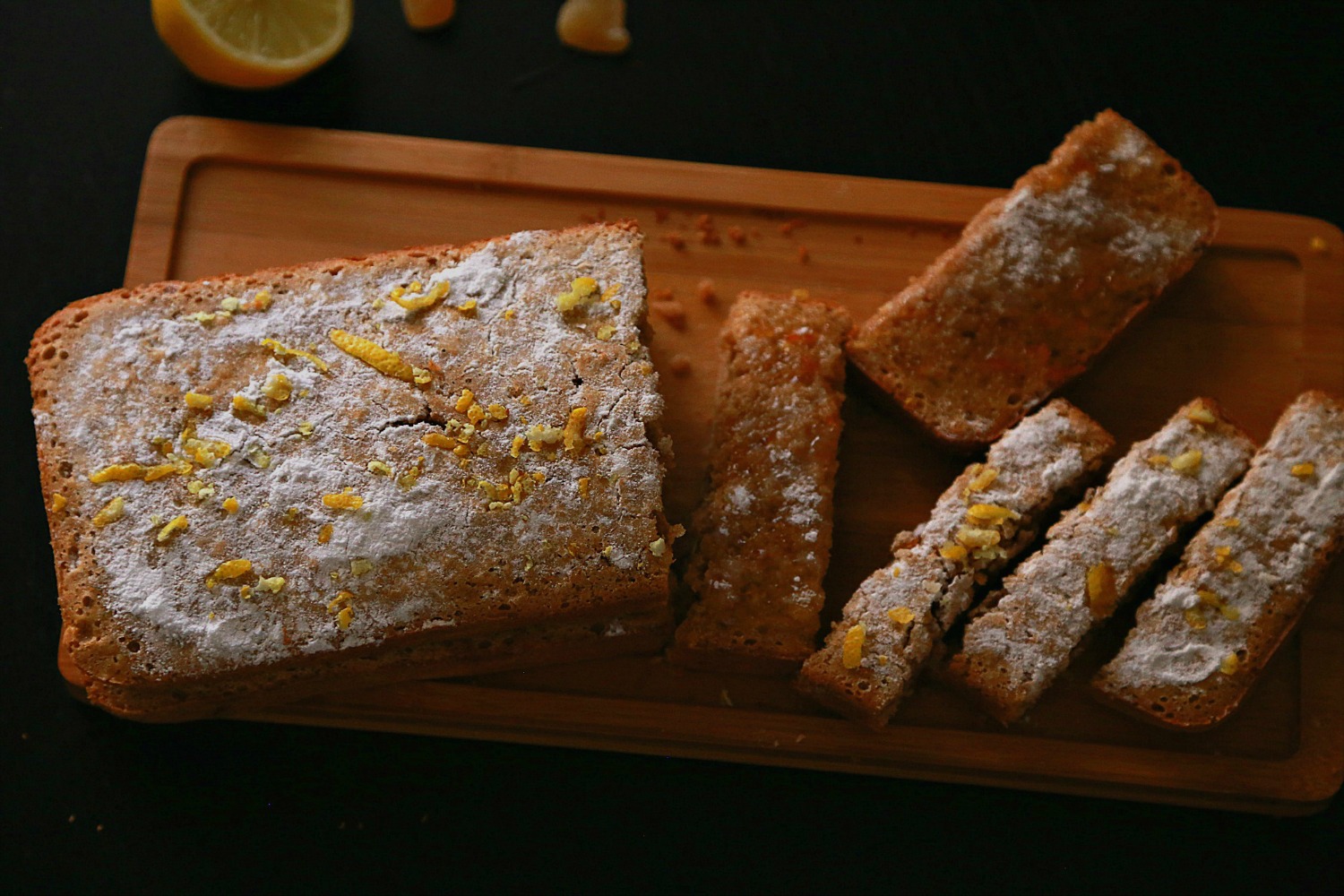 Candid Ginger & Lemon Early Grey Tea Cake
Ingredients
1 cup strong early grey tea
2 Tb lemon zest
1½ cup gluten free flour
2 Tb candid ginger chopped
3 eggs
½ stick butter
2 tsp baking powder
½ cup sugar
a pinch of salt
Instructions
Preheat your oven at 375 f/ 180C
Grease your baking pan.
In a small bowl, add flour, baking powder, salt, and set aside.
Cream butter and sugar.
Add eggs, lemon zest, and beat until pale in color
Mix the dry ingredients with wet ingredients, alternate between flour, and tea, always starting with flour and ending with flour too
Add more lemon zest if desired.
Roll the candid sugar with some flour and add it to the batter.
Bake for 20 minutes or until a tooth pick comes out clean.
Cool the cake completely before adding powdered sugar or any frosting
Notes
I've made a mistake of not knowing the size of my pan. I used tow loaf pan instead of one, and that made the cake thinner. I used a Tefal Loaf pan tin (12x25cm), For a better results, and good looking cake, please check your pan size before baking.