An easy to make appetizer that is delicious and unique in flavor. With a freshly squeezed lemon juice, and a drizzle of good quality olive oil, with fresh pita bread, this is the ultimate comfort meal!  It's naturally vegan and gluten free!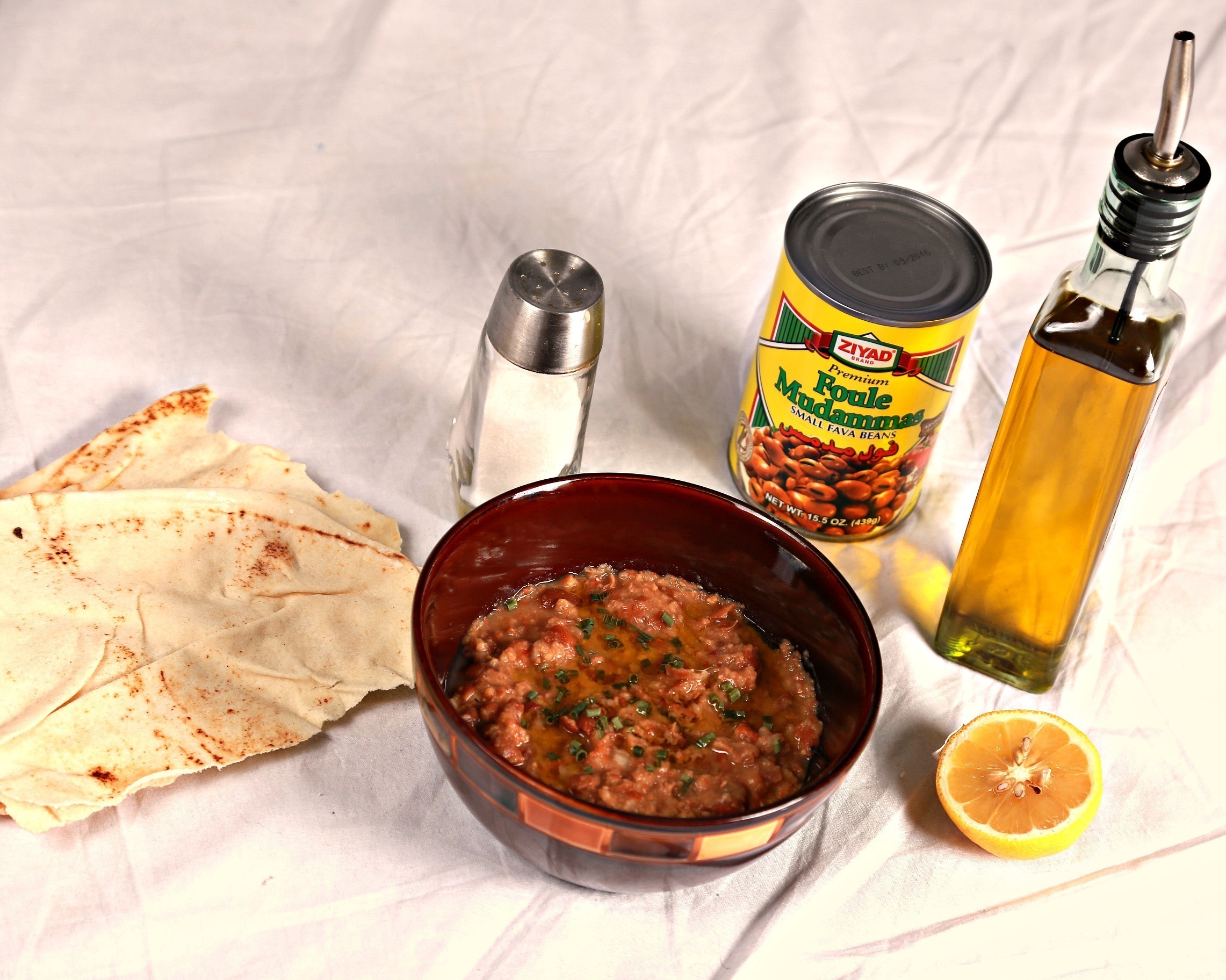 I don't know why I feel offended sad, when I see food bloggers, and dietitians trying to "healthify" traditional dishes. I see them replacing bulgur with quinoa in Tabbouli. It does hurt. It may sound great, but I feel the dish lost it's value. Not the nutritional one, but what it does mean to the people that have created. Ethnic food is not just about the food itself, it's the memory it evokes, the clinging, and attachment feeling for home, the nostalgia. Yes you may grow out of love for your traditional food, but there is something that gets you back again, and again, you can't deny it, or even describe!
You may find me attacking, but I believe all traditional food was cooked in a way to be suitable, and convenient. They were looking for affordable prices, and resources available at their time.
I want people to know my traditional food (Middle Eastern or Arabic cuisine) as it is. No modernizing. One reason is that I'm so far from home now, I want to honor the memories I have. Not just creating a recipe to impress. And I'm lucky that most of the dishes are really healthy, many of them are vegan, or gluten free, and minimal.
Therefore, I'm proud to start a series featuring my traditional food, one recipe at time. I'll choose the most healthy ones. Today I'll start with a simple appetizer.
Foul Mudammas (Mashed Fava beans)
It is an appetizer, usually combined with pita bread. The history of the dish goes way back to ancient Egypt. Now it's popular in many Arabic, and some African ones.
For my family, it was on the breakfast table every weekend for years. Until we grew up and started to protest! I remembered that I want to change, and try other dishes on my own. But here I am and I can't wait for the next meal!
Once, I made foul for a gathering of my husband's classmates here in Iowa. They loved it! They used it as a dip with nachos, not the way I prefer it, but why not!
Why you should eat Fava beans:
They are very nutritious, high in protein, fiber and B vitamins like folate.

Also they offer good amounts of minerals like iron and manganese, and they have zero fat.
You can buy them dried, or canned from a Middle Eastern shop. You can find the brand I use and love here. I prefer canned, because the beans comes in a bigger size. Dried are mostly smaller size, and this makes the foul creamy, and I don't like that. I prefer it to be lumpy.
Now let's get to the recipe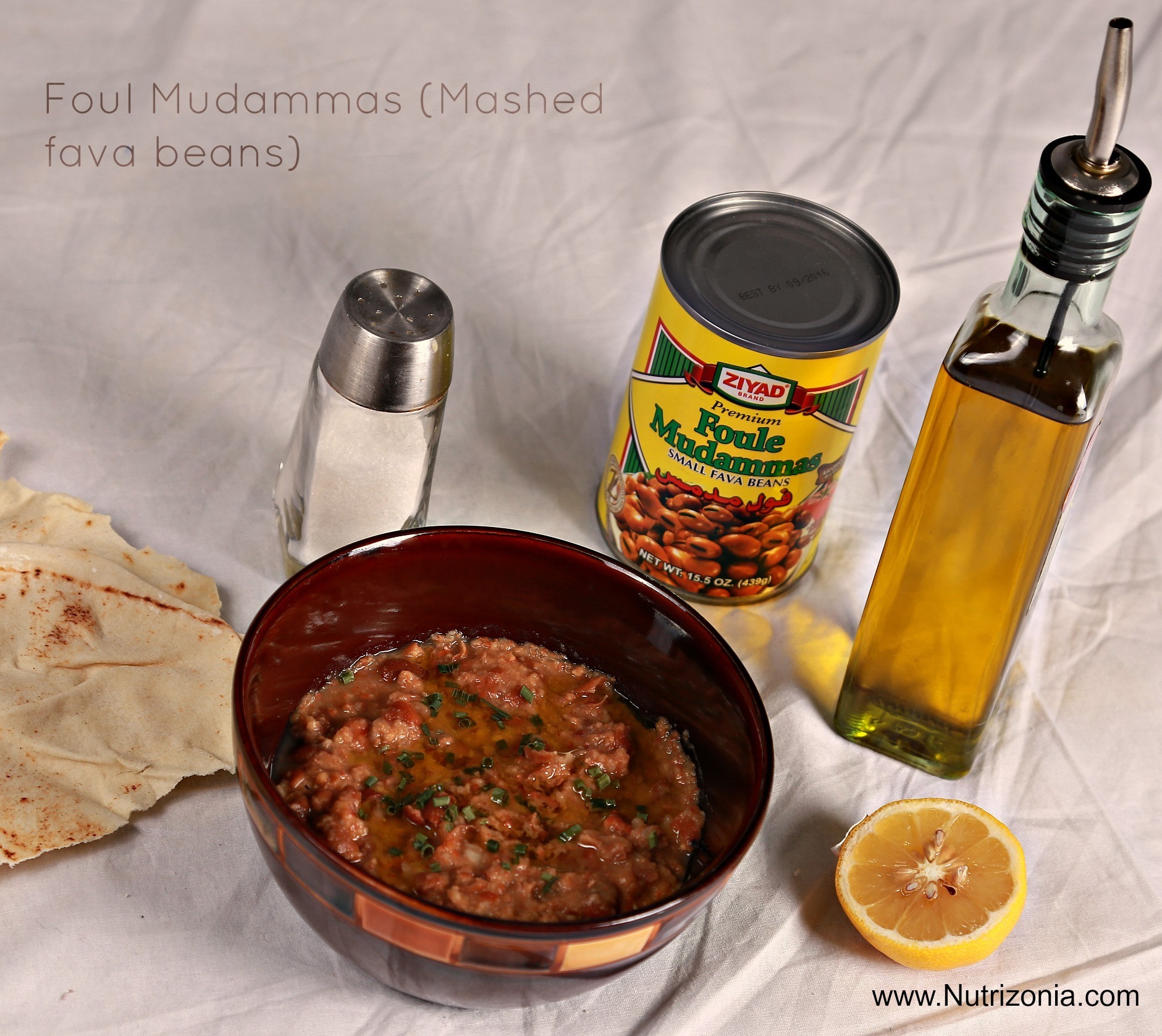 Foul Mudammas (Mashed Fava beans)
Foul Mudammas (mashed Fava beans) is an easy appetizer to fix, it's vegan and gluten free.
Cuisine:
Middle Eastern, Arabic
Ingredients
Fava beans (1 can 440g)
Juice of 1 lemon (or as desired)
Raw minced garlic (as desired)
Olive oil (as desired) for dressing
1 tsp of salt
Instructions
Open the can, drain the liquid and wash the beans multiple times.
Put the beans in a medium pot, and cover the beans with water, on medium heat. Leave it until the water boils. (This is optional since they are already cooked, but I feel it refreshes the beans).
Put the beans in a medium bowl. Start adding water (You can use the water, you used for boiling).
With a fork mash the beans and add water slowly, until you reach the desired consistency (Mine is lightly mashed)
Mince some garlic. You can also add minced parsley, or green spicy pepper too. Add the lemon juice,and mix everything together.
Dress the beans with high quality olive oil.
Notes
Since the garlic is raw, you might consider the quantity you add.

To get rid of the garlic odor, chew some parsley, or mint really well until you feel your mouth feels fresh.

Just know that having foul with pita bread, won't make the meal gluten free. Unless you can find gluten-free pita bread.
Nutrition Information
Serving size:
140g
Calories:
110
Fat:
0
Carbohydrates:
19
Sodium:
260mg
Fiber:
8
Protein:
9
Allergic note: There is a rare condition called Favism. It can be dangerous reaction, but it only happens to people who are deficient in enzyme called glucose-6-phosphate dehydrogenase (G6PD). 
What do you think of mashed Fava beans? Would you try them?