I started a series "Arabic cuisine" featuring my traditional food. Today the dish is Tabbakh Roho (Eggplant curry with chickpeas)
The other day, I was asking mom for some traditional recipes that I don't know of, to post it on the blog. I was thinking, before asking mom, is this cheating? Should I have sort this thing out by myself now? Then, I figured it out, no one knows all recipes on earth! Anyone needs to learn some techniques, and skills before becoming a recipe developer! 
I'm kind of working on that! But this series is about reviving my heritage, and honoring my traditional food. You know even my mom was cooking mainly traditional food, there are many recipes that she didn't cook for us, some very old recipes, just like this one, and this yogurt soup with lentils!
This recipe is very nutritious, and fulfilling, it has roasted eggplant, chickpeas, bell pepper,  and tomato sauce, plus aromatic spices!
Chickpeas 
I did mention chickpeas before, when I made the Fattet hummus . What I really love about chickpea that is very fulfilling with so much health benefits. Like in this curry you won't miss the meat!
And for eggplant, I did mention it's health benefits, in the last recipe, the eggplant casserole .
Usually, I don't do any changes, or just minimal changes for Arabic cuisine recipes. But this recipe, has so many versions! I choose one without meat, and with chickpeas, so this way it would be a great vegan option!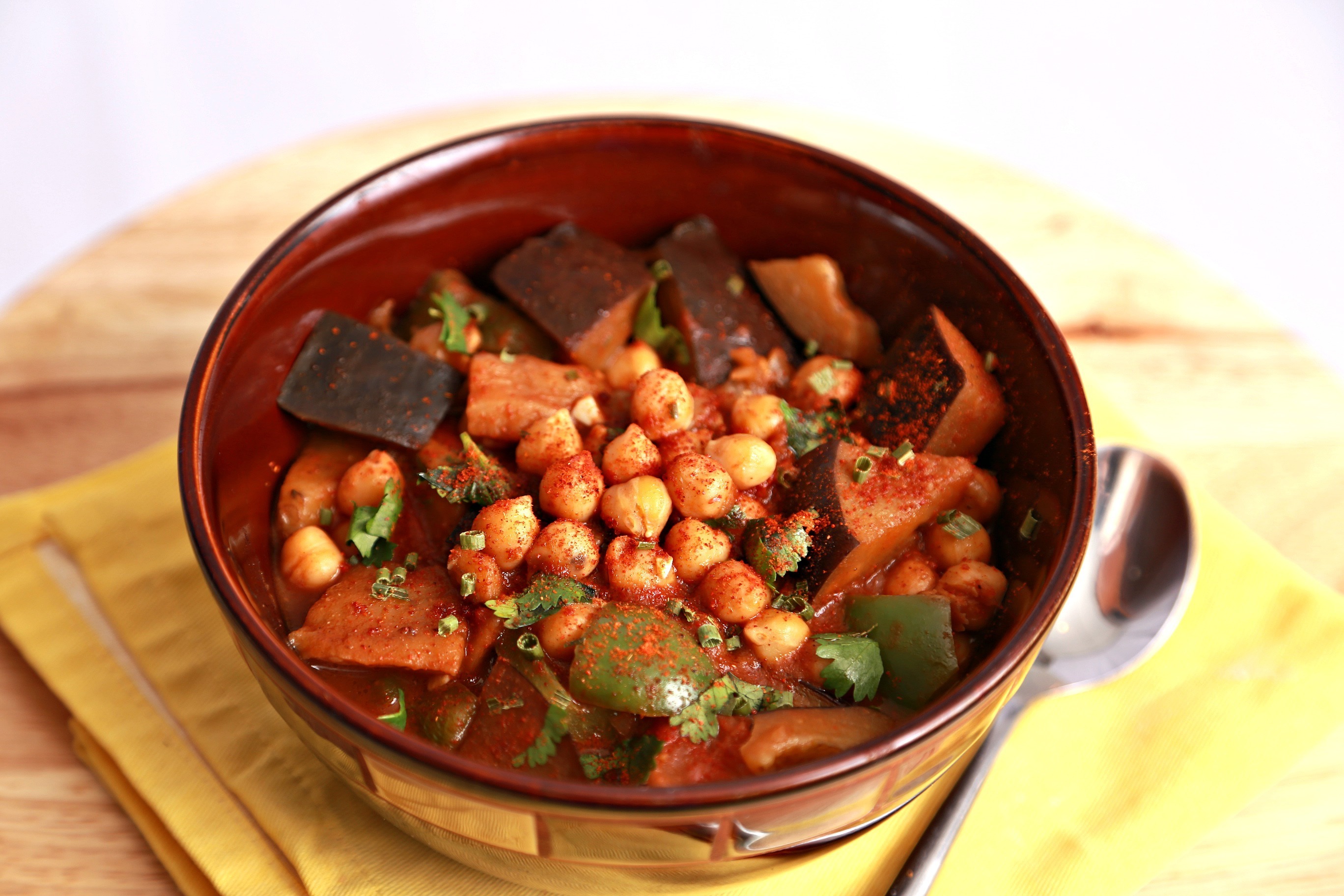 While I'm not vegan, I love to create vegan recipes, vegetarian, and paleo sometimes! And most of my recipes are gluten free! (because while I love bread, I prefer rice, potato and veggies, and these are naturally gluten free!)
I believe there are benefits in every diet, and this would suit your needs my readers, whether you on a special diet, or just love to get bits from everything as me! (Aren't we alike)? Therefore, I thought it's a good idea to alternate between them!
While I was browsing, looking for bloggers who made this recipe, I found that this recipe is very similar to ratatouille , the famous french recipe! While there are some differences, but the base is very similar, really almost the same ingredients!
But I think mine is more similar to a curry, since I added tomato paste, and aromatic spices, just as cumin, cinnamon, and gloves!
And whatever this recipe is called, here is the recipe,
Enjoy This eggplant curry!
Tabbakh Roho (Eggplant curry with chickpeas)
This recipe is very nutritious and fulfilling, it has roasted eggplant, chickpeas, bell pepper, and sauce, plus aromatic spices!
Ingredients
200 g of Chickpeas
200 g of Eggplant
2 medium Roma Tomato
2 Tb tomato paste
1 medium green Bell Pepper
1 small Onion
few pieces of Garlic
3 Tb Olive Oil divided
1 cup of water
Spices:
7 Arabic spices,
Salt, and ground black pepper,
Cumin
Cayenne pepper
Instructions
If you chickpea can , just wash it and rinse it well several times, and set aside.
If you have dried chickpeas, soak over night, and cook it for an hour, or until its done.
On a baking sheet, put diced eggplant, and brush it will with 2 Tb olive oil.
Put it in the oven on 375 f for 10 minutes.
In the meantime, mince the onion and garlic, and cute the tomato, and bell pepper in cubes.
Heat a medium pot, on medium heat, add Tb of olive oil.
Saute the onion, and garlic for 3-5 minutes, until they are translucent.
Add tomatoes, tomato paste, roasted eggplant, and bell pepper.
Now add water, and spices, and chickpeas.
leave it for 10 minutes, or more if you want the veggies to be very soft.
Serve it hot
Notes
If you don't have the 7 Arabic spices mix use all ground of the following
Cumin, cinnamon, cloves, cardamom, coriander, black pepper, nutmeg, paprika

I don't use nutmeg in cooking, and I used Cayenne pepper instead of paprika
 Did you try this dish? Would you like to try it?